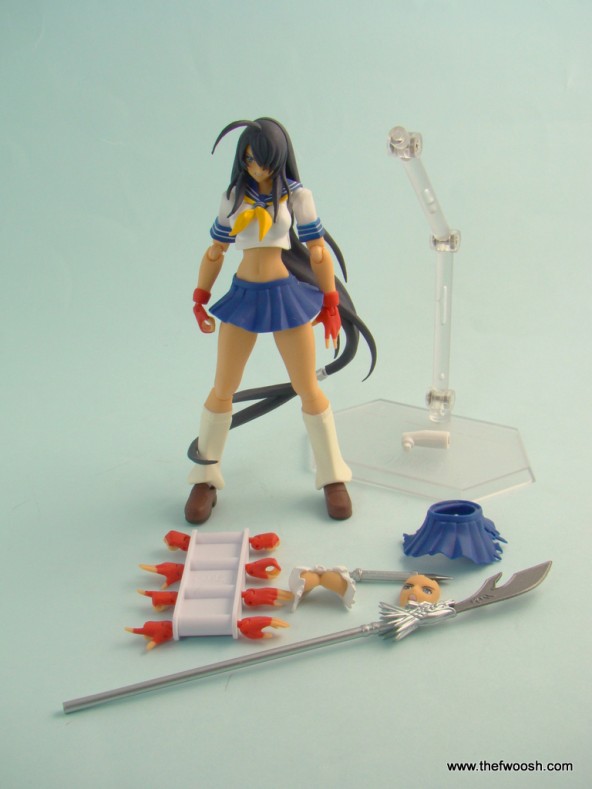 Yes, I know I am missing a face in the picture above. I looked and looked and I cannot find the damn thing. The face missing is the plain non-blushing face. I went with the blushing face for my display, not being a fan of the screaming face and the stoic/plain face is too boring.  I should also note before we get too far into this article that I did not take photos of Kanu in her her torn-up shirt and skirt (pictured above). Yes, I am aware this is a big draw of the figure, but I couldn't do it.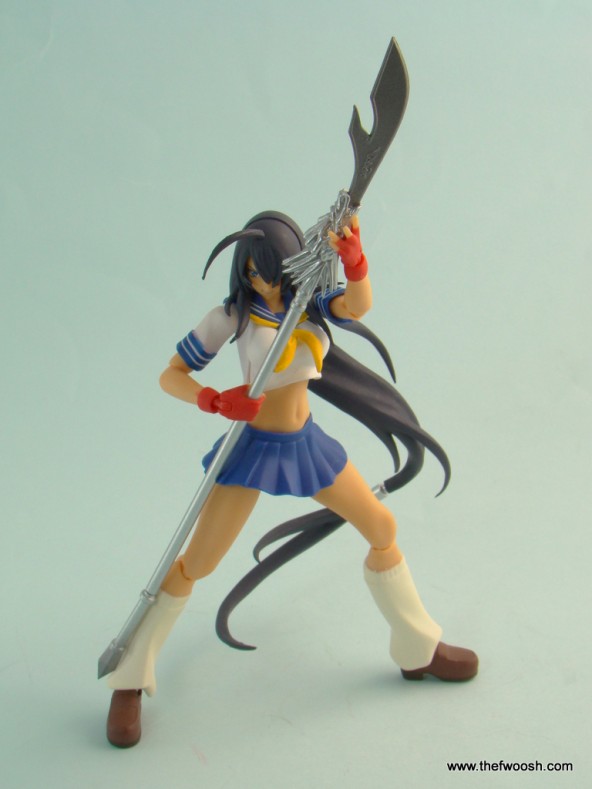 Kanu is from the popular manga/anime Ikki Tousen (Battle Vixens), which is based on the Chinese novel Romance of the Three Kingdoms. The manga and anime do focus on fighting, bishojo (pretty girls), and ecchi (nudity/sexual content); the context is a turf war between high schools. I'd love to say I've seen or read the anime or manga, but I have not. The story description doesn't do it for me.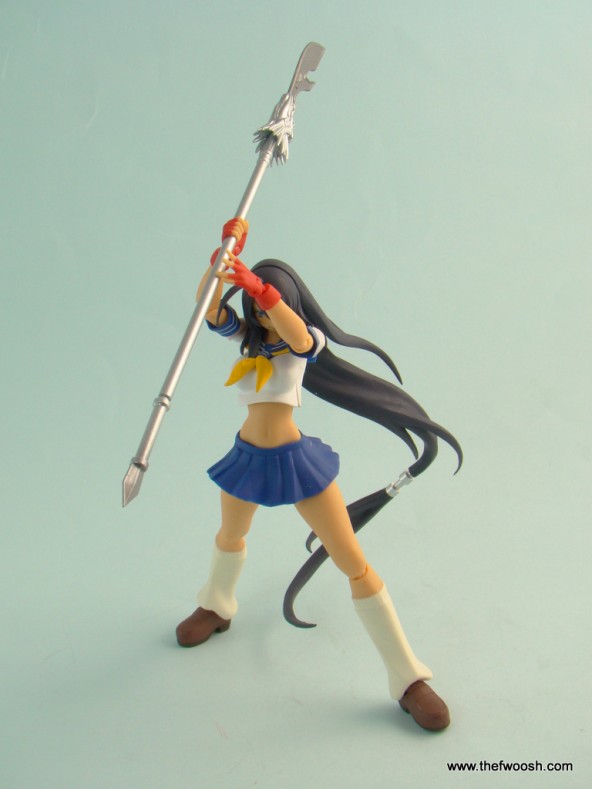 The figure, on the other hand, is a pure joy!  The articulation is as described in the previously published article on Figma's He (link). The joints work well and, for the most part, give all the posability you would want. Except the feet. They aren't great; the cartoony size and the oversized socks were poorly engineered and don't give much in the way of posing. The rest of the figure is fantastic, though.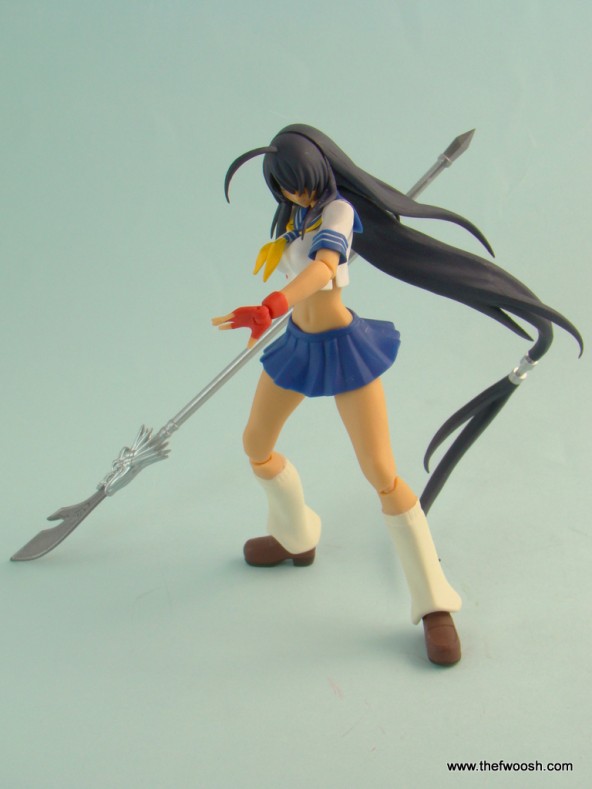 I love the sculpt, it's a great rendering of the actual character from what googling reveals. Plus, it has a whole "Street Fighter" thing going on. This is a 5-inch figure, which means that it is not in sale with your 4-inch collections or 6-inch collections, unless you plan on using her as a giant to squash the 4-inchers or as a "teen" for your 6-inch action figure collection.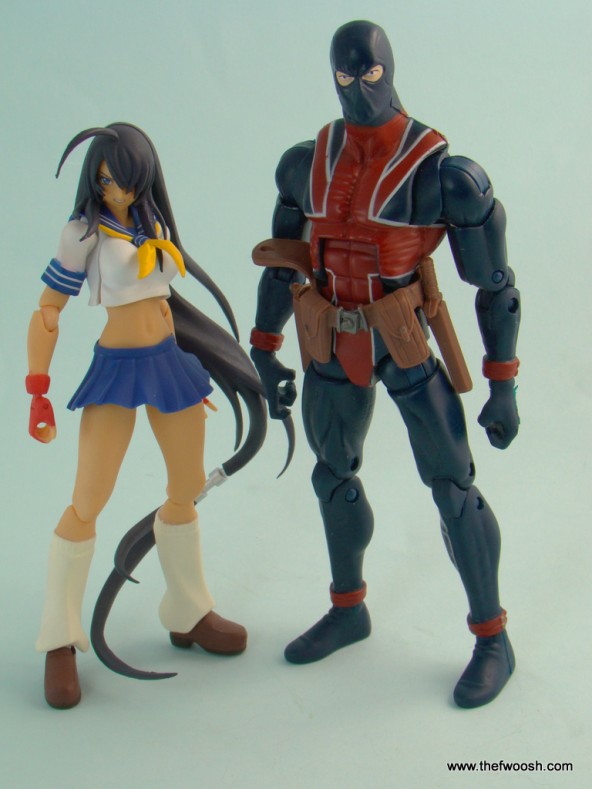 She comes loaded with accessories and her face is removable and she has three faces in all, no expression, open mouth gritted teeth, and yelling.  Her skirt is switchable, as well as her chest. Her skirt and chest can be switched out with more revealing pieces. The end of her hair can be replaced with the tip of her spear. While she does come with white panties, she only has one set. She also come with a base, which I broke out of the box. Yes I did. Look at the first picture; you'll see it.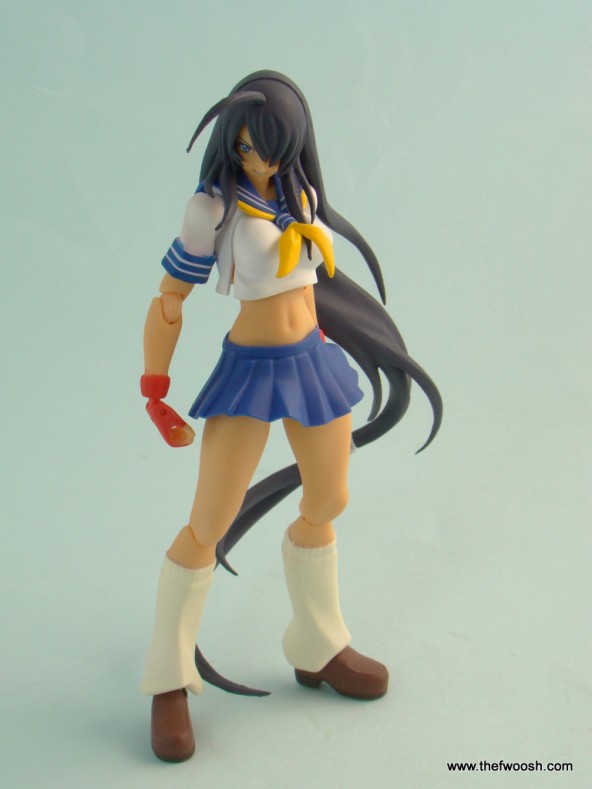 All in all, this is a fun figure. I think that most fans of Figma and of Ikki Tousen will enjoy this figure.
You can still find her on Amazon.com: http://www.amazon.com/Figma-Ikki-Tousen-Great-Guardians/dp/B0019Y0WFY
As always, you can discuss this figure further on the Fwoosh forums: http://www.thefwoosh.com/forum