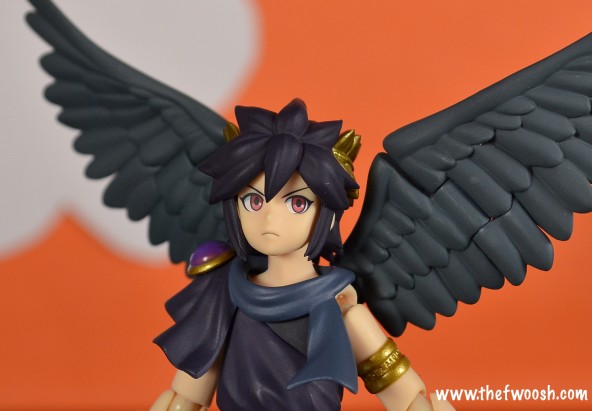 Dark Pit, or "Pitoo," based on the character in the Nintendo 3DS game Kid Icarus: Uprising, marks the first variant we've seen from the Figma Nintendo releases, and while he may simply look like the same figure as the standard Pit with a different coat of paint, Figma actually made an effort to make him just different enough to justify his release. But let me say this right up front: if you're planning to get just one version of Pit, the standard release is the way to go. The look is more iconic and he comes with more accessories that add value to the cost. Dark Pit here is cool too, and I am a complete sucker for his color scheme, but he comes with fewer accessories, and while it is cool to have him, I can't help but feel he's just a little superfluous — but keep in mind, as I mentioned in the previous review, I haven't played Kid Icarus: Uprising, so my lack of familiarity with this particular character may be coloring my opinion sightly.
If, like me, you're unfamiliar with Dark Pit, a quick perusal of Icaruspedia tells us:
Dark Pit (黒いピット Kuroi Pitto, or Black Pit ブラックピット Burakku Pitto), is a major character in Kid Icarus: Uprising. Dark Pit is a doppelganger of Pit, created after Pit destroyed the Mirror of Truth. He is nicknamed "Pittoo" (in English releases), "Tip" (in French releases) or "BlaPi" (in Japanese releases) by Palutena and Pit. At first, he appears as a boss and later as a mini-boss, but eventually allies with Pit in later chapters. Dark Pit can also be known as "Fallen Angel Pit." "Kuro" or "Kuro Pit" is also a popular nickname among fans (Kuro being the Japanese word for Black).
"Fallen Angel Pit." I have to admit, I like the sound of that. And I'm grateful they didn't go with "Emo Pit" or "Goth Pit" because the dark clothes and facial expression do set him up for that. Anyway, his bio sounds cool and I can't say I'm sad to add another figure to my growing Figma Nintendo collection. So let's take a look and see what this version of Pit has to offer.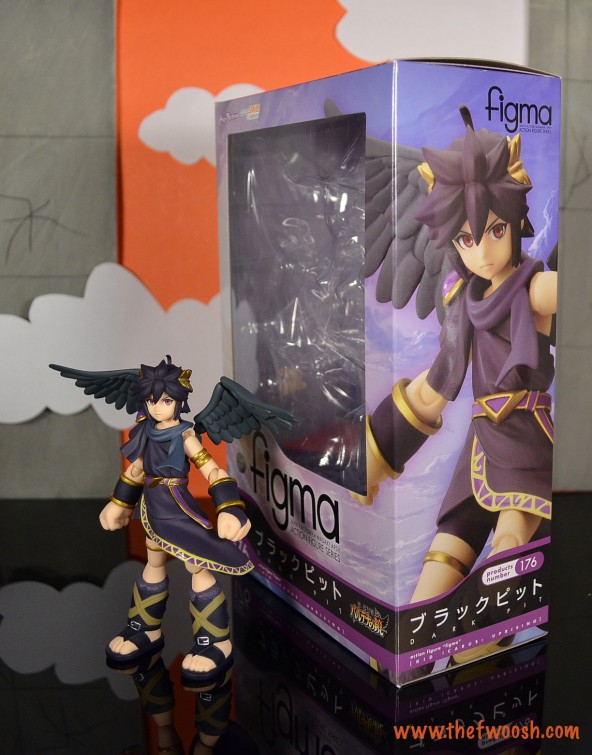 His box is another awesome Figma box that showcases the figure beautifully. I like the darker colors of the stormy-looking clouds in the background.
He isn't decked-out in simple black; black is the dominant color, but there are golds, purples, and greys, and his wings almost look as though they're made of stone — they're like a very dark teal that's just beautiful in person. In fact, his tunic seems to have a dark purple hue to it rather than being just solid black. And then his red eyes tie it all together suggesting something rather… "evil." It's a very striking palette that isn't as simple as it appears at first glance.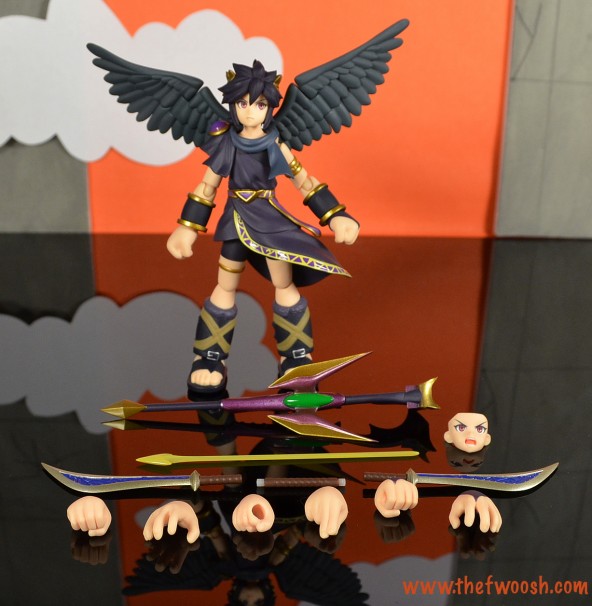 For accessories, most of what he comes with is the same as Pit, with a few exceptions. Unique to this version is a weapon that could be a harpoon or a rifle, I can't tell, and a swappable hand that allows him to wield this weapon properly. He also has a total of six swappable hands, a swappable face (the same as Pit's), a stand, the double-sword-that-becomes-his-bow weapon, and a gold arrow.
The key thing here that's missing here from the standard Pit release is the floating eye. I guess in its place we get the harpoon, but I really don't feel as though that's an equal swap. It definitely feels like the floating eye is missing, and, as a result, I feel as though I'm not getting as much for my money this time because the two figures do cost the same. Also missing are the four gold rings that attach to Pit's wrist and to his arrow. As much as I do like this figure, I can't help but feel I'm not getting as much value for my dollar as I did with the standard Pit.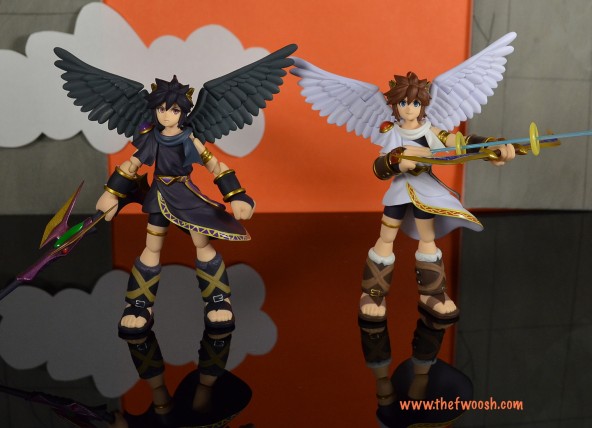 Aside from some of the accessories, everything else here is pretty much the same as the standard Pit. He's just as articulated and just as much fun to pose and play with.
Whether or not Dark Pit is worth adding to the collection is going to depend on the individual collector. Even though I'm a bit bummed by his lacking a few accessories, I'm still of the opinion that he's an awesome figure, and I'm very happy to add him to my shelf. I have a sneaking suspicion that once he eventually sells out, he won't be reissued, so I figure it's better to get him now while he's available than to decide to get him later once it's too late. That's just me, though.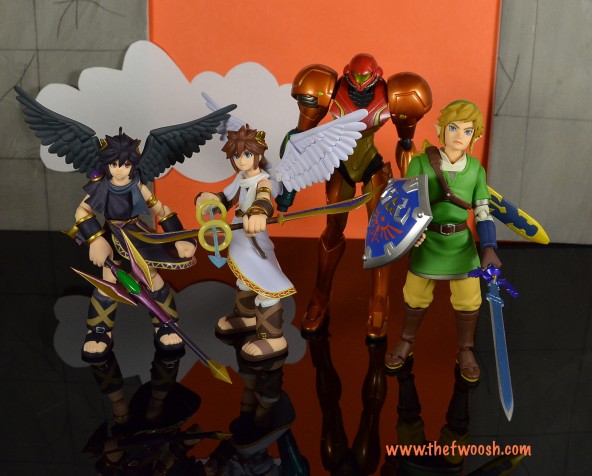 With Dark Pit in the bag, I'd love to see Figma release more variants of their popular Nintendo figures, but that would depend on which game licenses they have access to, I suppose. I'd love to see a Samus without her armor in either the blue jump suit or the bikini from the very first Metroid game. Link has had a lot of looks over the years and I wouldn't say no to a single one of them. In essence, getting these Nintendo figures has been a dream realized after 25+ years, and now that they've given me a taste, I would love to see more. My major wants were taken care of right off the bat with Samus, Link, and Pit, but there is always more room on the shelf.
So, Figma — more, please!