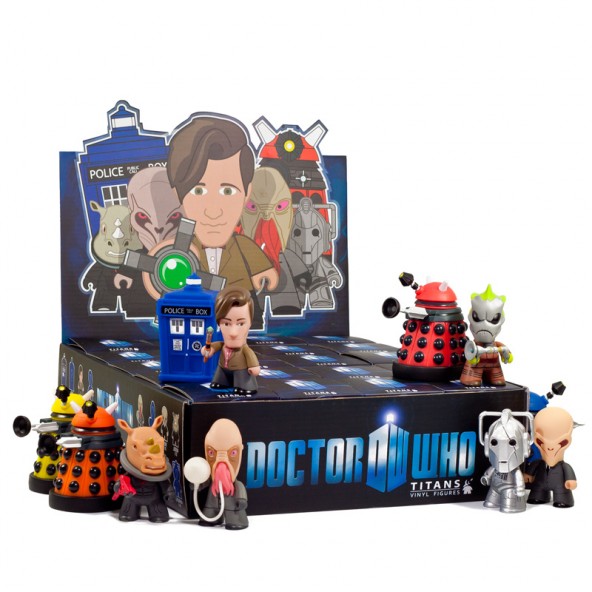 The blind-boxed vinyl figure craze has finally caught up to Doctor Who in the form of these new mini-figures designed by Matt Jones (www.lunartik.com) and released by Titan Merchandise. These super-deformed figures are approximately three inches tall and feature a whopping three points of articulation (on most of them) and the occasional accessory. Sounds kinda… underwhelming, right? So what's the appeal here?
Their appeal is that they're awesome and fun little interpretations of the characters from the ever-popular show that are somehow impossible to resist, although it does help if you're already a fan of this type of figure. My wife and I rabidly collect Funko POP! figures, as well as Hasbro's Mighty Muggs and Mini Muggs, AND we're big fans of the Doctor Who series, so these are totally right up our alley. We stumbled upon them randomly at Things From Another World in Portland recently and were hooked almost immediately.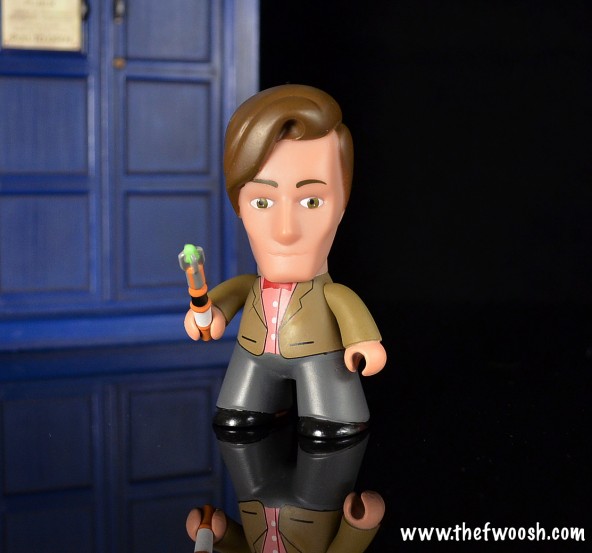 The Doctor was the main one I was after, so I was really happy that luck was on my side and I was able to find one early on. He wasn't my first, however, and it felt a bit odd to be slowly amassing his adversaries without having him on the shelf. This is the standard version, but there's a variant with a blue shirt that's also available in a 1/40 ratio, so he's kinda rare. I'm perfectly happy with this standard version, though.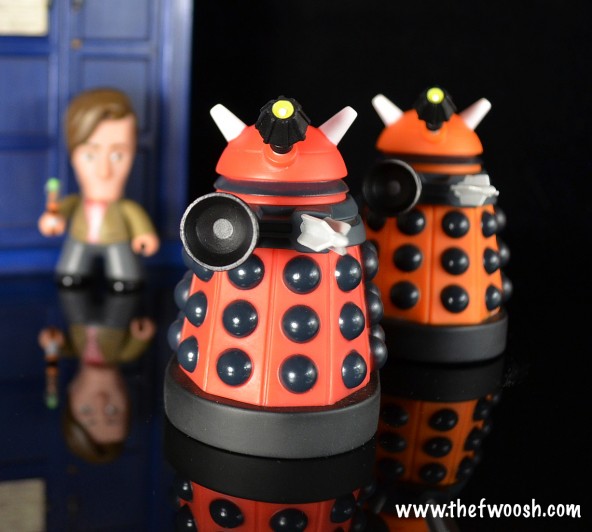 The Daleks are really fun and there are five possible versions: the two pictured here, along with white, yellow, and blue variants that are also available. These I wouldn't mind army-building to a certain extent, so I do hope I can find more.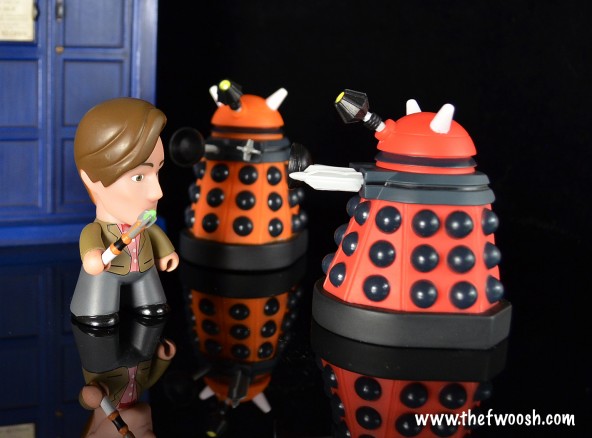 There's definitely a psychology to this. There are 14 characters available in all, not including variants. In my case, each time I buy one I'm hoping for a certain one, so it really feels like I'm rolling the dice with each purchase — that's fun to me. The anticipation that builds as the box and inner wrapper are opened is much of the appeal here, I'll be honest. Getting one you were hoping for is an awesome feeling, but NOT getting one you were hoping for immediately instills an urge to grab another, so if you're of a certain disposition, these will be either a ton of fun, or the worst idea in the world. I'm somewhere in the middle — I'm having a lot of fun collecting them, but it would be really easy for me to go way overboard and overspend as I search for a certain one (I'm currently hoping for a TARDIS and an Ood).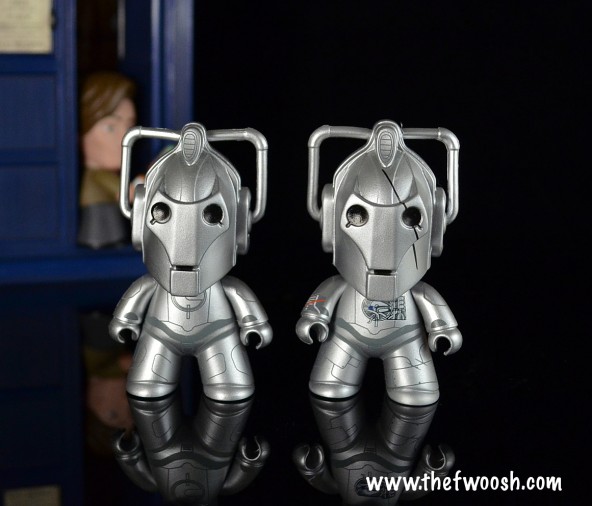 The Cybermen are also great representations of their characters, and I was lucky enough to snag a variant as my very first one of the bunch. I'll admit, however, that even though this variant was a 1/40 chase figure, I was bummed to get it first instead of the Doctor. But once I did get the Doctor, I was completely stoked to have this variant. It seems that, at least for me, having the Doctor adds legitimacy to having all the others.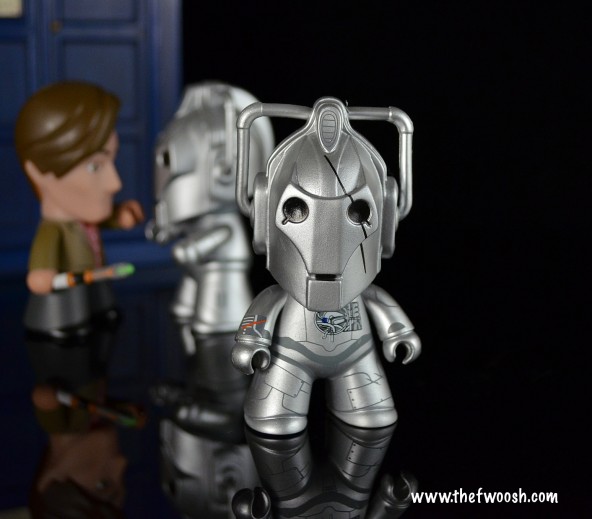 I've picked up seven of them so far and have been fortunate enough to not get stuck with any doubles, which is the constant fear each time I open a new one, but with 14 possible characters, I like to believe the odds of not getting a double are on my side. In some cases doubles would make for good army-builders, but I'd prefer to get one of each possible character before the doubles start. Fingers crossed! This is what's available in this first assortment (not including variants):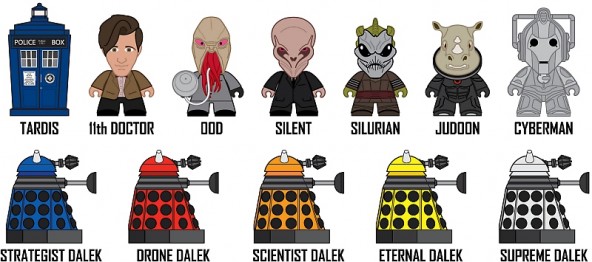 I find it strange that we don't get the Doctor's companions. No Amy, no Rory, and no Clara. We just get the Doctor and a whole bunch of bad guys and supporting characters. And a TARDIS. Hopefully the companions get worked into the line soon because if I'm going to have this version of the 11th Doctor, then I MUST have an Amy Pond as well.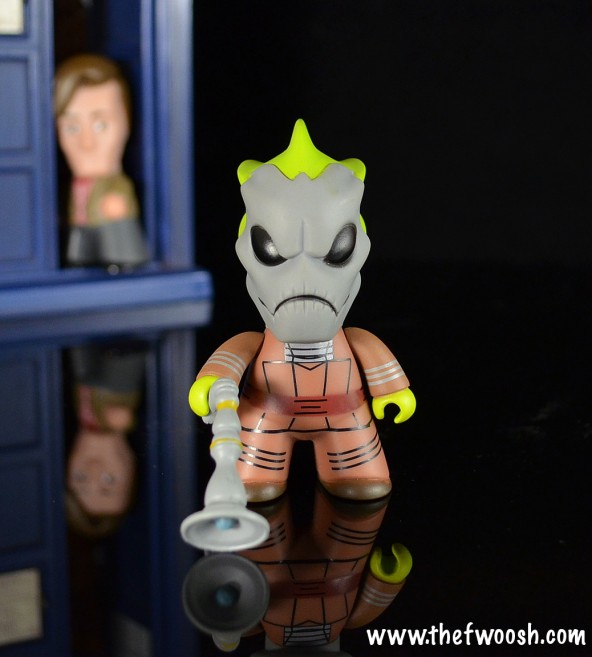 The Silurian warrior here is the only version of the Silurian that I'm aware of, but an unmasked variant would have been awesome too. And you've got to be careful when opening these — some of them, like the Silurian and the Doctor, do come with accessories and it's easy to miss them and potentially toss them out. I DID toss out the Silurian's gun and had to go back and dig through the recycling bin to find it. Ugh. Thankfully I did find it.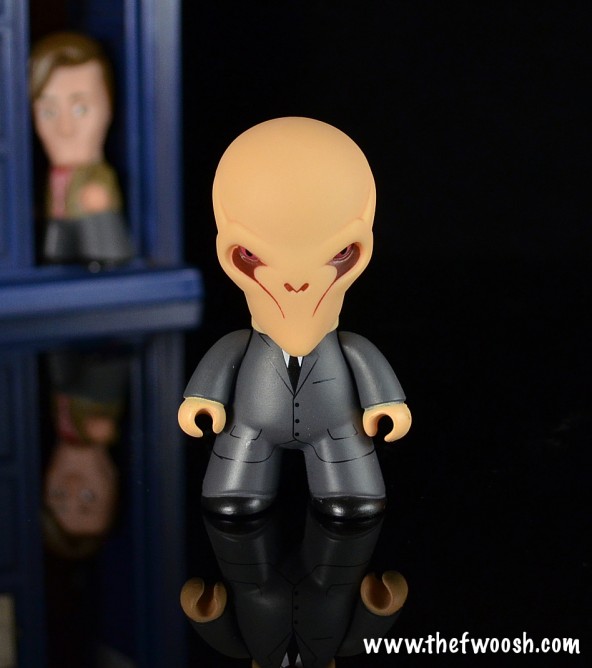 The Silent is one of my favorites. The head sculpt is very awesome and captures the menacing look so well, but in an adorable way. I'd like to have just one more of these guys because a pair of them would seem to be perfect.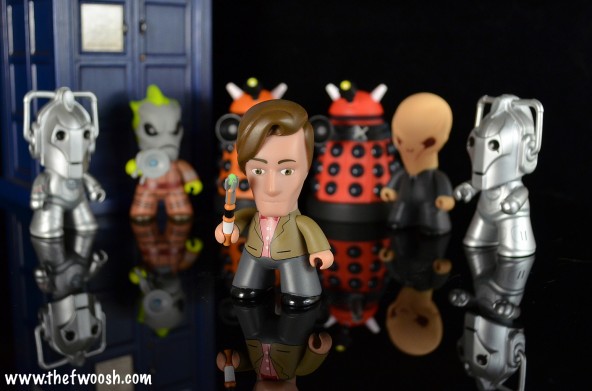 They run about $10-$15 a pop at most stores, so they're a bit pricey for what they are, but you need to keep in mind these are import figures, so they're going to be on the expensive side. They're also blind-boxed, so you have no idea which one you're getting until you open the box. I mean you really have no idea — this isn't like the Lego or Kre-O mini-figures where there's a code or you can feel around the package. Each one is truly a surprise. That may turn some off. It almost turned me off, as a matter of fact, because $10 felt like an awful lot to gamble on something like this, but once I had one in hand I was hooked.
Big Bad Toy Store had series two up for preorder, but if you're after this wave, Amazon may be your best bet. If you think these would be up your alley too, then definitely give them a try. And let me know what you get!