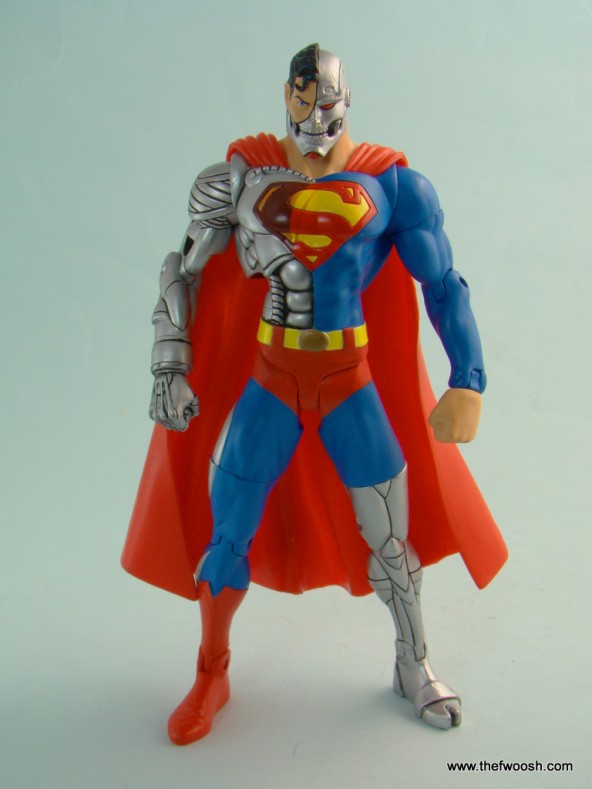 DC Direct
Superman Series 2
Released June 4, 2003
I already spewed my love for Superman figure from the first wave of this DC Direct line of Superman action figures. And as previously mentioned, this figure was sculpted by Tim Bruckner and is another fantastic figure.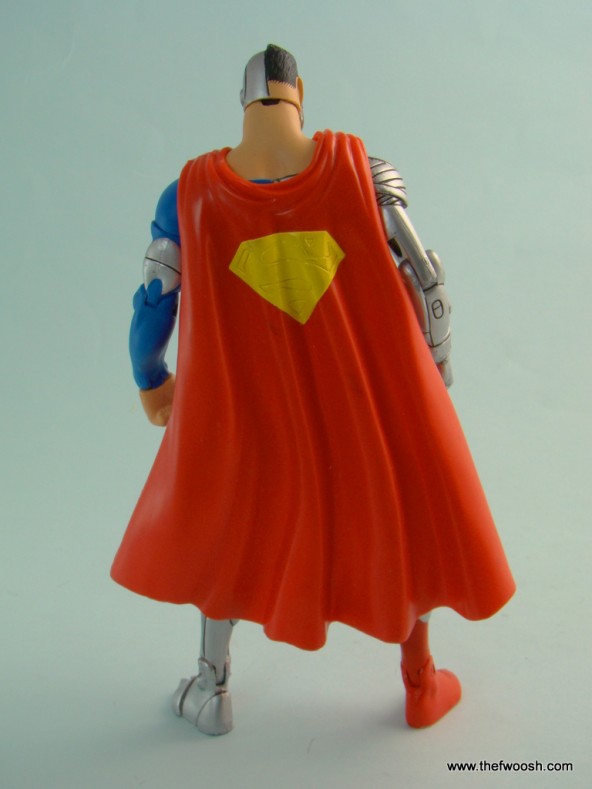 Cyborg here is an interesting character, but one that never really grabbed me. He spun out of the "Death of Superman" storyline where a number of super-beings appeared to take on the mantle of Superman. This confused cyborg was one of them.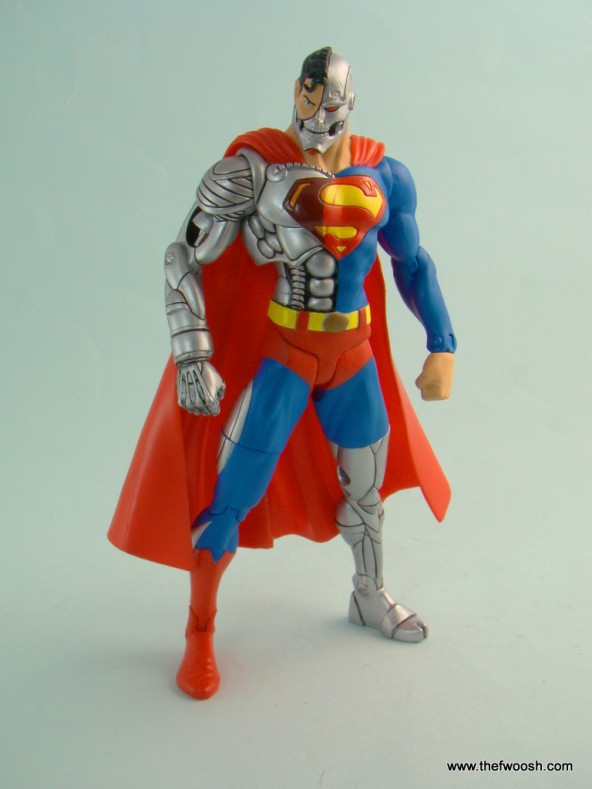 The figure in itself is another fantastic sculpt from Tim Bruckner. Just to give you an idea of how good this figure is, craaaaaarl from the Fwoosh used to pine over the magnificence of this figure. Pine, put on a pedestal, and worship. OK, that might be an exaggeration. Slightly. But it is that good.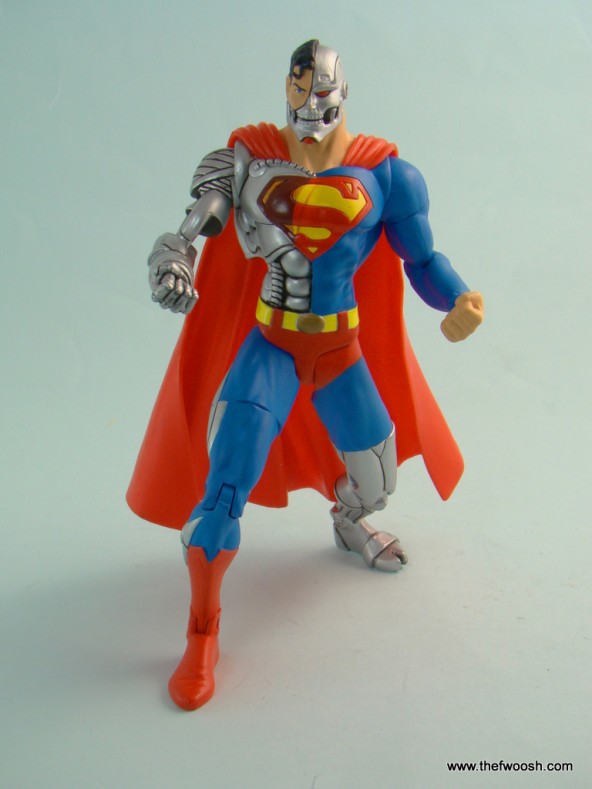 The sculpt really is smooth, well proportioned, and you want it to be a full Superman figure. Not a half-exposed cyborg, although the half-exposed cyborg is really well done. It's not overly mech and channels that pop-art look that Bruckner leans towards: smooth surfaces, rounded, no elaborate wiring or panels — just a good, old-fashioned robot. The human part is just more of the Superman reviewed in the DC Direct write-up. We get to see that chest as it was intended, which doesn't help those collectors who did not like how Superman came out.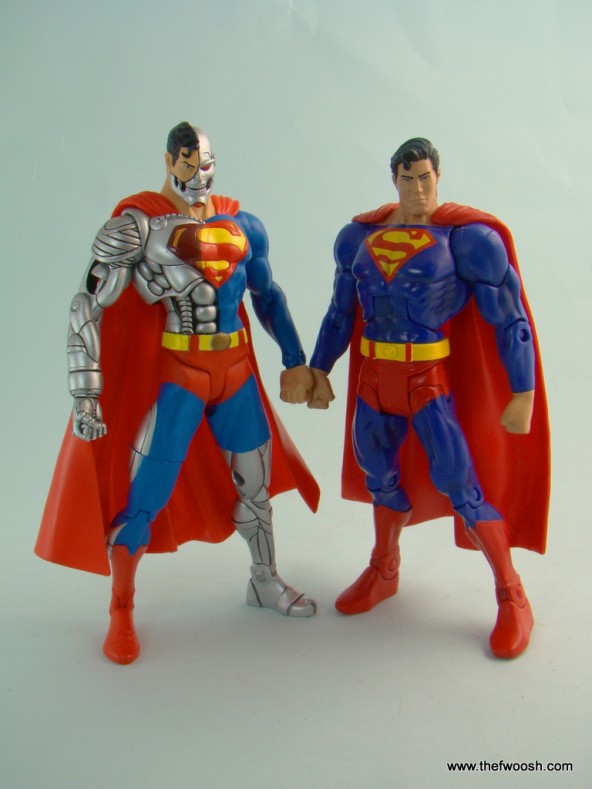 Articulation on this figure is the same as Superman: hinged ankles, hinged knees, thigh swivels, t-crotch, ball shoulders, left arm bicep swivel, hinged elbows, left hand hinged wrist, and wrist swivels. There is no waist swivel on this figure, and while I would love to have that piece of articulation, I'd rather it not come at the expense of the sculpt like with his big brother. The left arm is missing some articulation as well; the hinged wrist I can live without, but the lack of bicep swivel is a bit of a killer. I'm spoiled by this joint and really want it on all my figures. Revisiting this figure and Superman, I've come to realize that the range of motion in the knees isn't that great; you maybe get 30 degrees out of them. I'd need a good 45 degrees to call them standard. But it's not a deal breaker when the sculpt is this good.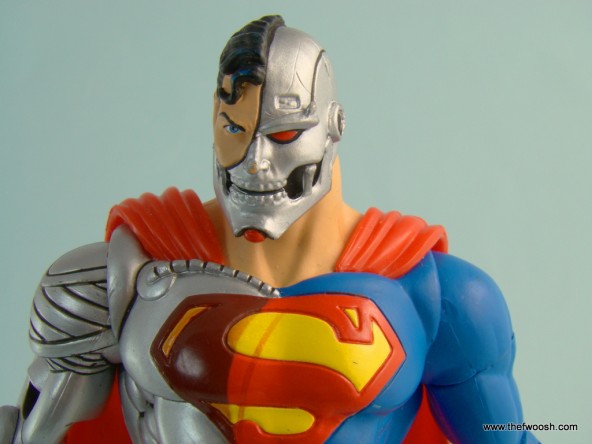 As with Superman, Cyborg here has a good, solid paint apps — very simple and classic looking colors. The real plus is the changing colors on the "S" chest emblem, as it swirls in color between cyborg and human sides. Really sharp execution.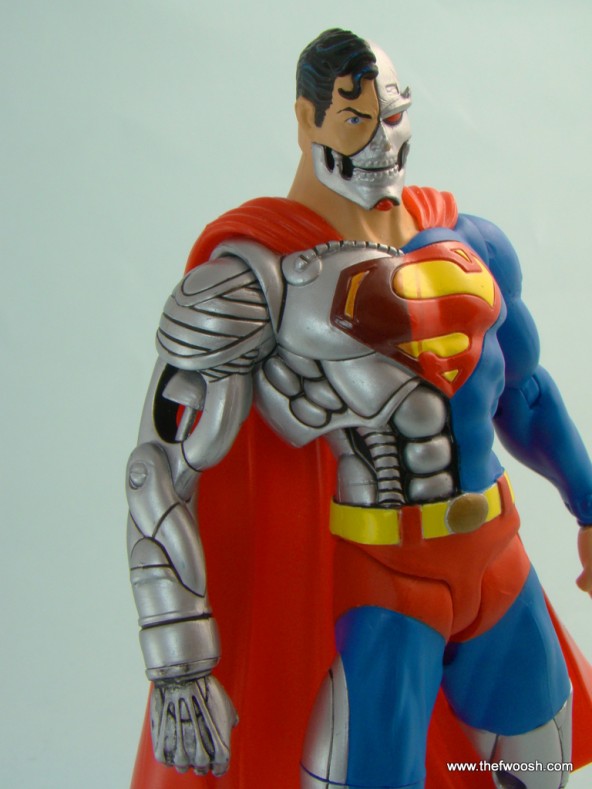 This is another classic figure that you need to pick up for your collections. Heads and tails, it is still the best Cyborg Superman action figure out there.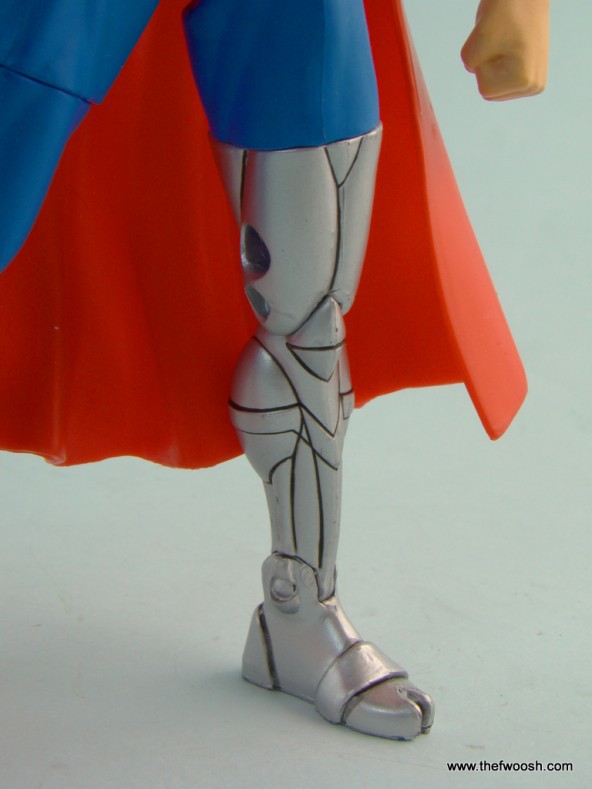 You can still find this figure through Amazon.com for a penny.
As always you can discuss this topic further on the Fwoosh forums.