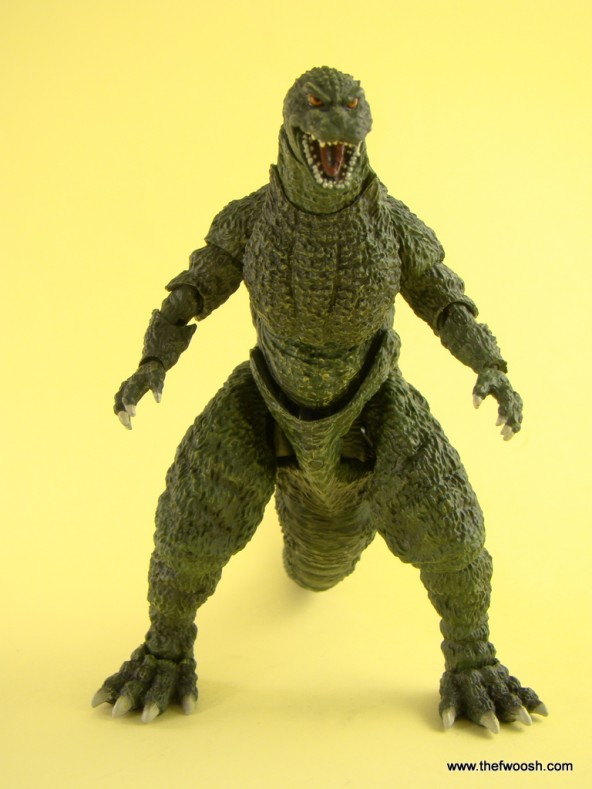 S. H. MonsterArts invades! Godzilla Junior arrived this year and is a part of Bandai's new S. H. MonsterArts line showcasing GODZILLA!
Godzilla is everyone's favorite Kaiju from Japan, first appearing in 1954. And there have been a good number of films since. The original movies ran from 1954 to 1975, again from 1984 to 1995, and then 1999 through 2004. This figure represent Godzilla Junior as he was in the 1994 film Godzilla vs SpaceGodzilla. At the time Junior was not full grown and he did not reach his full size until Godzilla vs Destroyah — where he kicks major ass!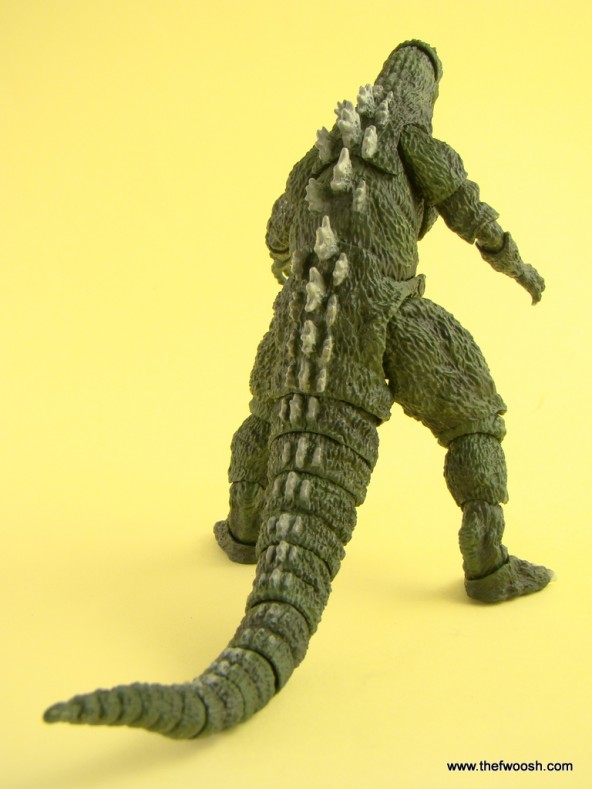 Bandai is really knocking it out of the park with their toy lines these days. This is my first MonsterArts and I am absolutely in love with this figure, so I will have a hard time not picking up every figure they make. The sculpt on this figure is just amazing, and considering its small size, wow, it's even more impressive. Yes, this figure is small, standing some 4-5 inches tall; he is a better fit for my N-scale model railroad than my action figure collection. In fact, he might do well pitted against my MSIA action figures.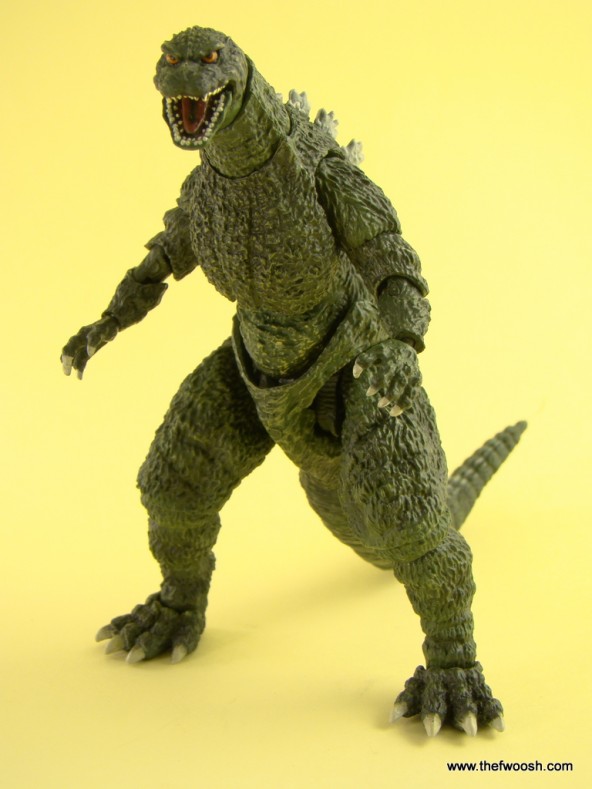 And the articulation — amazing! Ball jointed feet, double knees, ball hips, ball waist, ball chest, ball shoulders, double elbows, ball wrists, ball neck, ball head, jointed jaw, and a multi-jointed tail. All this packed into a 4-5 inch figure. And, for the most part, you can get him into just about any pose you want! That makes for a whole lot of hand candy.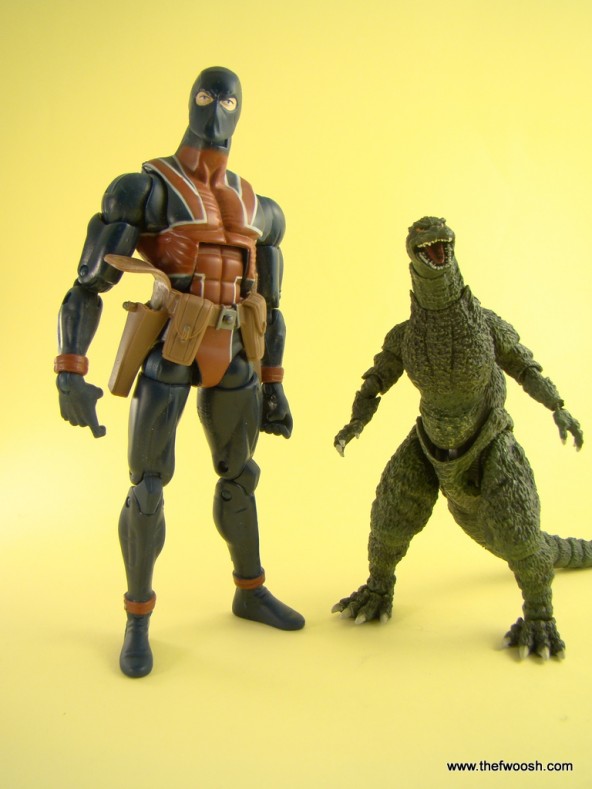 The accessories are limited. He comes with two helicopters, four sets of rotors, stands, and wires for the helicopters. The helicopters are fun to pose around Godzilla, but they don't serve a purpose beyond that. The rotors can be switched out for flying poses or for landed poses.
But who needs accessories!?! This is Godzilla, a big giant fire breathing monster! Well not Junior, but Godzilla is. And one day, Junior will breathe fire!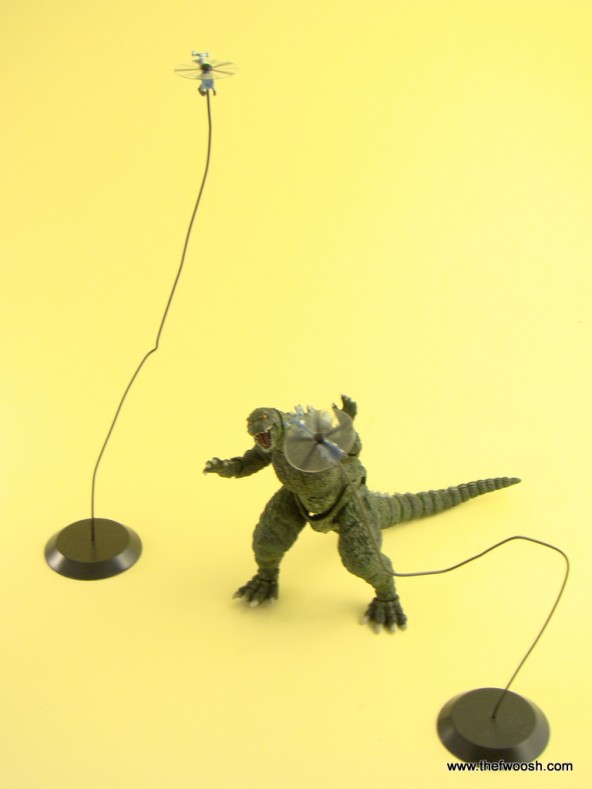 Without a doubt I recommend this figure. It is a must-buy for any Godzilla enthusiast out there. He's beautifully sculpted, loaded with articulation, and represents one of the cooler Godzilla variations out there.
You can still purchase this figure at BigBadToyStore.com: http://www.bigbadtoystore.com/bbts/product.aspx?product=BAN14592&mode=retail
Or Amazon.com:  http://www.amazon.com/Bandai-Tamashii-Nations-Godzilla-Jr/dp/B008U54QW0/ref=sr_1_1?ie=UTF8&qid=1364840234&sr=8-1&keywords=S.H.+MonsterArts+-+Godzilla+Junior
And as always you can discuss this further on the fwoosh forums: http://thefwoosh.com/forum/viewtopic.php?f=91&t=70564