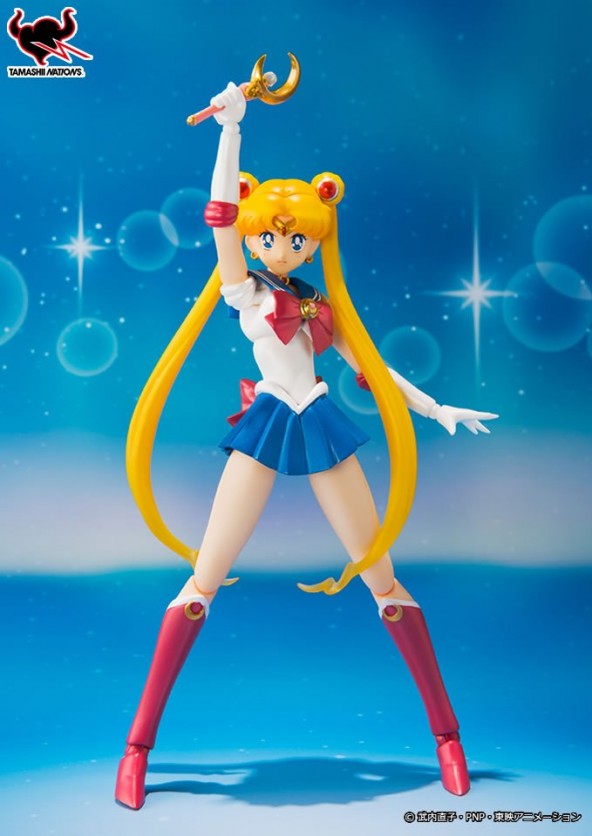 Bluefin Tamashii Nations USA posted a new release on their Facebook page today — Sailor Moon! Yes, Sailor Moon is finally coming to S. H. Figuarts later this summer! And she looks loaded with articulation, so you'll be able to pose her as she appeared in the anime!
Most people will remember Sailor Moon from the early '90s anime that quickly turned into a frenzy for collectors of all ages. For those that were anime starved in the '90s, wanting to see anime alongside Batman the Animated Series and X-Men on Saturday morning cartoons, Sailor Moon was the perfect medicine. It also spurred a deluge of "panty" and schoolgirl-outfit anime crazies, and, yes, I'm looking at you.  I know a few Fwooshers that are already extremely excited about this figure and possibly all of the Sailor Moon Characters.
Bandai continues to knock these figures out of the ball park and this is another perfect rendition of an anime property.  Tons of articulation and another fantastic sculpt. And the head sculpt! Perfection. She is holding her wand, which can only mean more accessories, at least we can hope.
Quick searches on Fwoosh sponsors Big Bad Toy Store and HobbySearch show that the figure is not available for preorder yet, but it is just a matter of time before she goes and up and we'll keep you posted since this is one property that will be certain to sell out quickly.
Head over to Bluefin's facebook page. S.H. Figuarts Sailor Moon.
As always, you can discuss this further on the Fwoosh forums. http://thefwoosh.com/forum/viewtopic.php?f=91&t=85351