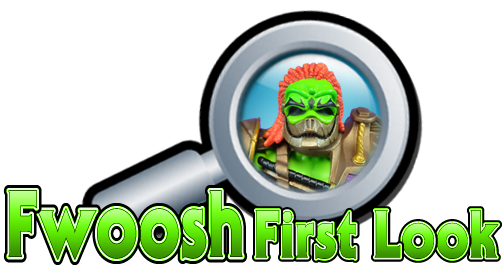 First, the bad news: May 2013 marks the one year anniversary of the release of the Masters of the Universe Classics Slush Head figure. That is a reminder that the woefully under-represented New Adventures corner of the MOTU property has not seen a new figure in exactly 12 months. The good news? Well, Mattel is marking the anniversary celebration with the release of one of Slush Head's closest compatriots – Karatti! Yep, the dim-witted mutant that is named as such because, I can only imagine, he has to be reminded of what it is he is supposed to do all the time. You know, karate? Karate? Karatti? See what they did there? Better still, the Space Mutants continue batting a thousand in terms of impressive releases and a rag tag bunch of space rejects have never looked better.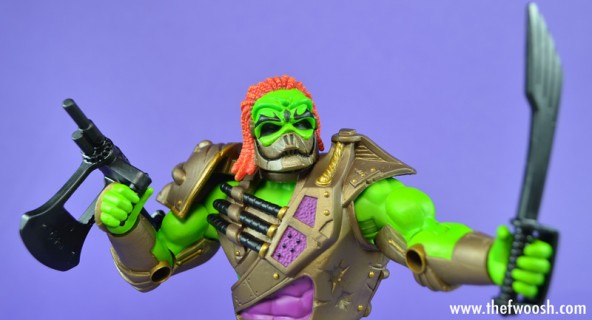 I have made it pretty clear over the course of doing several of these First Looks that the New Adventures of He-Man was not a part of my childhood. I was well into Teenage Mutant Ninja Turtles by then, and space He-Man (at the time) probably would not have been my bag. I can admit, though, that the basic NA designs that really did not get the benefit of very good toys in the early '90s are having their absolute golden age right now. From Optikk to Icarius to Slush Head, there has not been one "meh" figure in the whole lot. As Karatti continues that tradition, I am heartened as I imagine we will probably see a good chunk of NA figures over the next couple of years since their ranks are so thin right now.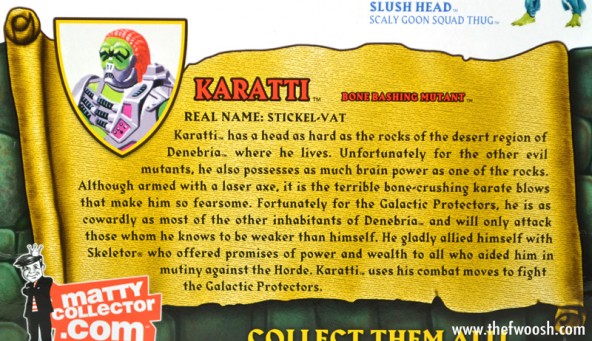 However, since I did not experience NA as pup, I never really got a chance to write my own characterizations and histories with that same finely-tuned imagination of the original line. So I am working my way through that now, and like all MOTU incarnations, I am taking pieces form here and there and combining them with my own make-believe to see how it all fits together. While I do like the fact that he is a bone-smashing, powerful mutant, I am not really into the whole nitwit aspect that seems to befall so many of the Denebrians. It might just be his look, but I think him to be, and I have a lot of company with this, more of the "Predator" of the MOTU world, a ruthless and relentless tracker. His look and accessories lend themselves to such a characterization and I need a mutant that is quiet and deadly serious. Covert style with invisibility cloaks, motion enhancers and technology is the name of the game for Karatti, and woe betide those whose names end up on his hit list.
From a figural standpoint, his odd look makes for a kind of an odd figure that is just crazy enough to work. Despite his unique nature, he is not made up of as many brand new parts as you would originally expect and the Trap Jaw/Kronis body foots the bill for many of his parts. I realize that, by now, some people are growing tired of the TJ legs used on this figure, but if they work, they work, and I am not so burnt out on them, but I would love to see some new pieces used as we delve into figures like Flogg and Lizorr. His arms are all Kronis too, and those give him the more outer space and technologically advanced feel. Past that, he has the standard male torso, but you really don't see much of it hiding under all of that armor. All of these parts come together well and he has solid construction and engineering with no weak or floppy joints.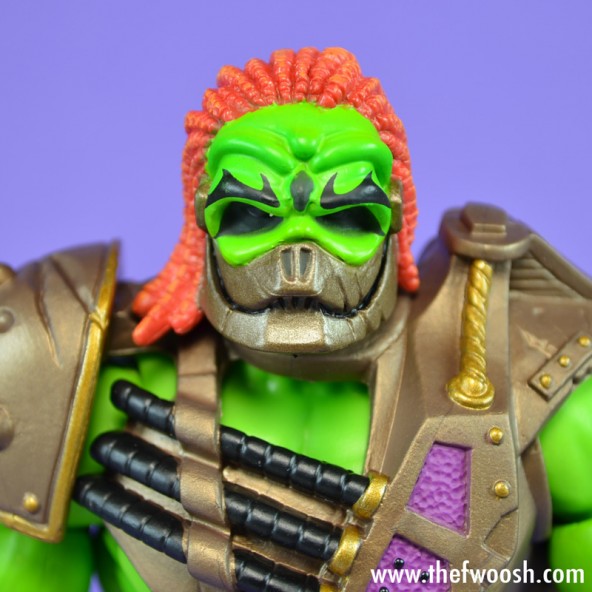 Speaking of which, his entire armor rig is all new and it has tons and tons of detail. Methinks the fabrication wing of the Four Horsemen Studio had a good time making the bolted shoulder pads and tubing. I like how it almost looks like the black tubing in the front goes into Karatti's body, like he needs it to survive. Also incorporated into the armor are some newly-sculpted abdominal muscles that are meant to show through the purple under-armor that he is wearing. In a turn of one of the weirdest designs in all of MOTU (and that is saying something), his abs stretch all the way down into, well, his crotch. This is spot-on to the original figure and artwork, but for those of you that rely on the old junk kick from your self-defense classes, watch out – it appears Karatt's got balls o' solid rock. The armor and crotch piece do help to bulk him up some (*snort*), but they are made of flexible plastic so he still retains his abdominal crunch articulation and his leg movement is not inhibited.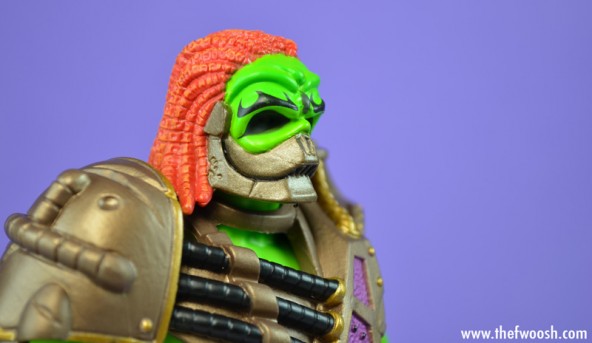 On top of that sits one of the most interesting and (now) intimidating head sculpts of the entire Classics line. Let's see what we have going here: bionic jaw, wrinkled face, deep set black eyes, and bright orange dreadlocks make up a face even a Denebrian could not love. I have seen pictures of the original Karatti figure from the NA line and I can tell you this – he was pretty goofy-looking. However, this new incarnation is just scary. You cannot really see into his eyes since they are so dark and deep-set and when you are green, have orange dreads and a forehead that would make even the most elder Klingon warlord weep with envy, guys are going to see you and run in the opposite direction. That does not even take into account that your metal teeth could probably rip an entire arm off. There is no doubt that this guy was supposed to be the "Trap Jaw" of New Adventures, but his look really takes on a life of its own and Karatti has certainly found his own niche.
Karatti comes with two weapons to help him hunt down his prey: a mean-looking machete and an axe-gun. Yes, that is correct — an axe-gun. Both are basic in color since they are solid black, so I wish they had more paint detailing on them, but the sculpts are very solid. The machete is fairly basic, but it is good that it has the hand guard because that Kronis left hand is pretty open and he would not be able to hold it without it. The axe-gun is just amazing in its far-out destructive design. It can held horizontally for machine gun action, and then by the handle as a melee axe. I would imagine a guy like Karatti has a lot of instances of having to make that switch on the fly, so being prepared with such an implement is always a good thing. An axe-gun. What fascinating modern times we live in.
The ranks of the Space Mutants are slowly growing, and while we still do not have their fearless leader Flogg yet, I think Karatti is my new favorite New Adventures figure. He is solid from top to bottom and has a very, very unique look to help set him apart from the giant eye guy and "head under glass" man he will be standing with. Now, Icarius is terribly outnumbered, so let's hope that Hydron or Darius or even Kayo show up sooner rather than later to lend a hand.
*Thanks for reading and thanks to the Mattel MOTU team for sending Karatti along for this Look. We have more coming soon!
Additional Links