This is a bit of a part 2 to the Kikaider article I posted recently (read it here). Hakiader and Bike is another figure and vehicle release from Bandai under their S. I. C., or Super Imaginative Chogokin, line. This figure appeared in 2001 the same year as Side Machine and Kikaider.
Hakaider was one of the main villians in the 1970s tokosatsu series Kikaider, and he even got his own movie in Japan in 1995.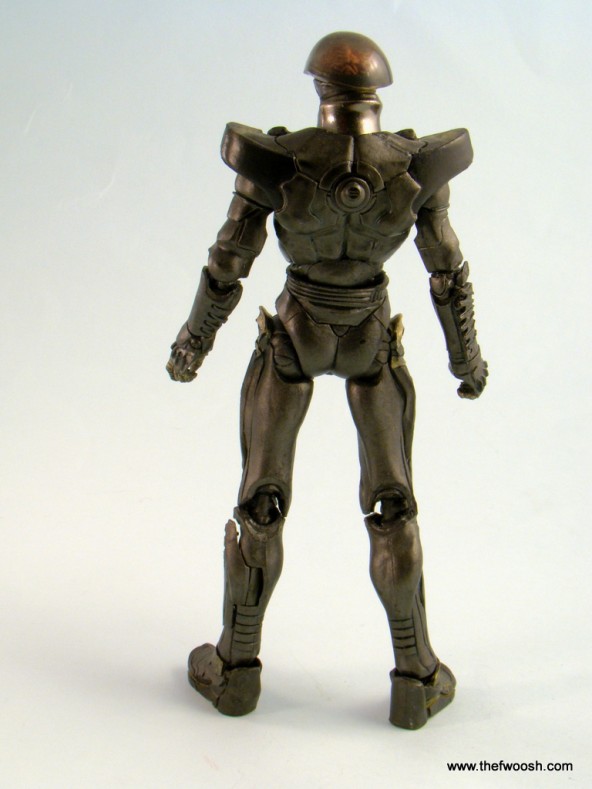 Being part of the S. I. C. line, this is a 1/1o scaled action figure standing some 7 – 7.5 inches tall. The figure is beautifully sculpted and has decent articulation. This figure has ball ankles, double ball knees, ball hips, ball waist, ball abs, ball shoulders, ball elbows, swivel wrists, ball neck, and a ball head. The articulation in the legs is ok, but the elbows barely bend. The waist and the abs are horribly wobbly making him pose very difficult. Once you find that sweet spot, don't breathe or move, otherwise he'll take a shelf dive.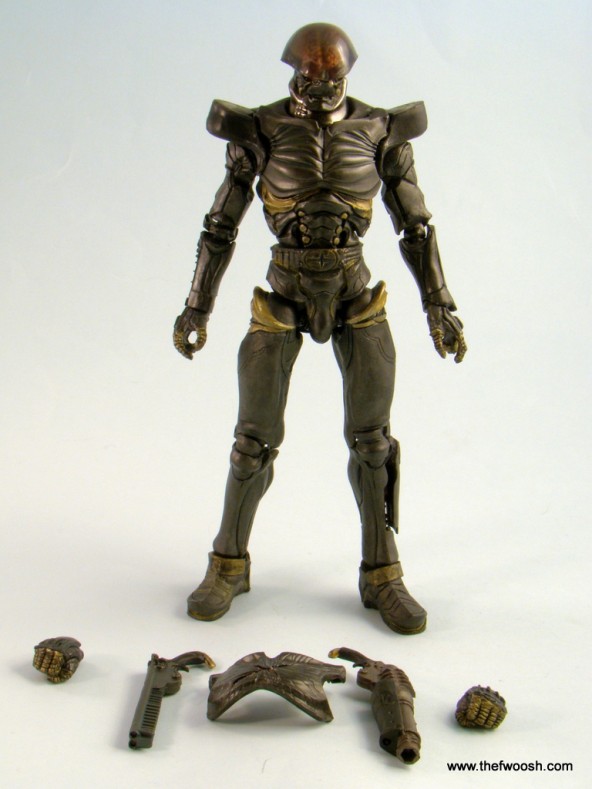 The fun of this figure is the accessories and parts, and does he have some hidden gems! He has Two chest plates that can be switched, and behind the chest plate there is a diecast heart. Yes, this figure has a diecast part. The heart is removable in the event that you want to pose Kikaider over him holding Kikaider's heart in a show of defeat!
Hakaider also has a clear plastic plate protecting his head; this is removable along with the pink brain underneath. Like with the chest, Bandai took the time to sculpt the area where the brain and heart are housed, and the sculpting is beautiful.
There is an extra chest plate with a carved "X" that must have something to do with the TV show. And there are extra hands and some sawed-off shotguns. The guns don't sit tightly in the hands, but with some jimmying you can get them to stay.
The sculpting in general is amazing, light years ahead of the rest of the super-articulated figures of the time. Yes, that includes Marvel Legends. I can easily spend hours looking at these figures and find details I missed or forgot. And the paint perfectly compliments every loving detail put into the sculpt of this figure.
This is a figure with a bike and I must say that I love this bike better than Side Machine. Both of them are incredibly sculpted and a joy to behold. There are even more hours to be spent looking at this magnificent machine. Hakaider does sit on his bike more convincingly than Kikaider, though it isn't perfect. There is a clear plastic stand that you can attach to the back wheel to make it stand better.
Overall, this is an amazing figure and I strongly recommend it for the collector of S. I. C., tokosatsu, or just any amateur that has an interest in beautifully sculpted, articulated action figures. Continue on for more picture below!
This figure is available at times via amazon. com: http://www.amazon.com/Bandai-S-I-C-Kikaider-Hakaider-Bike/dp/B0007WG3N4/ref=sr_1_4?ie=UTF8&qid=1364148729&sr=8-4&keywords=kikaider+s.+i.+c.
And as always you can continue the discussion on the fwoosh forums: http://thefwoosh.com/forum/viewtopic.php?f=91&t=80130