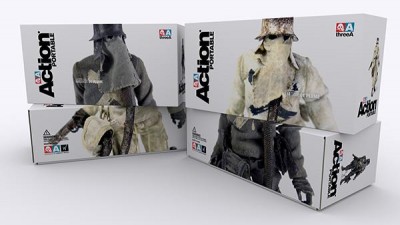 ThreeA Toys sent another tracking mail to me today for Action Portable Barguest and Fantome, the last de Plumes made in the version 1 style. All new de Plumes are being made in the 2.0 style, noticeable changes being a three-hose gas mask and new boots. These are the last ones to use the old Vietnam-era boots and single hose WW2-style gas masks.
Barguest and Fantome are part of the World War Robot universe, and I'll be honest — they look fantastic. Character-wise and universe-wise, I haven't a clue as to who they are or what their backstory is, but I love the look and they will more than likely fill some kind of role in my ThreeA universe as a "Spy vs Spy" type pair. Or not. But they will take a spot as someone or other. They will definitely square off against some Robots, Fighting JC, and some TKs.
Officially, I am Two figures from a complete set of 1/12 Action Portable de Plumes; I never picked up Nom and Noir — they are on my "to buy" list, and one day… one day they will be mine!
Keep your eyes open for the upcoming reviews right here on the Fwoosh! Our ezine staff is already planning who is writing and who taking pictures!