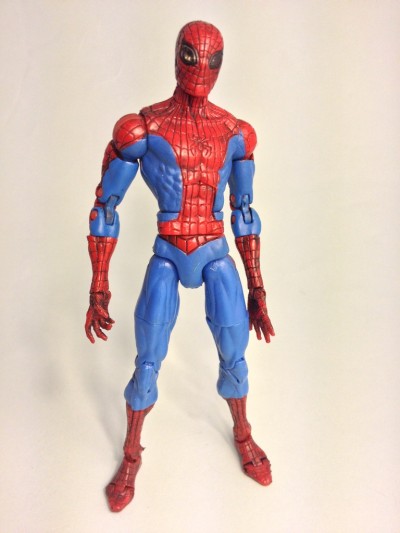 I recently decided that I had way too many Marvel Legends and Spider-Man Classics sitting in boxes never seeing the light of day. Off to eBay! I took out my iPhone to experiment taking pictures and creating eBay listings using the eBay app for iPhone. During this exercise it hit me just how many Spider-Man action figures I have purchased over the years.
As collectors we complain quite a bit about the Wolverine figures that are sold in just about every wave of Marvel Legends, but nothing can compare to the number of Spideys that have come out. Spidey not only dominates Marvel Legends, from Toy Biz to Marvel Toys to Hasbro, but there are also enough Spideys to support wave after wave of his own line, be it Spider-Man Classics, Spider-Man, Movie Spider-Man or the "soon to be famous eating at Subways all over the world" Spider-Man line. It is mind boggling.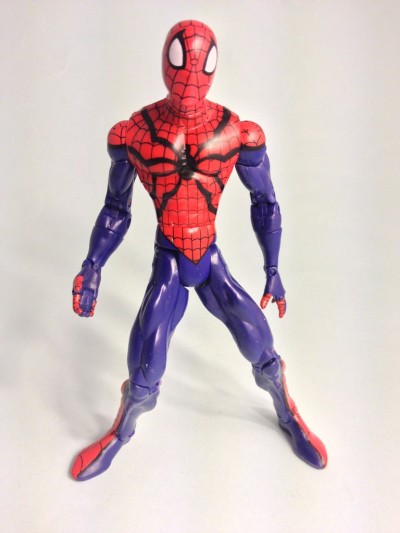 During a recent trip to Toys R Us, I saw they had a whole wall dedicated to Spider-Man. A little bit of sanity died.
Now, these pictures are taken with my iPhone, so they aren't the greatest quality or a quality that you should expect from the Fwoosh on a regular basis, but for the purpose of this article they have a place. One of the things that amazed me is how many original sculpts or original parts made into the Spidey lines.
Sure Sure, there is quite a bit of reuse of the original Spider-Man Classics action figure from that pre-Marvel Legends wave, a figure that no longer exists in my collection — long gone custom fodder or sold or lost. But there are a lot of original sculpts and parts in the line. And I did not collect every Spider-Man figure ever made; these are just ones that interested me or offered something different.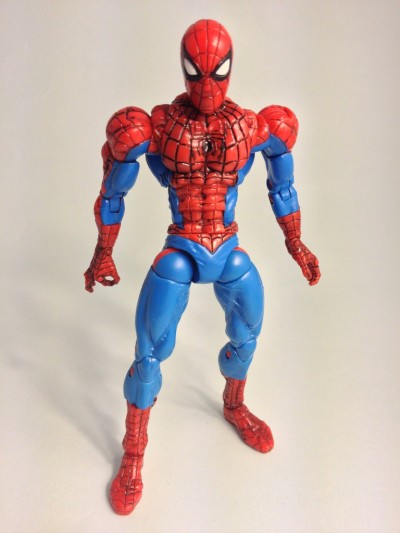 There are two Spider-Man figures that were released as part of box sets: Urban Legends, the Sinister Six, and the Fearsome Foes. The Sinister-Six Spidey was an all new, never seen before, super-duper poseable sculpt. Urban Legends was a rehash of Spider-Man Classics Series 11 Sneak-Attack Spider-Man, and Fearsome Foes was a new paint scheme and head for the Spider-Man Classics Series 12 Super poseable Wall-Crawling Spider-Man.
It is amazing to look at the number of Spideys produced. In this part, I'll only be giving a small taste of the figures, and in the next part an even smaller taste. You will come away with the effort put into Spidey.
What was the point of the sorting and selling, you say? Well, I had to choose a Spidey for my collection. I had to choose the one that would eventually fit in my display, and with the large amount of Spideys sitting in boxes, on display in various rooms, and lying around, I had to choose one. But which?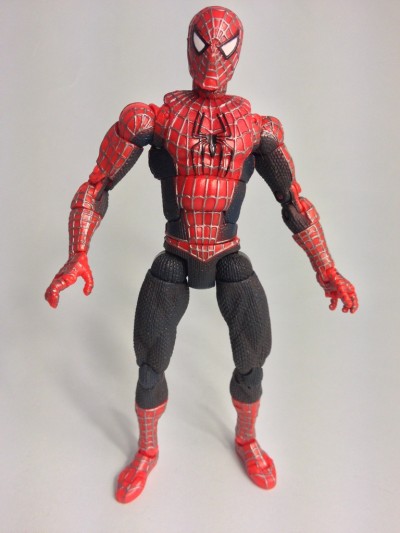 Spider-Man Classics Series 8 Spider-Sense Attack Spider-Man is a fantastic figure, the sculpt and articulation are just about perfect and he can pose in most of the required poses. He doesn't suffer from strange anatomies like the Sinister-Six box set Spidey or the Spider-Man Classics Series 10 Snap-Shot Spider-Man. He would have been the keeper, except his head suffers from action feature-itis: light up eyes. In order for his head to have this feature, the head is attached to the neck via a standard swivel joint resulting in no looking up or down, just a side-to-side movement. And that won't do.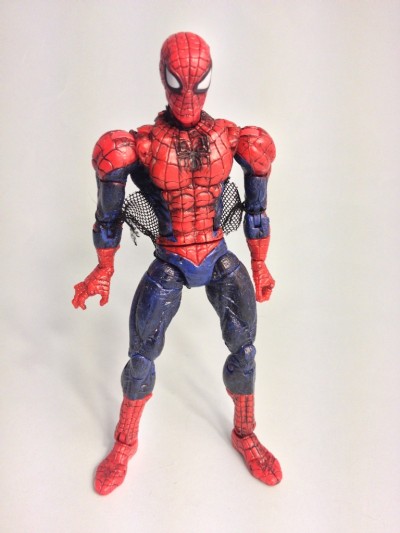 If not him, then who? As mentioned above, the anatomy of the Sinister-Six and Snap-Shot Spideys didn't do it for me. In fact, all the Spideys in this part failed the test. I even challenged the movie Spideys and they failed the test too. At this point exhaustion began to eat my weary bones, and at 20+ figures ready for eBay, I had to take a break. These did not make the cut. These were not good enough. So who was? Who could fit that all-important spot?
Marvel Legends Ares Series Scarlet Spider (Ben Reilly)
Marvel Legends Spider-Man vs the Sinister Six Spider-Man
Marvel Legends Fearsome Foes Spider-Man
Spider-Man Classics Series 1 Magnetic Spider-Man
Spider-Man Classics Series 5 Magnetic Spider-Man
Spider-Man Classics Series 8 Web Attack Spider-Man
Spider-Man Classics Series 8 Street Fighting Spider-Man
Spider-Man Classics Series 8 Spider-Sense Attack Spider-Man
Spider-Man Classics Series 10 Snap-Shot Spider-Man
Spider-Man Classics Series 11 Sneak Attack Spider-Man
Spider-Man Classics Series 16 Battle Action Spider-Man
Spider-Man Movie 1 Series 1 Super Poseable Spider-Man
Spider-Man Movie 2 Black Symbiote Spider-Man
Spider-Man Movie 2 Series 4 Ultra Super Poseable Spider-Man