On June 14th, Zack Snyder's The Man of Steel will be swooping into theaters worldwide. If you can't wait that long for your Superman fix, then Sideshow will come to your rescue with their Superman Premium Format Figure!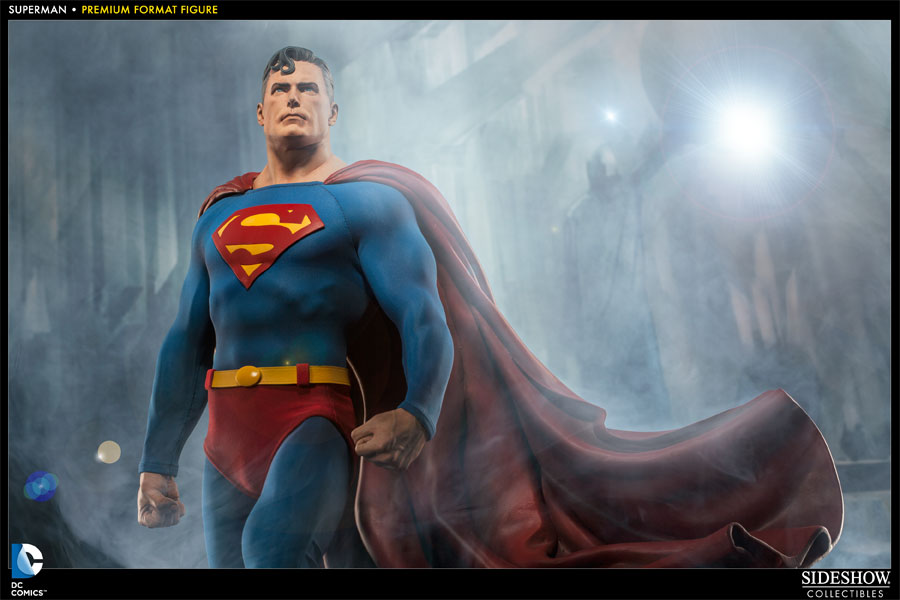 The classics never go out of style and Sideshow knows it. They deliver a note-perfect rendition of The Man of Steel at his most iconic. Featuring a tailored fabric suit and sculpted billowing cape, this remarkable statue stands over two feet tall, set on a frozen Fortress of Solitude-themed base.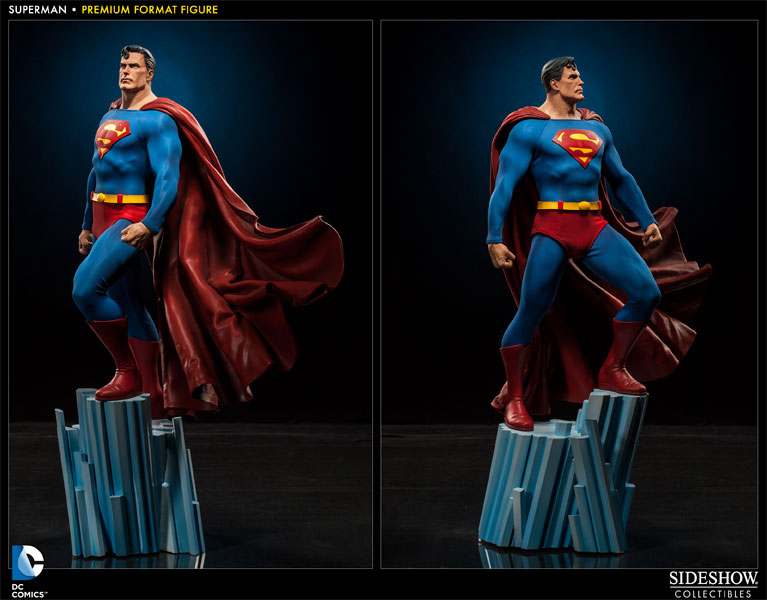 I love the colors. The bodysuit is just the right shade of blue — if you're a Superman fan, you know getting this detail right is easier said than done, but Sideshow nails it. The reds are very striking as well, with a more primary shade chosen for the trunks and symbol and a darker, richer tone for the cape and boots. The cape appears to share the thick, almost leathery texture of the boots, providing a nice contrast to the simple but elegant bodysuit. The belt is a little on the basic side, but that minor nit is balanced by the wonderful work done on the chest symbol. Not only is the shield a raised element, but the edges of the "S" are sculpted as well, giving the piece an impressive sense of volume and depth.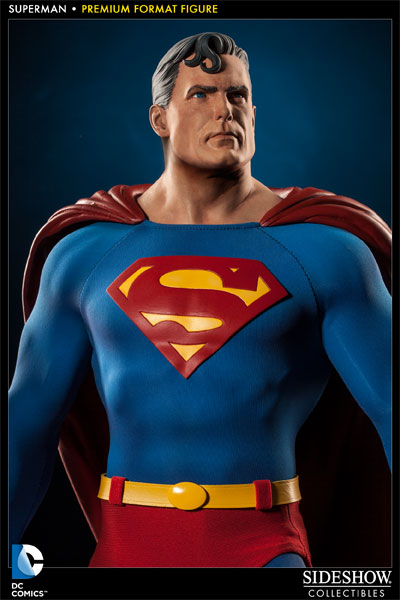 The head sculpt is wonderfully lifelike while retaining important comic-book characteristics, like the wide jaw and spit curl. One might be tempted to say this is the "Alex Ross" version of Superman, but I see it more as an amalgamation of a few different artist's looks, especially Curt Swan and John Byrne. You could show a picture of just the head to random people on the street and they'd know it was Superman — that's quite a feat, but Sideshow manages to pull it off. The skin tones are of the usual outstanding quality, appearing very natural and life-like. His piercing blue eyes are especially sharp and vivid, giving the statute a look of steely determination. Speaking of eyes, the Exclusive Superman Premium Format Figure, available only through the Sideshow website, will include an additional switch out portrait with heat vision eyes.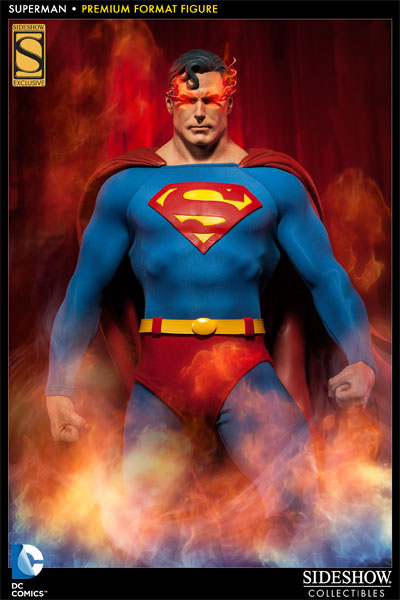 When The Man of Steel comes out in June, some clown will inevitably start off their review of the new film with the hackneyed catchphrase "This isn't your father's Superman!" In the case of Sideshow's statue, the reverse is clearly true -i this is your father's Superman and that's great! In these dark days of change for change's sake, it's important to remember who our classic heroes are and what made them endure. This statue from Sideshow is a fine reminder and would make a remarkable addition to any shelf.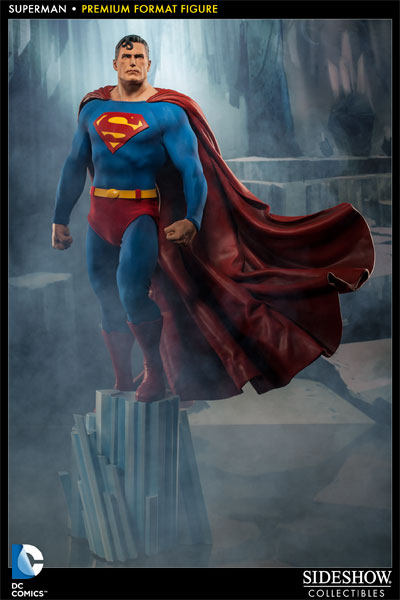 Both the regular and Exclusive versions of Superman will be priced at $399.99.
The Exclusive Superman Premium Format Figure will be available for preorder in the weekly Sideshow Newsletter on Thursday, March 28th, 2013, which is typically published between 2 PM and 3 PM (Pacific Standard Time).
Jason R Mink IS The Man in the Ant Hill! – 03/28/13