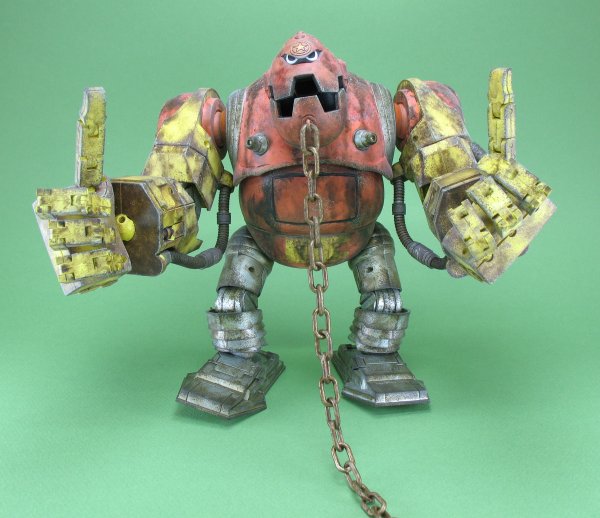 A few years ago the ABC Warrior known as Mongrol was released by 3A Toys as a huge, expensive 1/6th scale figure that looked about as cool as a toy could look, but was way too pricey for me to want to drop cash on. Time passed, and we were teased that it would see a 1/12th scale release. More time passed, as time tends to do when dealing with 3A, and finally, the 1/12th scale Mongrol sale date was announced. Many of us who had eagerly been awaiting his 6-inch scale debut placed our preorders, and then proceeded to wait yet again.
That's how it is.
But finally — finally — Mongrol is hitting. While the wait was torturous, the rewards outweigh the inconvenience.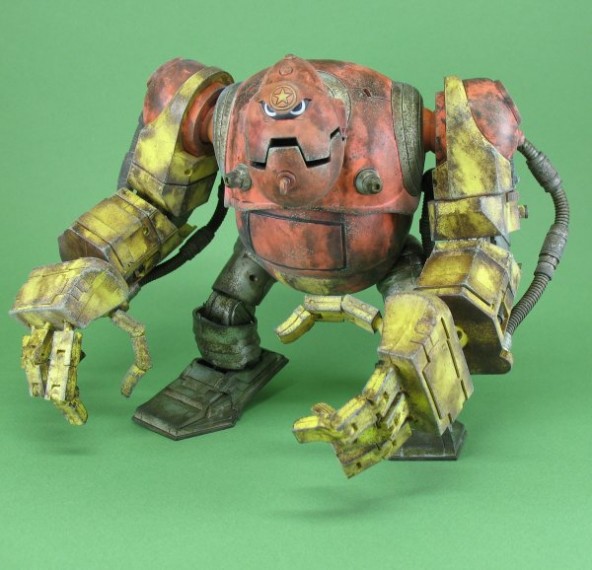 Even at the 1/12th scale this is a nice sizable chunk of toy that takes up its fair share of real estate. It's girthy and feels well worth the surprisingly low price it cost. On occasion 3A can put out toys that feel as if they may shatter if you cough on them, but nothing about this toy feels fragile. I'm not going to be tossing it around like a football, but I'm also not terrified about moving his fingers like I have been with other offerings.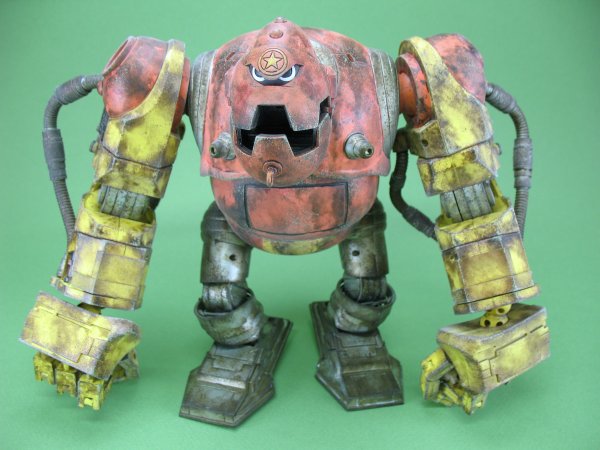 I knew nothing about the ABC Warriors that Mongrol takes his origins from when he was announced, I only knew he was a cool-looking toy, and sometimes that's all I need to know. However, I did seek out stories that live in this world and was suitably impressed. I'm hoping that the 1/12th line doesn't end here. I may be gray of beard and bent of spine by the time they all arrive, but if the quality remains, it will be worth it.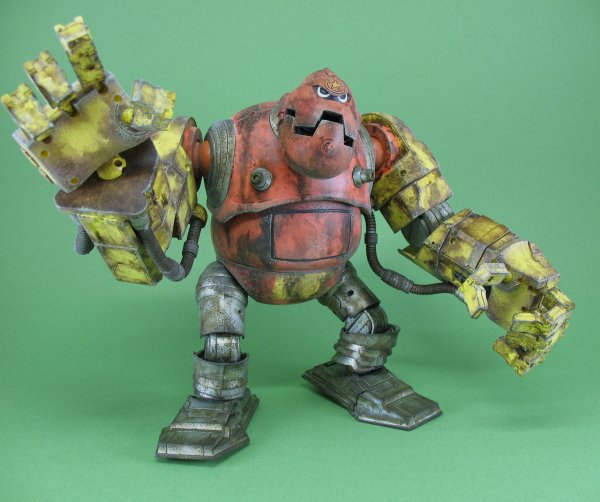 Mongrol is exceptionally poseable, utilizing the double ball-joints that are standard on 3A's robots. His shoulders swing back and forth with ease but also hold a pose great. He has the same double balls at his wrists. Each finger is highly articulated, and while sometimes overly articulated fingers can end up being counterproductive, they lend Mongrol a high level of expressiveness. Add in his seamless bicep swivels and he can get into a lot of menacing, angry poses.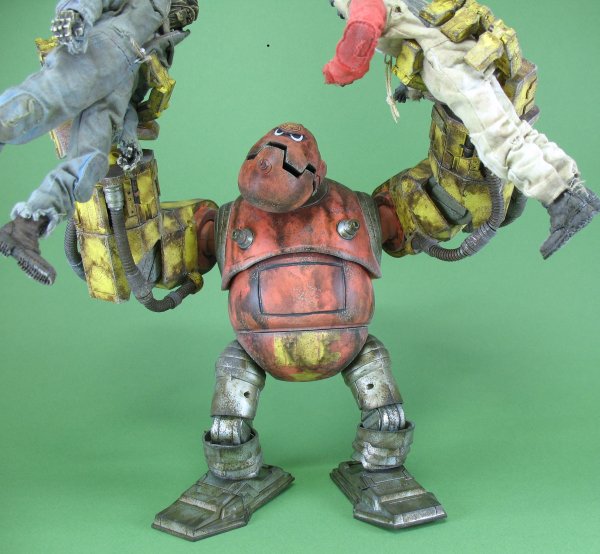 His girth and his big, wide feet with toe hinges mean that he's extremely well-balanced. He will tip forward easily due to his forward-leaning crouchiness, but a bit of leg fiddling will cure that with no problem. I can get some movement out of his torso, but I do wish I could get a bit more, but he's fine everywhere else, so it's not too big of a deal.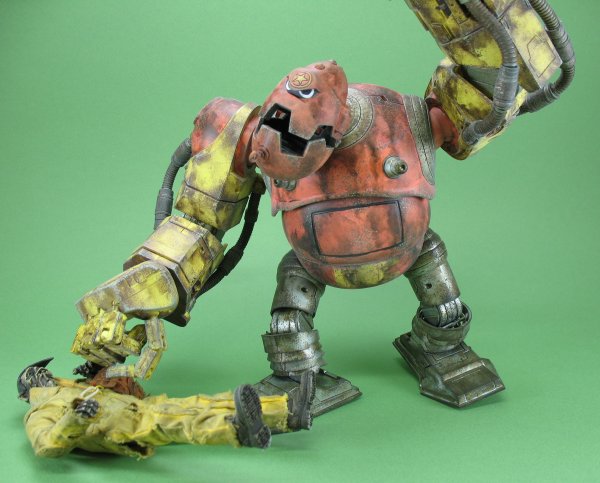 The sculpt is dead-on to the artwork. There's plenty of mechanical detailing in his arms and his angry, simple facial expression is pitch-perfect and enhanced by an articulated jaw that swings open for wide, angry bellows. There's a hook on his chin to attach the chain I didn't put on until the very end of my picture taking. I think I prefer him with it off, but it's there if you want the option. It's a well done chain.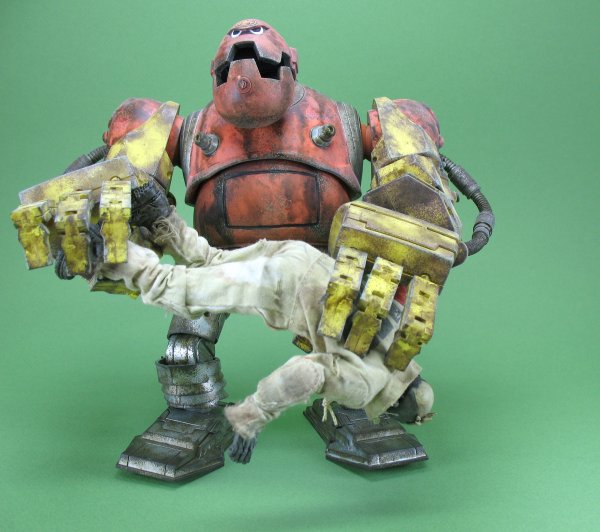 As is typical with all 3A products, the paint job is exceptional, with plenty of rust and weathering everywhere, including the aforementioned chain. These are dirty robots doing a dirty job, and Mongrol has the look of age and history on his metal exterior.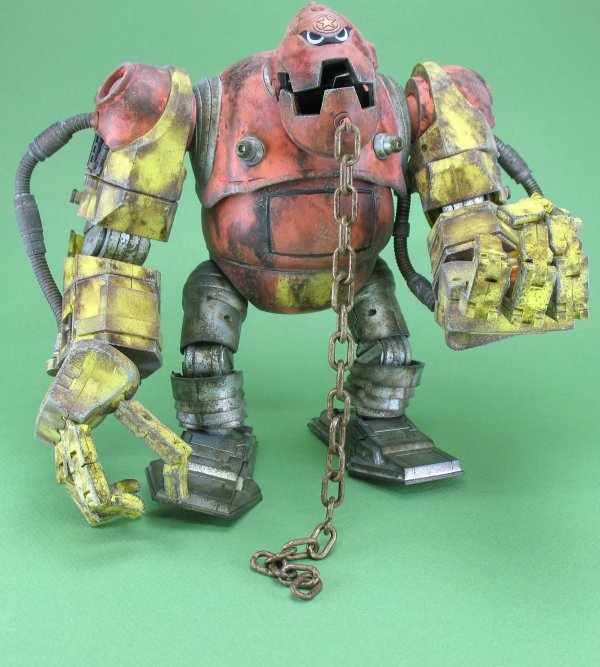 Overall, this is a fun toy. He's popping up now, so you should already have him or should be getting him anytime now. Trust me, if I have him, you can't possibly have long to wait. This was well worth the purchase, and he's an awesome addition to the collection.