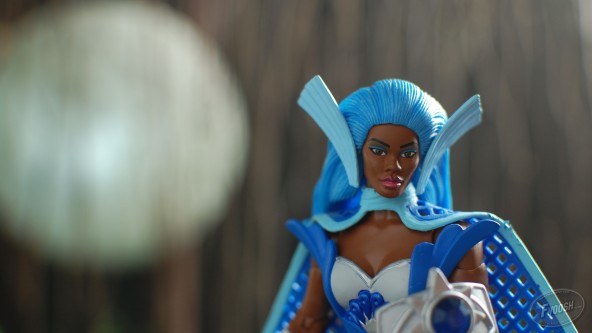 Ram Man and Jitsu are arriving at homes everywhere, so what better time to take a look at last month's MOTUC figure Netossa?  Yeah, okay, I'm running late per usual with these action figure features, but I don't want to skip anyone this year as I have in the past.  Check out more pics of the surprisingly cool Netossa after the jump!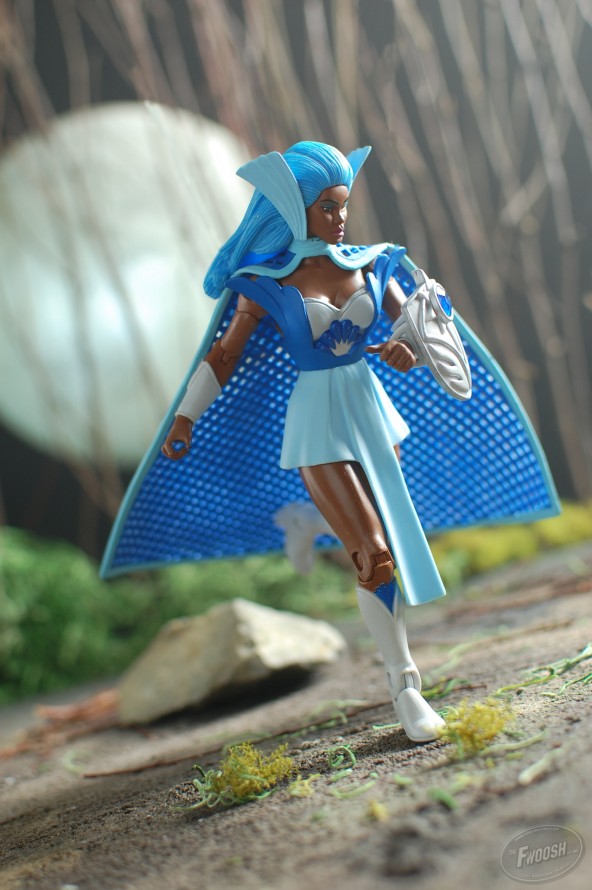 Netossa™ Bio

Real Name: Vivian Redretta

Hailing from the far reaches of Etheria, beyond the reach of the Horde, Vivian became an expert marksman, perfecting the art of net tossing to capture enemies and vandals. She is able to fool her adversaries by pretending not to notice that an evildoer is nearby. But if they get too close she pulls back her cape's hidden drawstrings and the surprised culprit is captured inside the net! After learning of Hordak's oppression, her only desire became to free Etheria and its people from their evil stronghold. With her exotic accent and elegant fashions, Netossa™ can be so helpful in wrapping up trouble!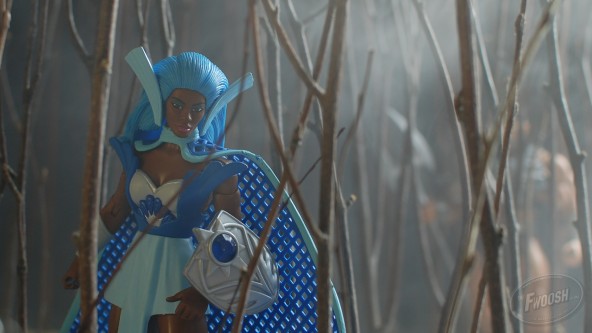 Okay, that last line has to come from some old She-Ra doll ad copy, right?  Because that's some funny stuff.  Elegant fashions and exotic accents are crucial to every rebellion against a galaxy-wide oppression machine.  It's also amusing that Netossa basically serves as the bait in her own trap.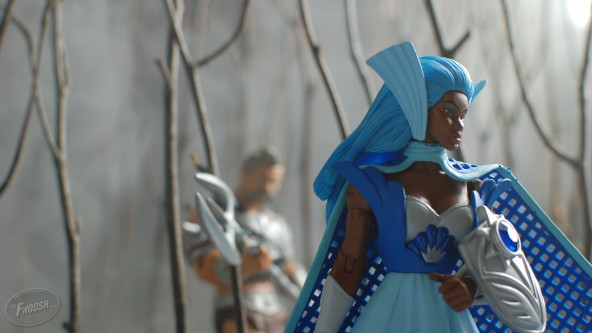 Accessories
I'm glad I usually start with accessories because that way I can get most of the bad stuff out of the way up front.  Netossa comes with a repaint of the She-Ra shield.  I do love to see repaints of this shield as much as possible, but Netossa got short shrift on accessories, there's no denying it.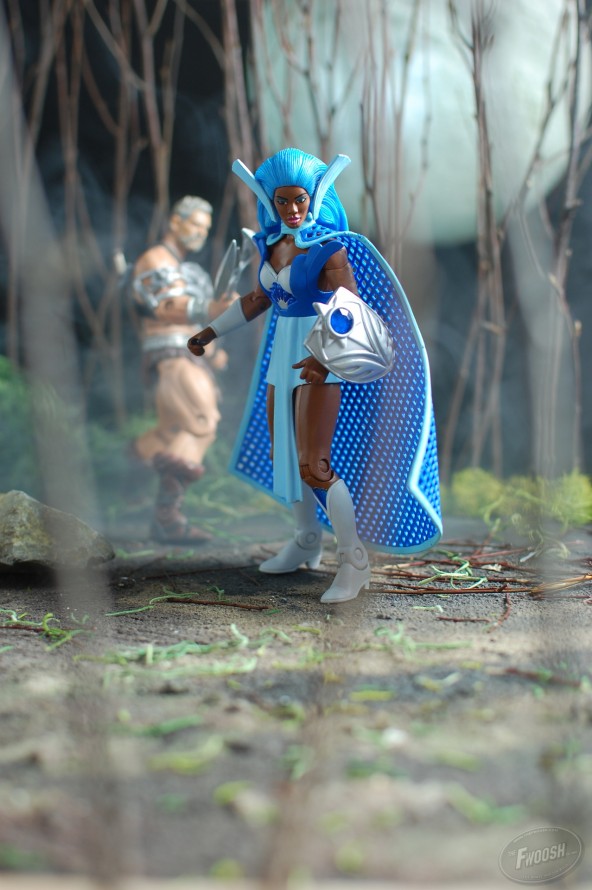 I'm sorry, but I don't buy the cape as a net accessory for capturing villains.  It's just not large enough to make that work.  I really think she needs a sword, at least.  Hopefully they will give her her own sword or repaint Battle Ground Teela's or Bubble Power She-Ra's in appropriate colors for the next weapons pack.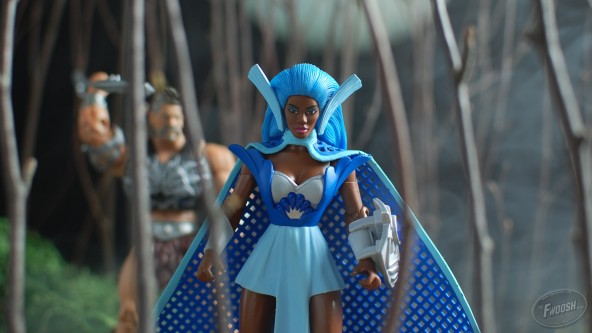 I actually would like to see a trident of some kind.  The fact that she fights with nets recalls the retiarius gladiators for me and they often employed tridents in battle.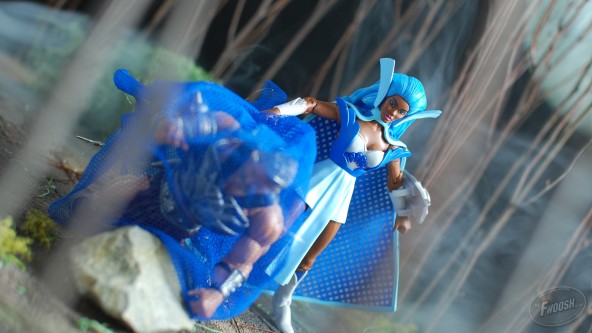 I also made a larger net from tule I bought at the craft store.  I realize her cape is supposed to be the net, but I like the look of the cape on, so I'm going to pretend she has a bunch of nets hidden in that cape somewhere.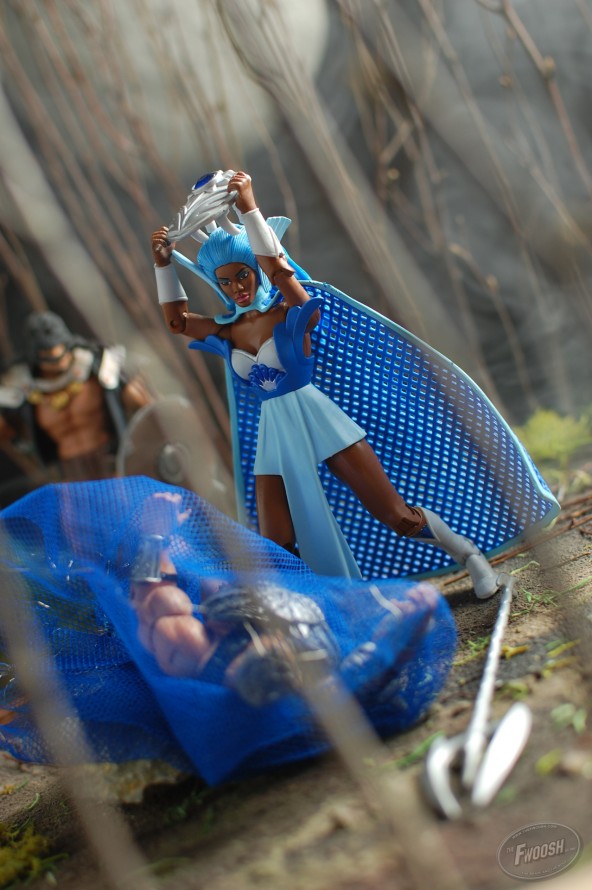 I ended up giving Netossa a Trident from one of the many Black Manta figures I've bought for custom fodder over the years.  It's not perfect for her, but I like the silver color and she looks much better thus armed.  I also gave her a Roman short sword I got somewhere.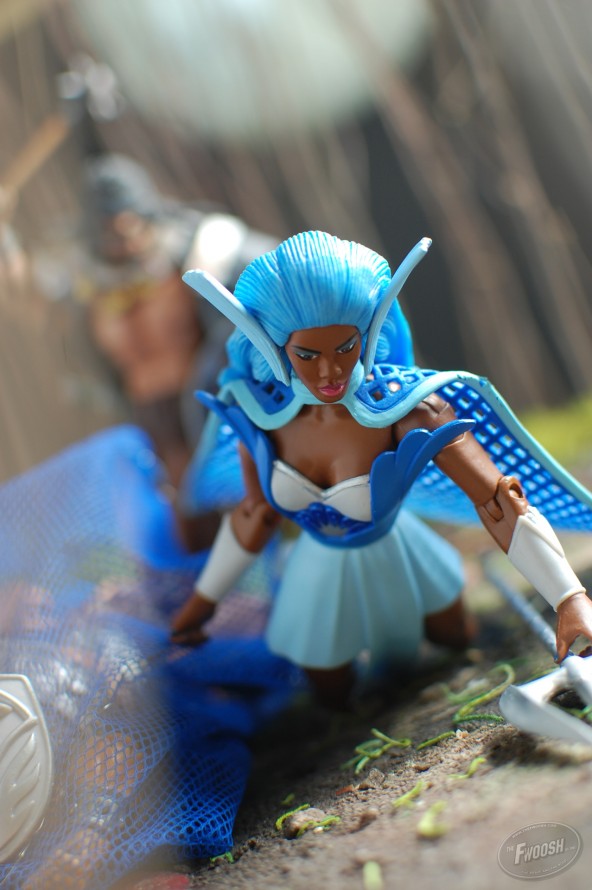 Also missing is the face mask from the original figure.  I think this would have been a fantastic addition to this character in that it would give her a more armored-up look.  The fins on her head seem designed to work with a mask.  As I understand the fins, they are actually supposed to attach to her cape collar, but they are attached to the head here for articulation purposes.  I think a mask would have made this design choice look a lot nicer and stand out less.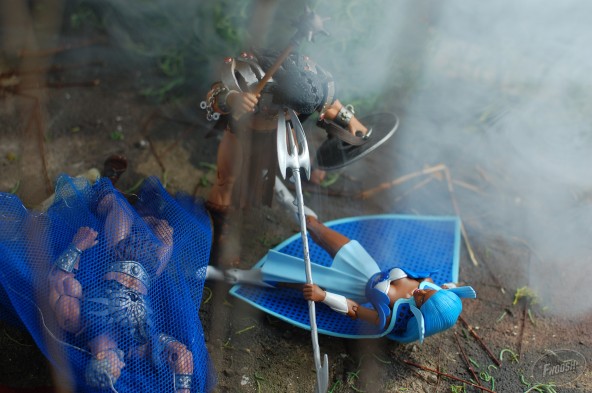 Sculpt
Netossa is built on what looks like the Bubble Power She-Ra body with new calves, a new bodice, new skirt, new forearms, and new head and cape.  It's actually quite a bit of new stuff now that I sit and type it all out.  The boots, bodice, and forearms all have some cool little costume piping detail that adds some visual interest to Netossa's mostly Filmation-inspired look.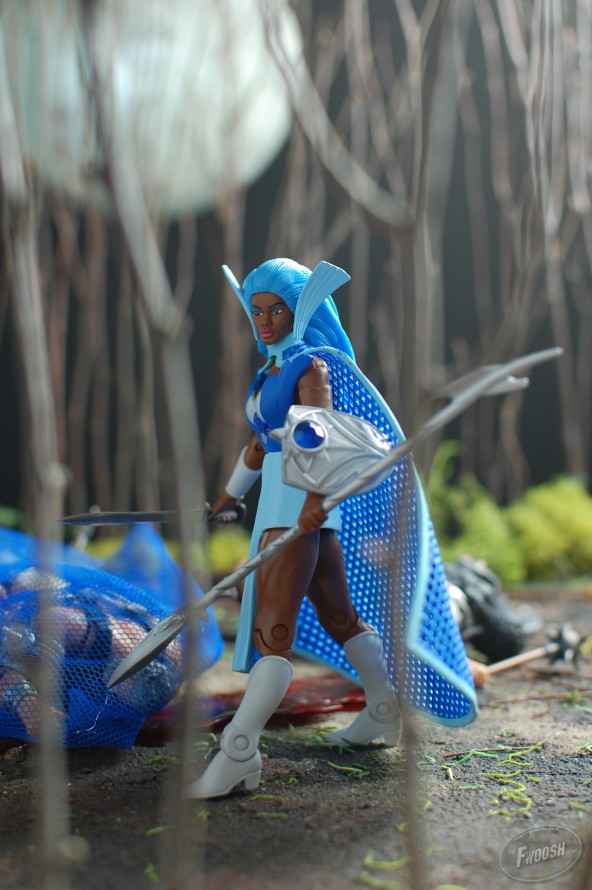 The face sculpt is really quite beautiful.  Unfortunately, my Netossa has a little line of a scar on her lip that I didn't notice until I was photographing her.  I don't think I'll try to return her for that, though I don't think I could if I wanted to since I threw out the packaging and receipt.  The scar actually gives her face a bit of character, though, and if any customizers end up with an extra Netossa head and cape, please think of me.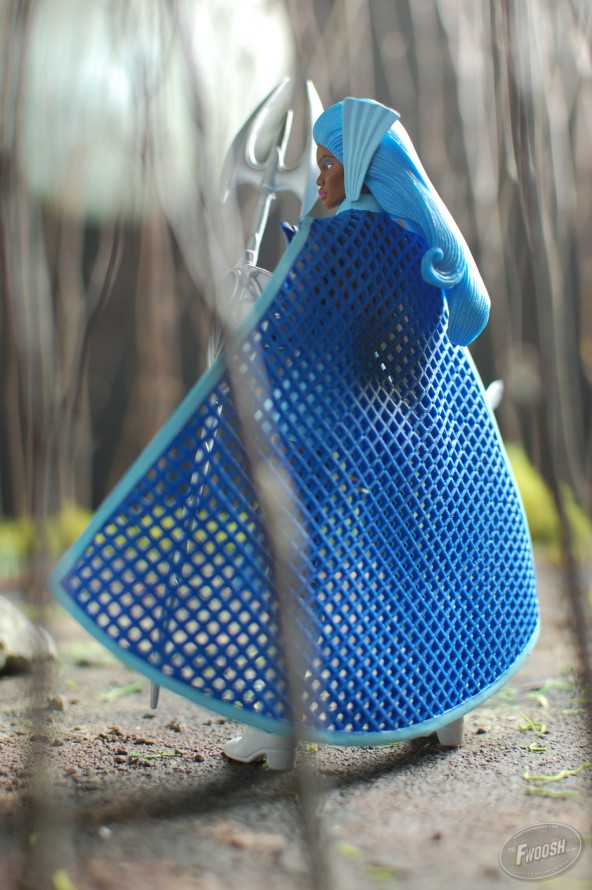 Articulation
Netossa has the standard MOTUC articulation with the normal missing ab joint for the female figures.  She also does not have the typical MOTUC boot cut, but since she has hip swivels, that's not too big of a loss.  Forward movement of her arms is somewhat hindered by the blue decoration on her bodice.  The legs are also hindered somewhat in forward motion by the skirt.  I'm not sure why Mattel hasn't made the slits in skirts similar to Bubble Power She-Ra's standard for all female figures, but they really should.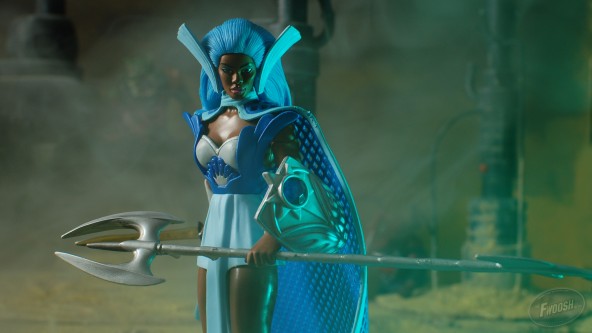 Paint
Paint is another place where my Netossa is not quite up to par.  There is a bit of tearing of the light blue paint on her cape collar and trim.  It really stands out more in photos than in real life, but I may try and replace this cape if I can find one in better condition, or perhaps I'll just touch it up with some paint.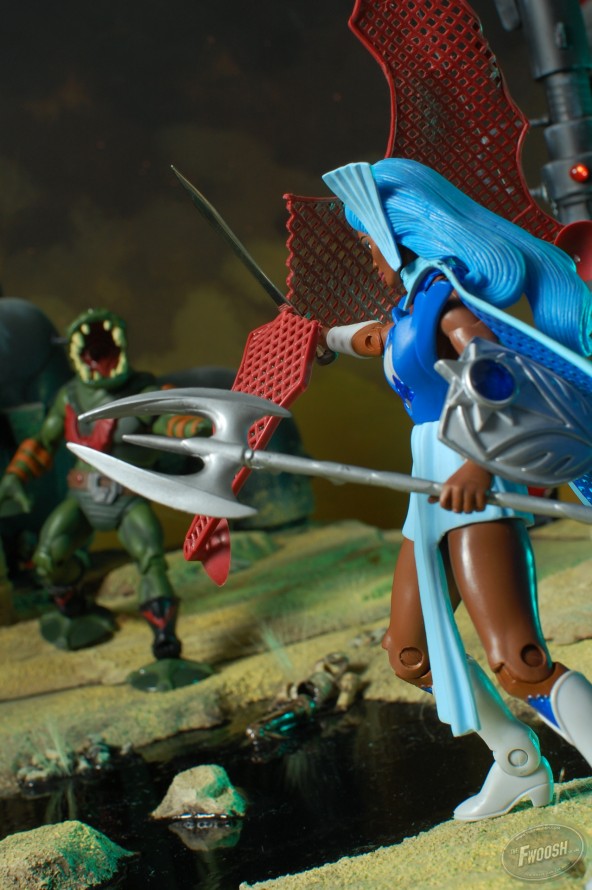 I know some have wanted to see the skirt painted silver, but I prefer the powder blue shading used here.  It feels more Filmation and that's really my She-Ra entry point, so I like that.  My Netossa also has that strange black shading dot on the back of her cape.  I really don't know what to make of that, but fortunately you don't see it often.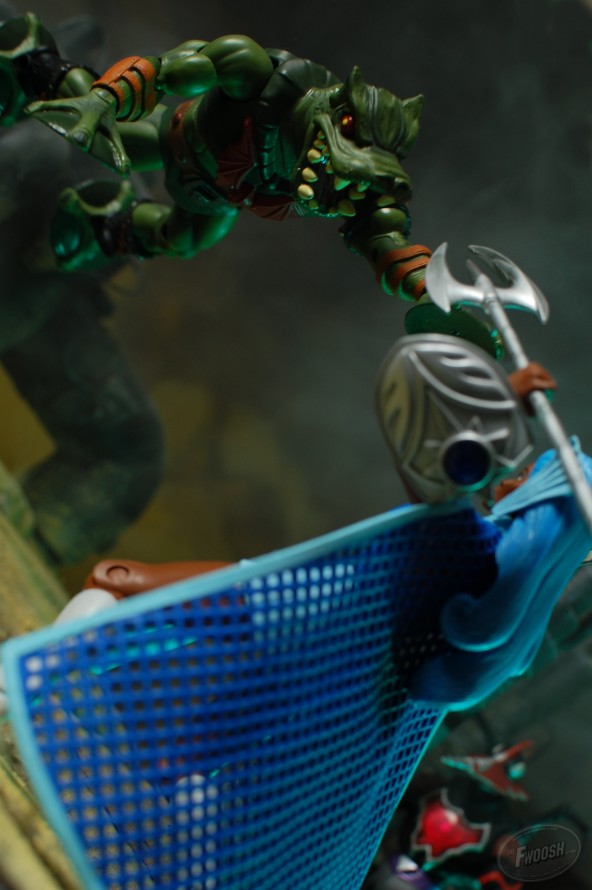 Final Thoughts
In my introduction, I said Netossa was "surprisingly cool."  I'm one of the people who was pleased to see Netossa announced for MOTUC since I'm a fan of Princess of Power and of less popular characters in general.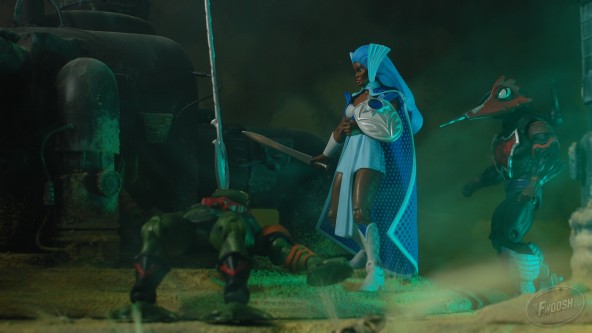 I know some people wanted to see Glimmer or Angella from She-Ra, but I like to see a less prominent character included in the line.  It gives me hope that my particular favorite less-prominent characters (Huntara, Lord Dactys, Hawke, and Delora) will someday see plastic.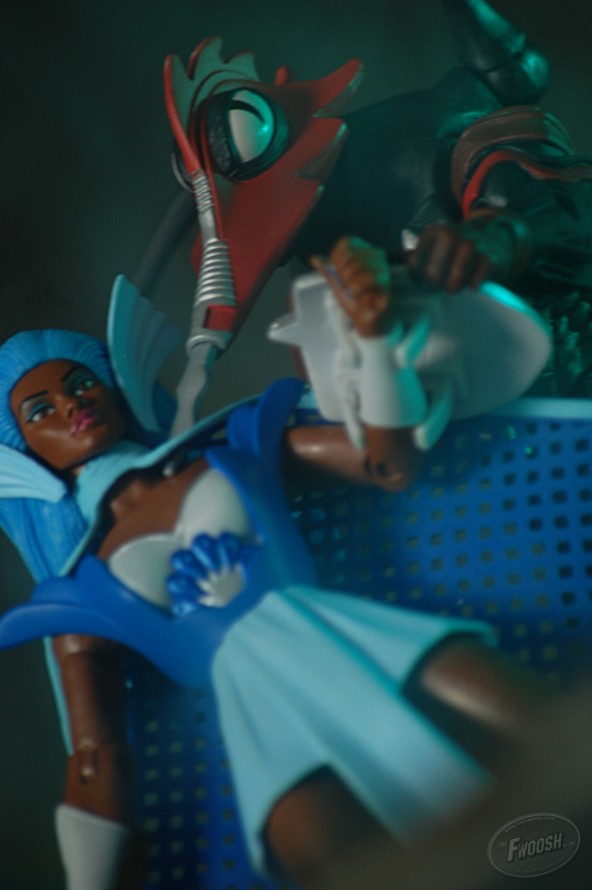 I loved the prototype sculpt, but it was hard to overlook her accessory deficit.  Now that I have armed her with a few choice weapons, she is a really fun figure to pose and play with.
Previous Features: