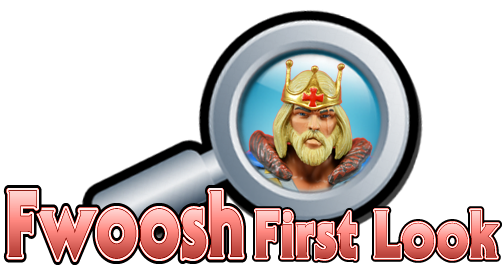 Hail to the king, baby! In what we all kind of knew would eventually happen, Mattel has finally started to elaborate on the state of Future Eternia, and we now know for certain that King He-Man eventually sits squarely on the throne. Better still, if you are a subscriber to the 2013 Club Eternia, his muscle-bound majesty will be making his way exclusively to your door in mid-March. This is the second time that He-Man himself has been featured as a subscription-exclusive figure, and if he was going to be traveling back to the past in 2011, we most certainly needed this version to balance out the time stream. This is the very first figure to be officially recognized as from the "He-Ro, Son of He-Man" era, and you even get a fancy new faction sticker out of the deal. Oh yeah, and you also get the fourth and (presumably) final mini comic explaining the origin of Skeletor. Check out the rest below for the entire scoop and lots of royal pictures.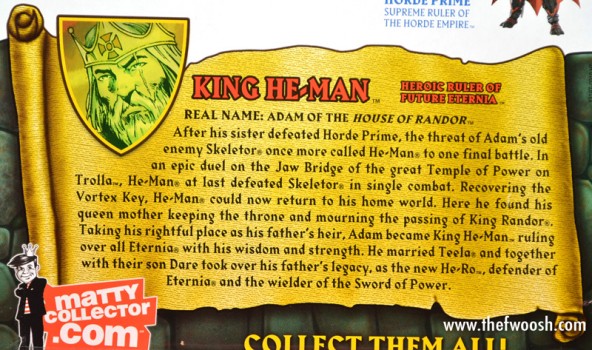 When new characters or previously unseen new incarnations of a character busts onto the scene in MOTU Classics, you just know that their biography and backstory will be a major part of building up the Classics-era mythos. King He-Man is no exception, and if you have been waiting to find out the fates of many of the main cast, well, you get a heaping helping in about 100 words. There is a lot going on, and while several points really satisfy several fan demands from over the years, the new information offers up a new direction and era for Mattel to explore with this property.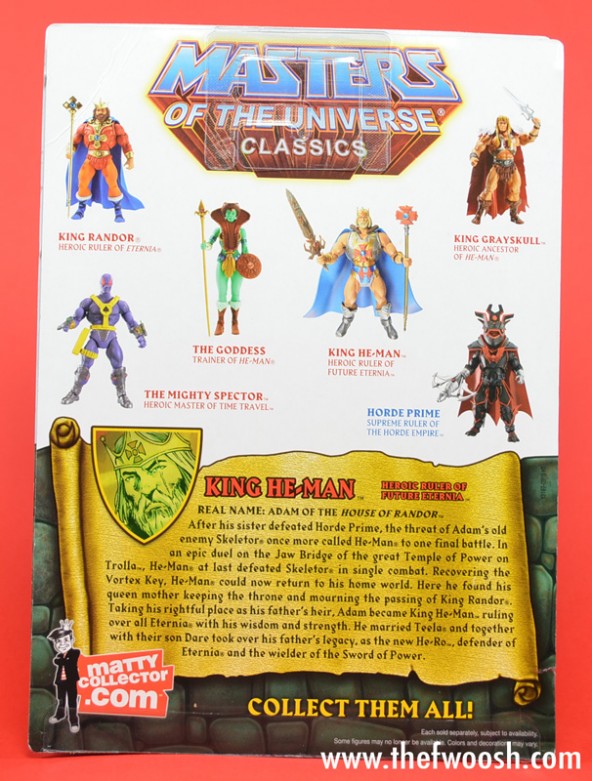 First, we all pretty much knew that He-Man would become king, right? I like that it seems that he has forsaken the Prince Adam identity and has embraced his destiny as the most powerful man in the universe. I always saw it that way (with Adora doing the exact opposite in forsaking the She-Ra and the royal mantle and retiring quietly amongst her friends), but now that his son apparently wields the Sword of Power, a lot of questions remain: does He-Man permanently retain the Power of Grayskull? What does that mean for the one who now carries the sword? Is there a lot to go around? Keep reading the bios to be sure.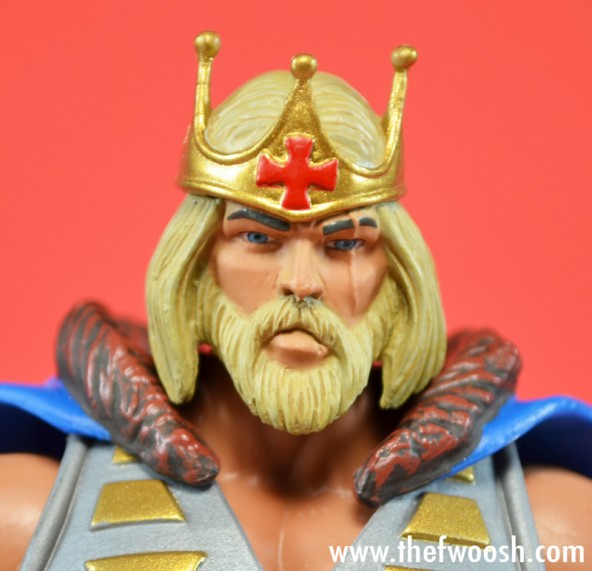 We also learn that She-Ra (appropriately) defeats Horde Prime; He-Man finally takes down Skeletor, on Trolla of all places; Randor dies; and He-Man and Teela tie the knot and have a son. Whew. I can't say that I have ever really been a fan of He-Man and Teela ending up together because it seems too obvious and kind of against Teela's characterization, but that is pure fan service and many, many people have been waiting decades to get official confirmation of this. But the battle does not end with the apparent demise of old Bone Brain – Eternia during the time of the Son of He-Man is still wrought with peril and the old king must continue to take up arms and fight alongside his son.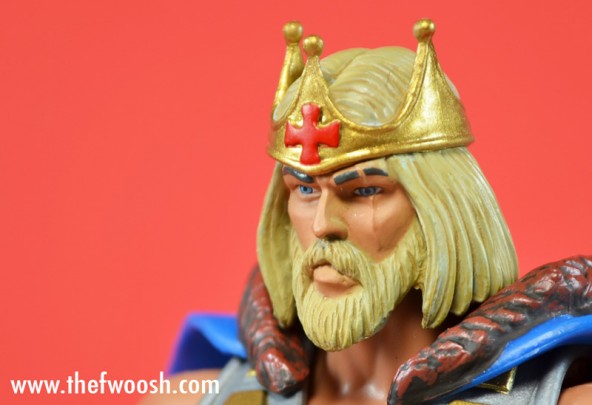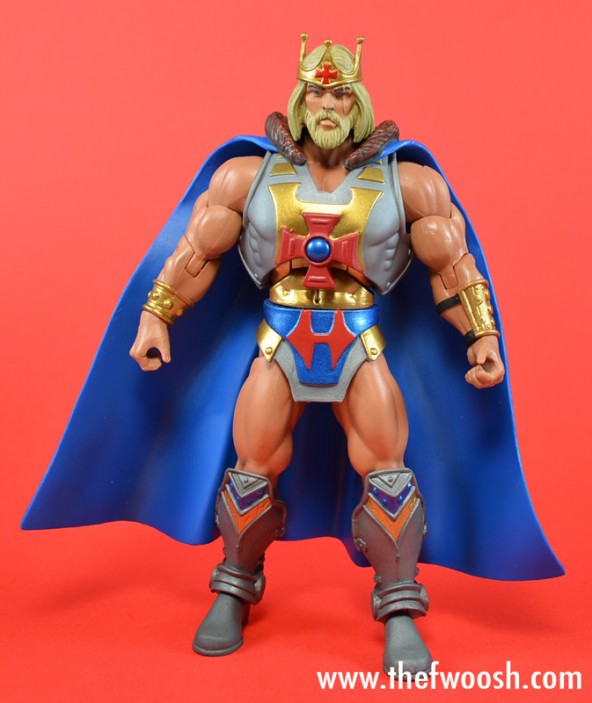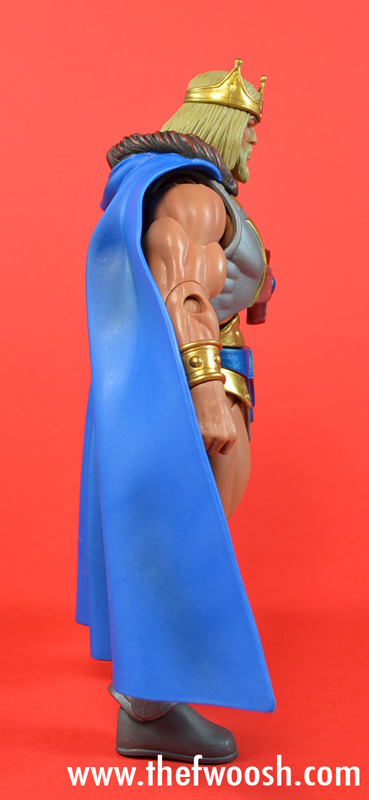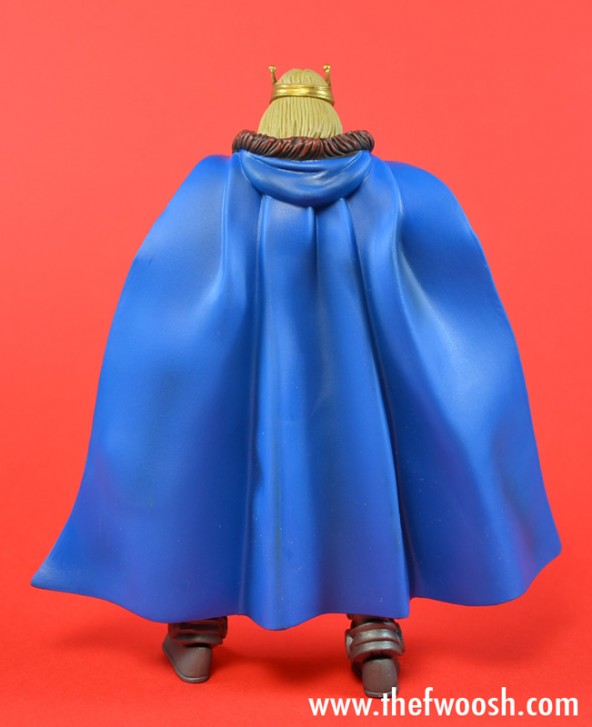 Thus, the realization of this royal in plastic has a lot of meaning for the line, and there is A LOT going on with the figure. Way back, right after SDCC 2012, I wrote a quick opinion piece ranking the Masters of the Universe reveals at the show. This figure ranked as my least favorite reveal overall, and while it is still not my favorite, there is a lot of good stuff going on. King He-Man is a bit of an amalgamation of several different character designs and costumes all spun into one. You can certainly see the classic He-Man reference, but King Randor, King Grayskull, and He-Ro are all appropriately elicited as well. That makes for a lot of ground to cover and therein is probably where I think he is not the strongest figure in the line from a design standpoint.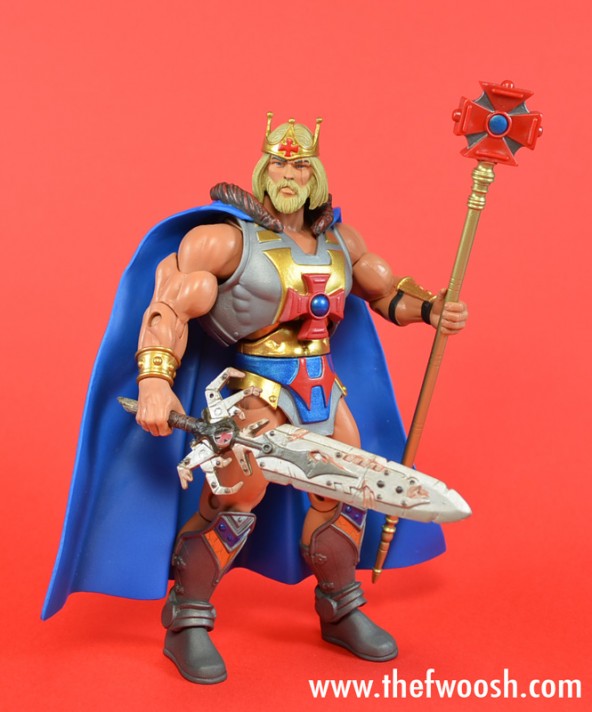 Of course, this is all a bit of personal opinion, but I think they were trying to do just a little too much in the design of his outfit. He does look very kingly, but you can certainly tell that his color and design cues have come from several different places. In some way, it works — when you keep the He-Man identity with the iron cross motif, but you combine it with outfit and boot direction from He-Ro, long hair and cape shades borrowed from Grayskull, and color and staff cues from King Randor it takes a lot of Eternian history and puts it right on He-Man. That makes for some great winks to the fans, especially the particular details that you can call out, but, at the same time, it makes him kind of "busy," if you know what I mean.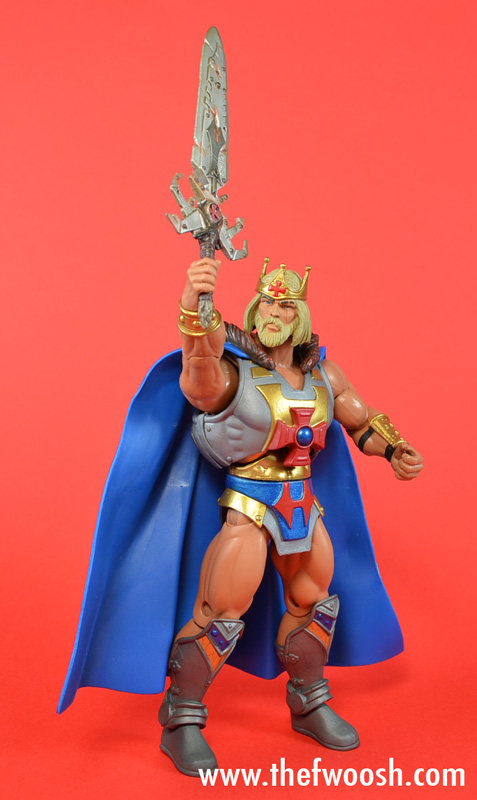 He has four base colors: red, blue, silver,and gold and they are used in strong fashion throughout the figure. I understand the silver and red, of course, and the gold adds to a regal design so that is okay too, so I suppose that it is the blue that is kind of tripping me up. It does not look bad by any stretch of the imagination, but, at the same time, it doesn't feel completely like He-Man to me. A lot of tribute is being paid, but I think the defining identity of He-Man got a little lost in the shuffle of trying to include so many other details. Your opinion on that will, I am sure, vary, so I would like to hear what everyone thinks about the design of the outfit in the comments section below.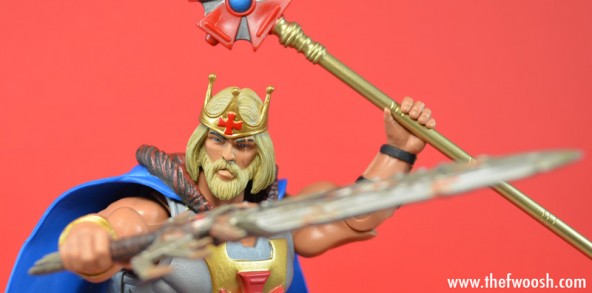 I am very happy to say that, from a construction standpoint, the figure is very well done. In fact, he makes for another in the line of great production quality additions in 2013, I don't think there has been a weak one yet. The plastic is sturdy (and not black) and the joints are tight, but the loin cloth is flexible enough to still allow for movement in the legs. His paint detail is absolutely great and the intricacies on the face and clean lines of the outfit make for a very tight figure. The gold paint really stands out and it has a sheen and gloss that is much higher than the other colors used on the figure.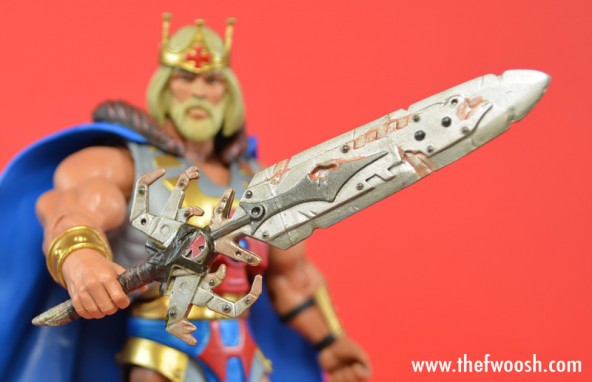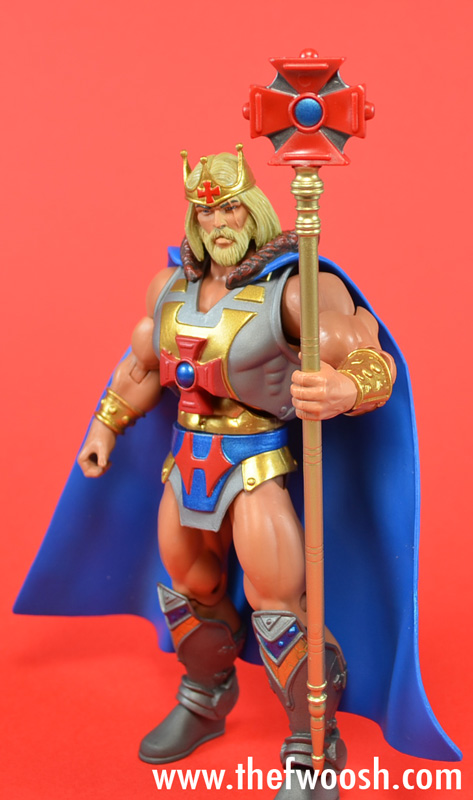 Speaking of the head, it has some interesting qualities to it. It has a ton of detail to it and while previous prototypes and preproduction figures have shown issues with the points of the crown, they are all fine on this figure. Also the scar, while a bit cliché, adds a new element to the tough and grizzled façade of He-Man. I am sure he probably got it in the final battle with Skeletor (dear Grodd let them have the movie rights so we can get the golden god version of Skelly for that battle), and it shows that perhaps He-Man's historically good-natured self has become a bit more stern in this older age.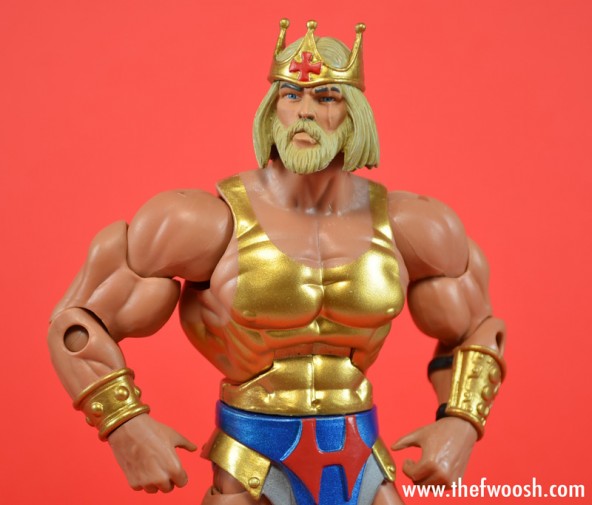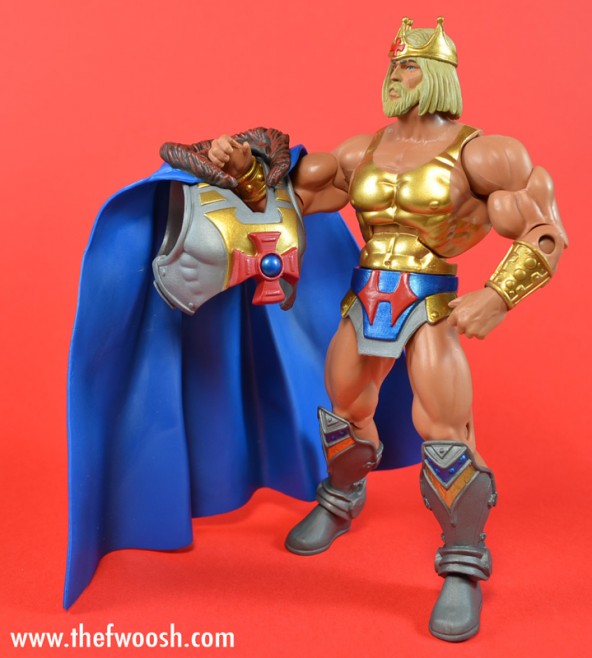 His hair is also quite a bit lighter than the normal golden locks that we are used to seeing, but I take it that he is finally getting a touch of grey to pageboy coiffure. I do have a bit of an issue with the shape of the head, however, and that comes out the most in the chin. It just seems more pointed than what we are used to for He-Man and now that he has a beard, I think it should be widely square. Between that and the fact that he is wearing a crow, it gives him a bit of a pinched look more than most MOTUC figures. Maybe it is just me, though, I suppose I have a very particular vision of what He-Man should look like, even in his latter days.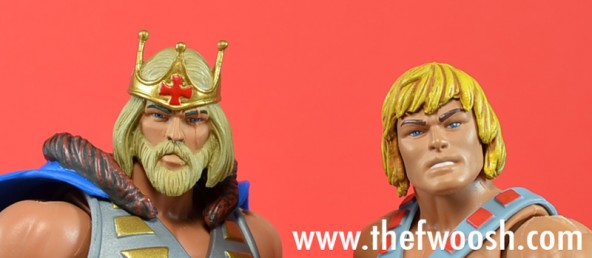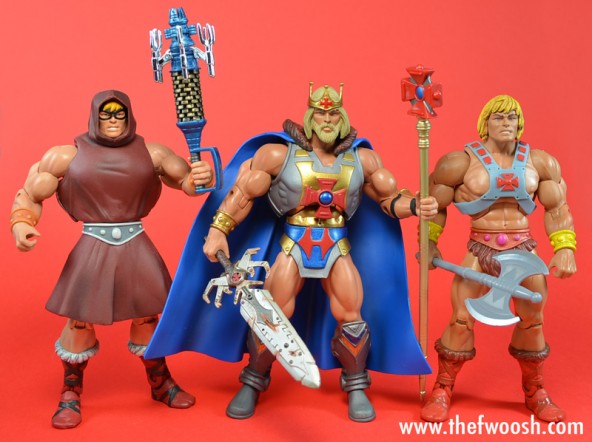 He comes with two accessories as well: a staff and rusty and dinged-up 200x electronic Power Sword. The former takes the red iron cross and matches it with the feel of King Randor's staff. It makes sense as I suppose it is fitting for a king to have a ruling ornamentation to rest against the throne of Eternos Palace. The sword, though — that is a bit of a revelation for me. See, I have NEVER liked the electronic Power Sword. I don't mean any offense by that, but the design just never worked well for me personally. I do like that it was later repurposed in Classics as a bit of a "training" sword for Adam before he got the REAL Sword of Power, so bringing it back here in all of its busted glory makes good sense.  See, He-Man's prodigy is now running around with the Power Sword, so when the old man has to get off the throne to kick some butt, he has to bring a sword with him. So, they probably found this lying around in a corner of the palace or Castle Grayskull, completely ignored for years. Well, now it can be used again, even if it is all dinged up and rusty. The sculpt and paint details on this is absolutely fantastic and, once again, the Horsemen have made something I was not originally hot on, a great piece of Classics weaponry. Credit all around for the idea and realization for this one. I really love it.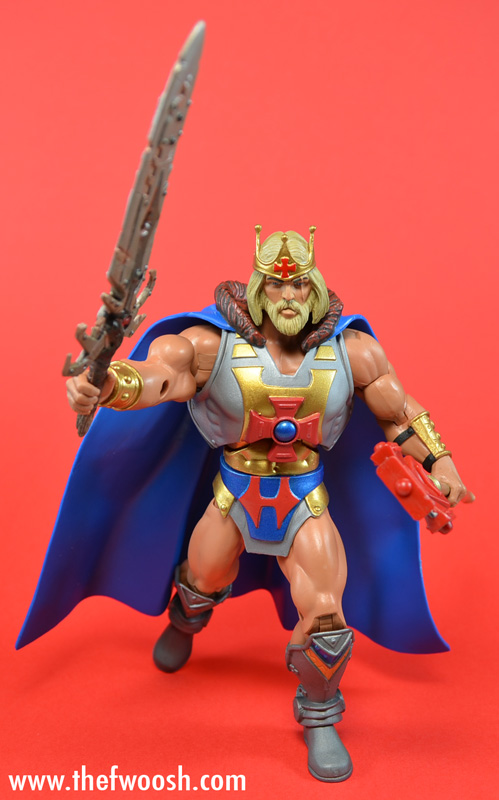 I did mention above that the figure also includes a new mini-comic, but it has been removed from this sample, so no spoilers for you (we would not do that anyway). Also, when the figure ships in March, he will also come with the exclusive map of Preternia, once again drawn by the great Rudy Obrero. It looks to be the most detailed yet, so I am excited to see all of the little nods and new locations in the realm being held together by Procrustus.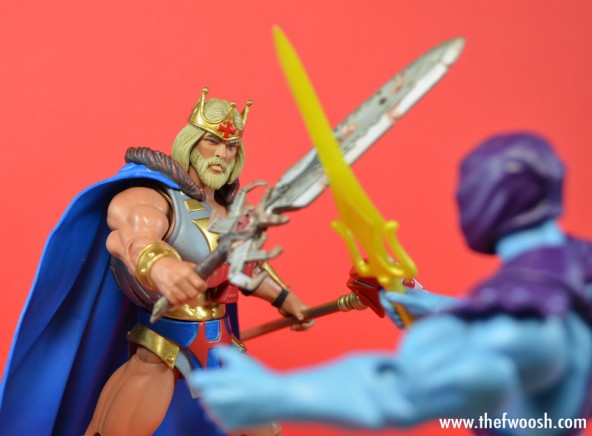 Whew! There is a lot to consider between this all-new version of He-Man and his biography. A great deal of future Eternia has been mapped out, but we are still waiting to see just what this son of He-Man will be like. I am betting he is probably a good candidate for a future figure, and while we will continue to flesh out the present and the past, the future is now in progress as well. Although not my favorite version of He-Man, the figure is well done and he represents the very future of the property. If you ordered a subscription, he will be coming to you automatically alongside Fang Man, who is now, essentially, a sub exclusive as well since he will not be sold on the sale day. The future of Eternia is now, and, appropriately, He-Man is leading the way!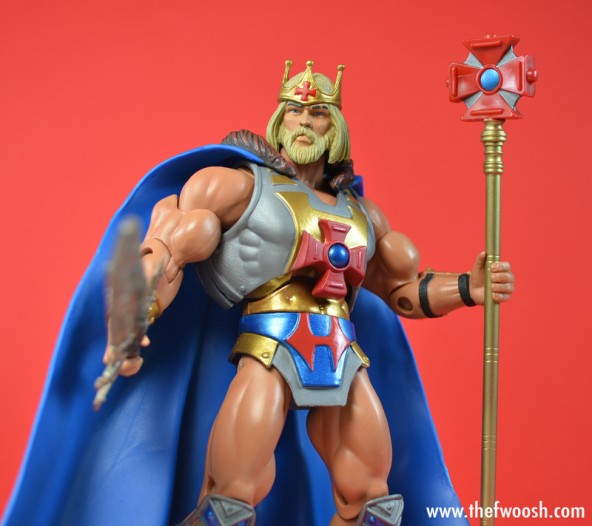 *Thanks to that tricky time traveler himself, Toy Guru, for sending along this sample for a First Look, we have more to bring you very soon!
Additional Links