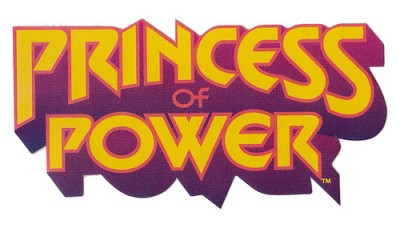 Well, here we are again with another installment of the PoPular Guide! A lot less time has passed since our Frosta feature than before so hopefully we will keep these coming at a regular pace. Last time we asked for your thought on what lovely lady should be the subject of our next article and we have taken that as our drive for this one. I am very excited because she happens to be the most toyetic (in my opinion) of all of the original Princess of Power figures and there is so much potential for the Four Horsemen to flex their artistic muscles with all of her details. Her scaly details. Of course, we are talking about our favorite heroic mermaid princesss, Mermista!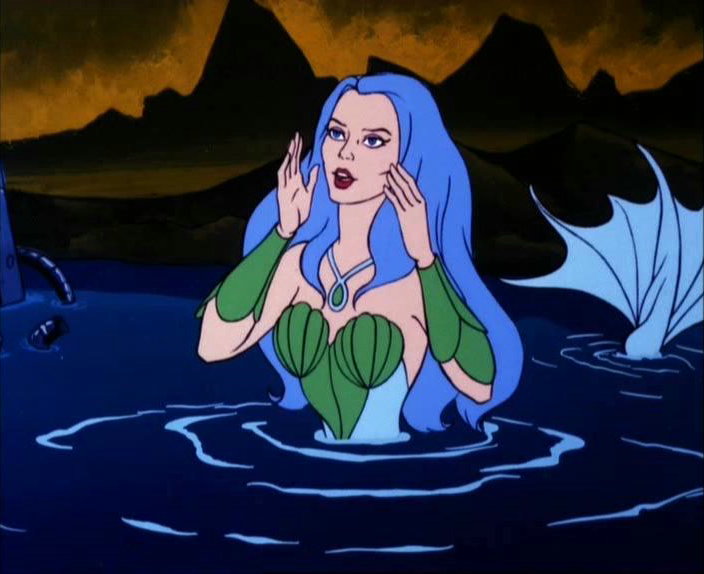 MERMISTA!
WHO is she?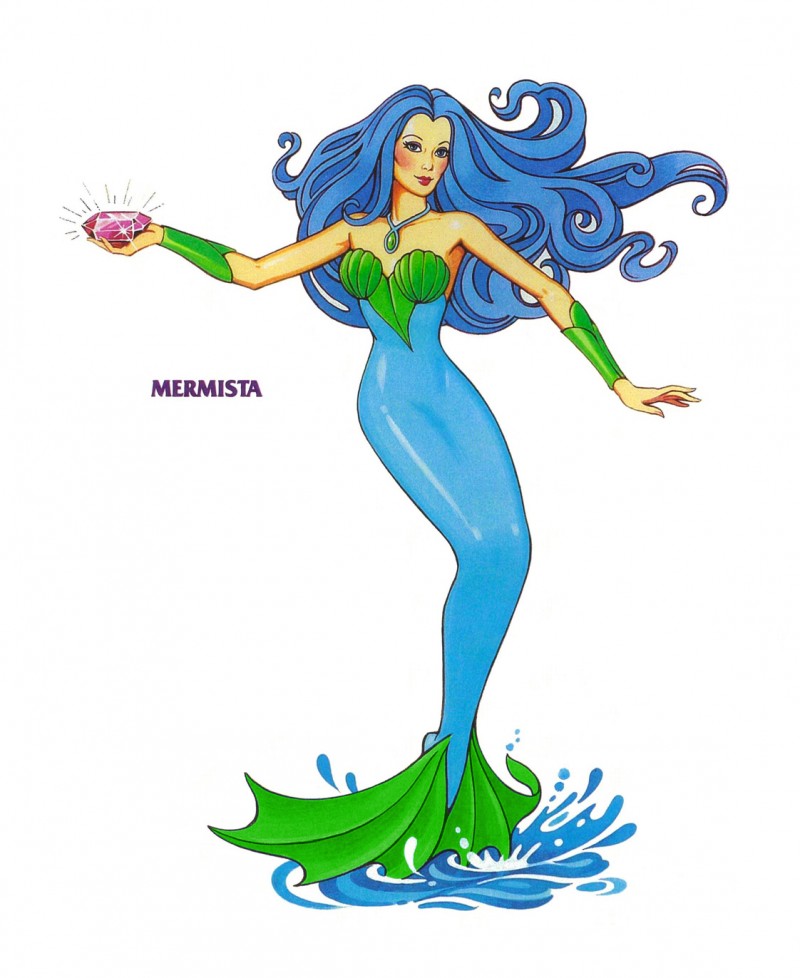 Mermista was a part of the 2nd assortment of She-Ra Princess of Power action figure line. According to FILMation lore, she is the princess of Salineas, an underwater city on Etheria. Although Mermista supports She-Ra and battles alongside the Great Rebellion, her father, King Mercier, maintains a Sweden-like neutrality regarding the Evil Horde. She-Ra can summon this "Mist-i-fying Mermaid" at Crystal Falls. Her powers include psionic control over water and telepathy with sea creatures. In addition, all citizens of Salineas can breathe underwater and have the ability to transform from merfolk to human form. Her original 80's figure had not one, but two action features! Her necklace squirted water (via a water-filled shell that plugged into her back) and she included a fabric fishtail that can be worn over her human legs, simulating her sea-to-surface transformation.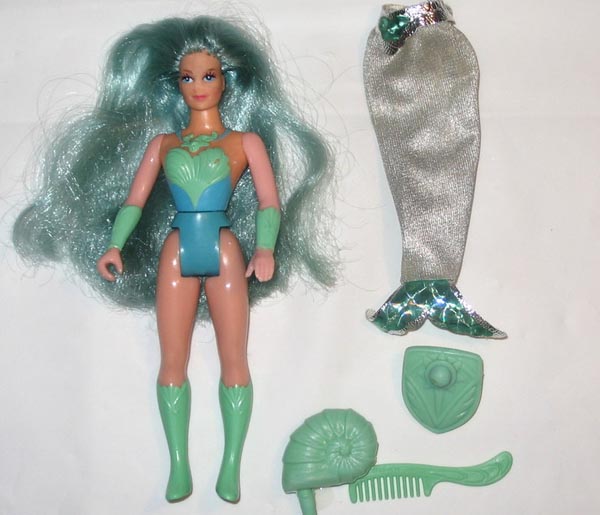 WHY is she important to the MOTUC mythos?
Much like Frosta, Mermista's powers make her very battle ready. Her offense can do some damage in more than one terrain (imagine Aquaman and Mera's powers in one girl). Plus, with Mer-Man and Octavia in action, we need an underwater hero to help Captain Hydron even things up.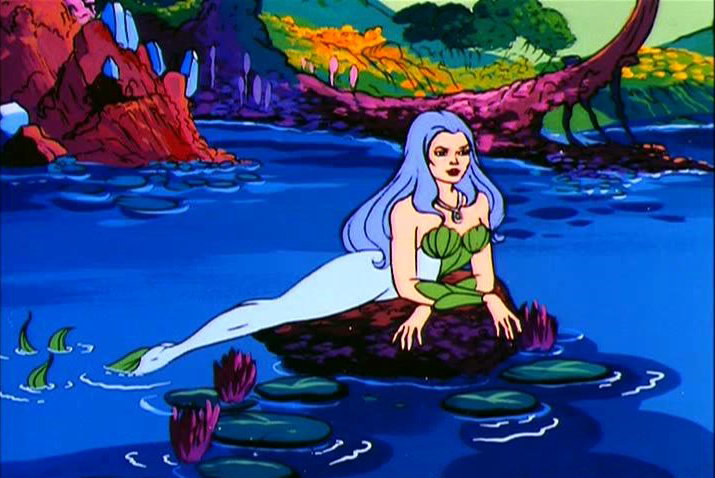 HOW will/should she be executed?
She fits into the subscription-ly (that a word? … it is now) monthly slot. Like many of the PoP ladies, her toy design varies from the style guide imagery, primarily in the toy vs toon depictions of her lower torso and fishtail. Although I am VERY partial to her style guide look in both human and mermaid form (dig the one piece wetsuit and the ankle fins), the Mattel toy version is equally eye-catching. I'd actually love both for multiple releases. I have a feeling that we'll see something along the lines of King Hsss, where we will get interchangeable lower torsos. Her head and soft plastic hair in the Filmation/style guide looking upper torso, with a more toy influenced necklace, gauntlets, and lower torso. Can you imagine a fully-articulated fishtail by the Four Horsemen?!?Should Mermista have a swimming hand? Or both hands for holding weapons? Interchangeable hands to the rescue? Decisions, decisions…
WHAT will her accessories be, realistically?
Mermista's vintage figure came with the same "She-Ra" shield almost everyone else included. This one is a given.
An updated version of her shell backpack used for her water-squirting feature. Maybe this one could have a strap on it so she can sling around her shoulder (Her hair would get in the way if it was a backpack). What would it be for? Summoning sea creatures? Maybe. :o)
The new "comb" weapon: so many options – MINUS the comb teeth. A trident may be too on the nose, but Catra got a whip. Maybe a chained weapon with a detachable trident "club" in one end and an anchor, also detachable, in the other? There's only so many iconic aquatic weaponry options. I'd love to see a full trident with a King Mercier figure!
I believe an interchangeable lower body counts as an accessory!
A wave or rock for her to lay/sit/perch on in her mermaid form.
Interchangeable swimming hands.
WHERE can her buck be reused/repainted/shared?
Mermista's vintage figure was one of two wave 2 figures that was 100% new parts and not reused for anyone else. Likely she'll use the keen female 2.0 body with new tooling in her necklace, gauntlets, bodice/swimsuit, trunks, and possibly boots tops vs. finned flat feet (depending on the Horsemen tapping the Filmation wet suit vs. the vintage toy's Wonder Woman-esque "bathing suit" design) and, of course, the fish tail
In the Horsemen go for a style guide look, her toy look is different enough for a re-release carded or in a set (or vice versa), possibly with an interchangeable rooted hair head with other POP figures with exclusives pieces or characters (Light Hope, Twiggets, Imp transformations, combs, etc)
A Marlena-esque packaging variant posed in her other lower torso (for those MOC collectors to go crazy over!)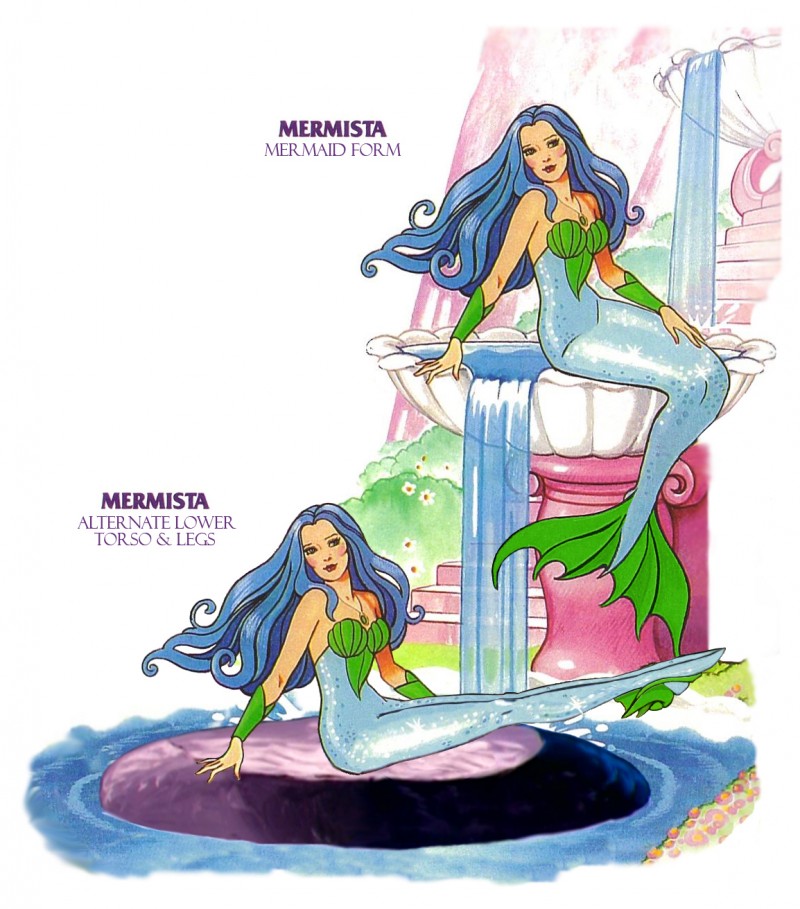 So again, it is time for Toy Guru and the Four Horsemen to make it so. Mermista could be such a lovely figure, especially if she is given all of the things she needs to do her look and abilities justice. If we got some nice scale sculpture on her tail with a shiny pearlescent paint finish, she would be very striking. It is obvious that she is right up there with Frosta in terms of PoPularity amongst MOTUC collectors so since we should still see at least two more PoP girls in 2012, Mermista would be a great choice for that second spot (after Frosta of course).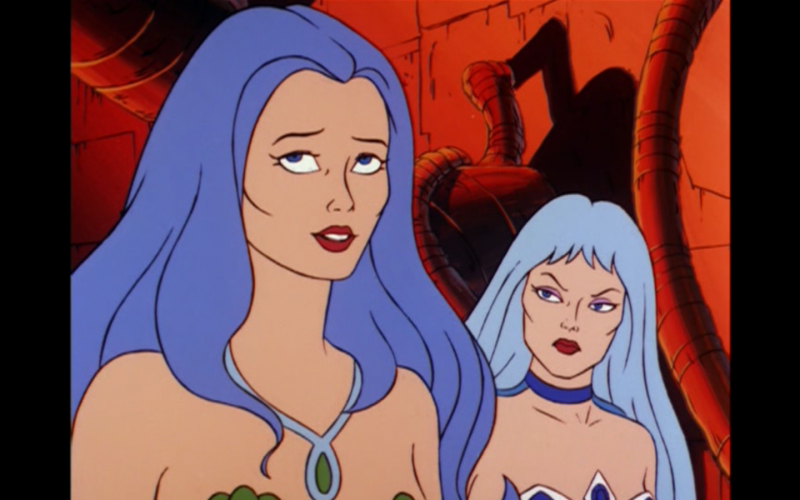 Again, since we plan on adding new chapters to this PoPular Guide, please let us know who you would like to see next by leaving a comment below. Mermista was the most PoPular last time, but who should be next? Thanks for reading!
Additional Links