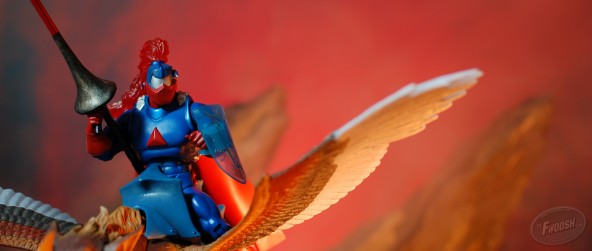 Check out some pictures and thoughts on the brand new Masters of the Universe character created by DC Chief Creative officer Geoff Johns.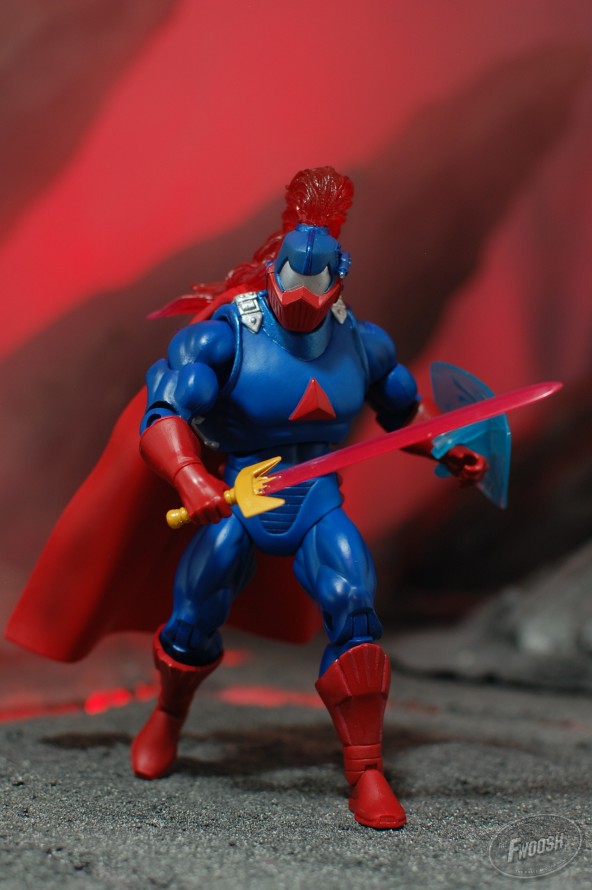 Sir Laser-Lot™ Bio

Real Name: Unrevealed

Across the continent of Preternia™, the mightiest of King Grayskull's Knights was Sir Laser-Lot™, a master of weapons and hand-to-hand fighting techniques. He wore an enchanted suit of armor powered by the great Gem of Tamadge which enhanced his strength and let him unleash powerful energy blasts. So legendary were his deeds that the future king He-Man® sent one of his loyal Time Agents into the past to bring Sir Laser-Lot™ forward to his time. Here, Sir Laser-Lot™ became the King's new Man-At-Arms®, training both the Royal Guards and the King's young son Dare in ancient battle techniques. Sir Laser-Lot™ uses his energy blade to fight for chivalry and justice in any time.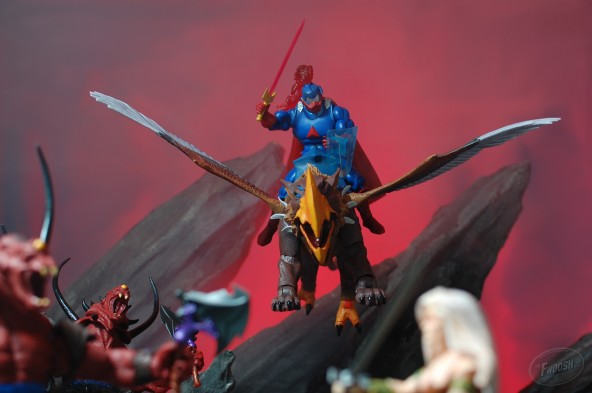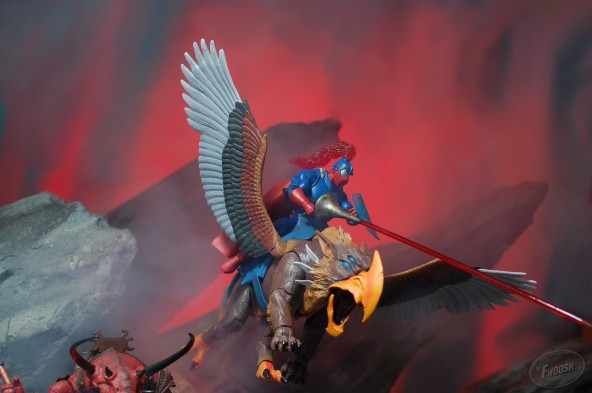 Basically, it sounds like Sir Laser-Lot is the best of the best with a magical suit of armor.  Sounds pretty good to me.  There is a mini-comic available online that shows his Gem of Tamadge (Talmadge in the comic) is actually a curse and Sir Laser-Lot will burn anyone he touches.  The cursed hero who fights for good is a staple of comic books and Knights are a fantasy staple, so the concept feels like a good fit for the MOTU world.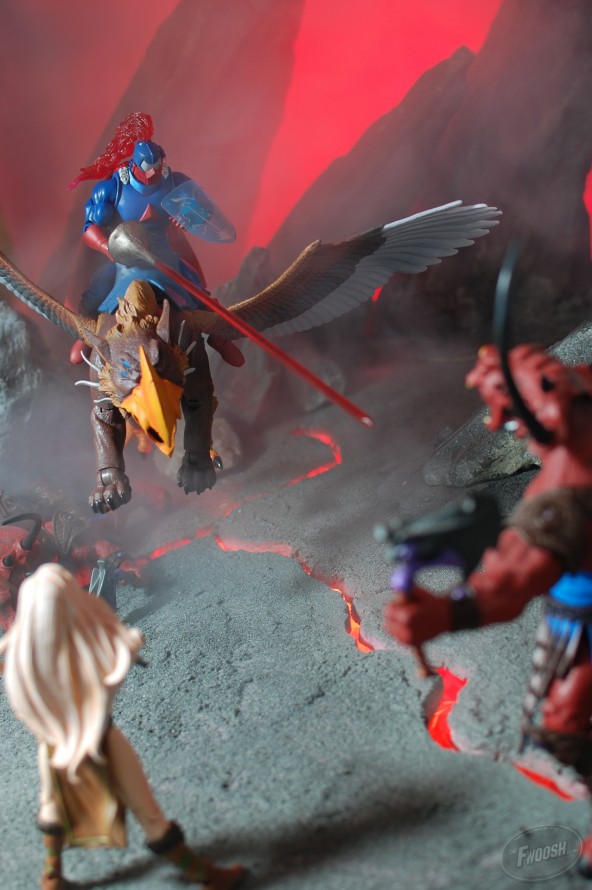 It's interesting that they take him forward to King He-Man's time.  It raises the question why would Spector and He-Man save Sir Laser-Lot, but not their friend Man-at-Arms?  I guess it does give you somebody to put with your King He-Man when he arrives next year, which I appreciate.  With the new characters there is always a bit of the "where does this guy go in the collection?" confusion, but the bio-writers have been good about giving us a couple of options.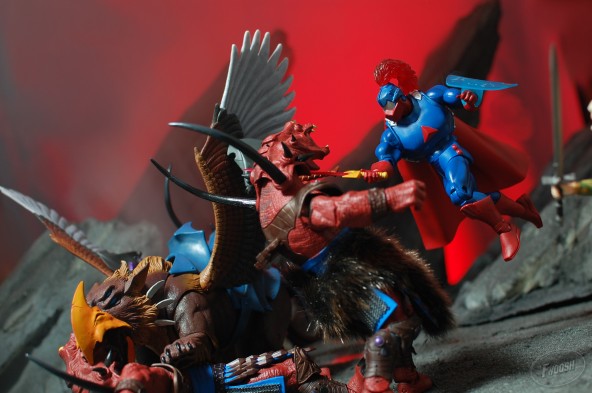 Accessories
Sir Laser-Lot comes with some good stuff including removable armor, a translucent sword, a shield, and a mace.  The sword, shield, and mace are all made of stiff plastic, so the handles don't bend and warp.  That's always good.  The mace head is made of a softer plastic and mine has a mold pull issue in that it's not perfectly round, but still looks pretty cool.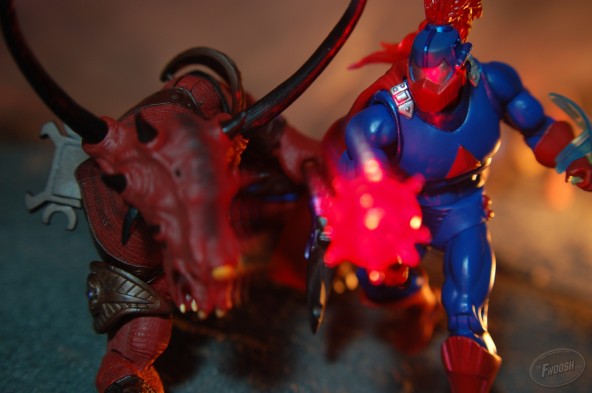 The shield doesn't clip onto the wrist quite as nicely as previous shields in the line, but it can be set properly.  It's just a little fiddly.  What stands out to me about these accessories is that they're fun.  It's amazing to me how much fun posing you can do with a figure with just your standard shield/sword combo.  I did think a laser lance would be fun for the Knight scheme, so I made one for myself.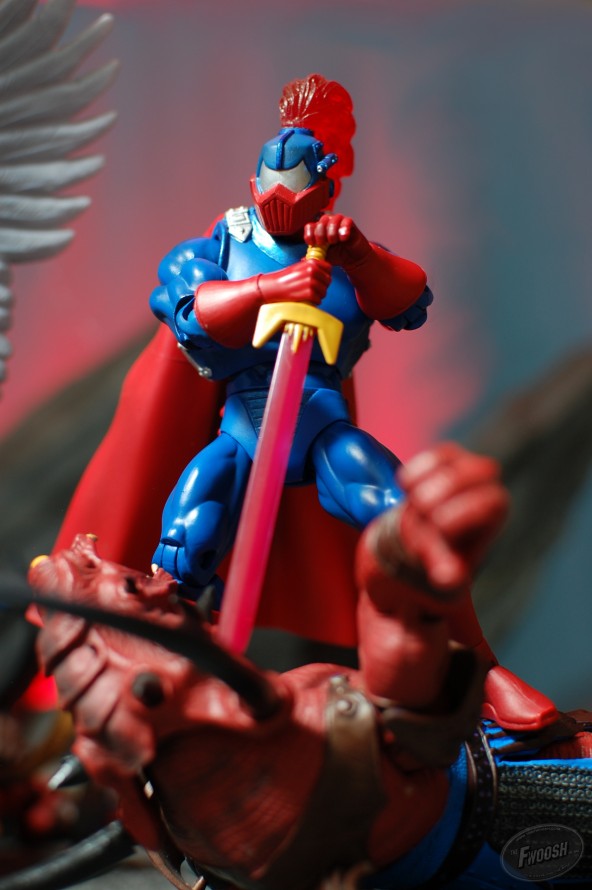 Sculpt
Sir Laser-Lot uses the standard base body with Zodak gloves, Bow boots, Man-E-Faces lower torso, and a new armor and head sculpt.  The armor and cape combo are very similar to He-Ro's armor, which I kind of like.  It makes it feel like this was a standard type of gear used at the time that each Knight customized to their own needs.  It's nice to see the Bow boots used again as well.  Those are some cool boots.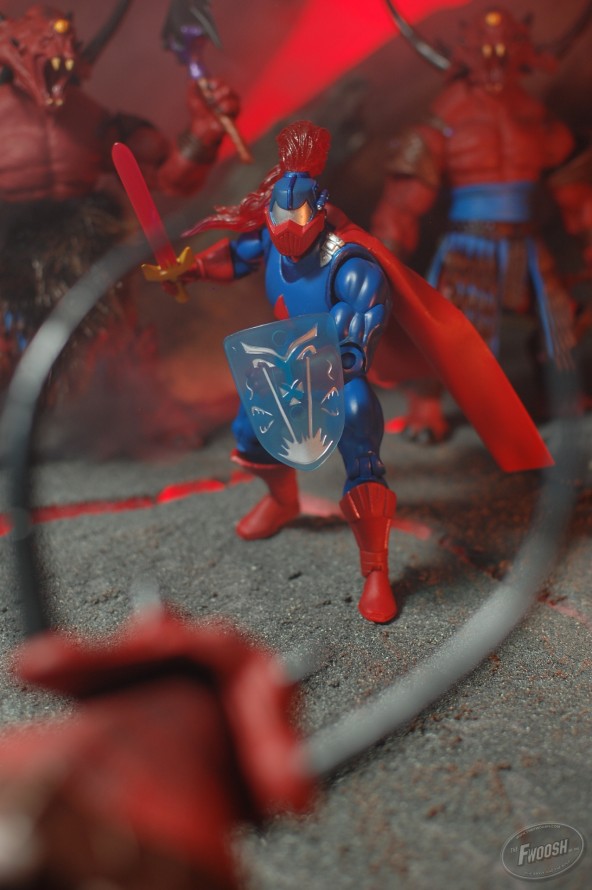 The head sculpt makes me think of drawings of knights I did when I was a kid, which makes sense since this design was based on a child's drawing as well.  The face mask that reminds me of a cow-catcher from a train is exactly how I saw a Knight's helmet on a traditional suit of armor when I was young, so this design appeals to me.  It also feels like something that would have come out in the '80s.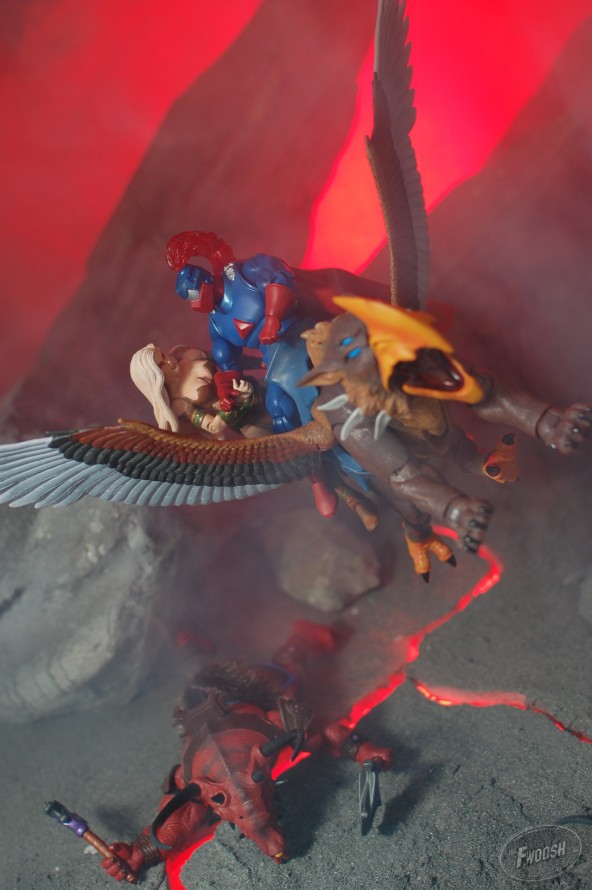 The only issue I have with this sculpt is that he ended up a little plain.  I think some new forearm armor or some parts from He-Ro with more detail would have given him a bit more of an interesting look.  I loved fwoosher JonWes' Photoshop that showed Sir Laser-Lot with the He-Ro lower torso piece.  That added a nice bit of detail and broke up some of the overwhelming bright blue of this design.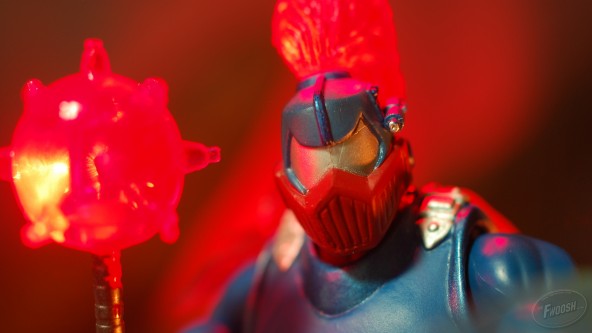 Articulation
Sir Laser-Lot has the standard MOTUC articulation setup.  I think the forward leg motion is hindered more on this figure than on my Man-E-Faces, but otherwise the articulation moves as usual for one of these figures.  The laser plume on his helmet was meant to be articulated, but Mattel glued it in one position.  I was able to free it up fairly easily, but I suggest caution.  I've heard of people tearing the plume out while trying to free it.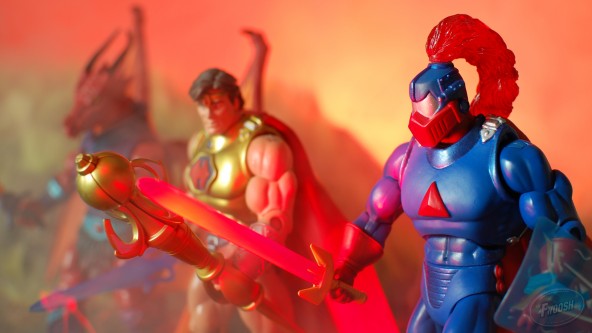 Paint
Paint is decent on Sir Laser-Lot, but there are a few issues.  First off, the paint scrapes off the handles of the translucent weapons.  I noticed it was already like that in the package.  Fortunately  it's not getting worse with play, but it's a new issue that I haven't seen with these figures so far.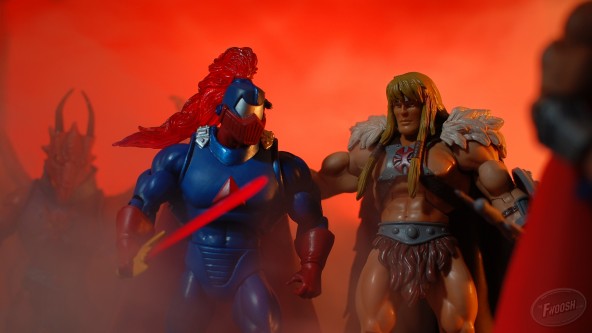 Other than that, the paint is pretty nice.  Sir Laser-Lot appears to be cast in blue plastic for the most part, but there is some nice airbrushed shading to bring out the muscle detail in the sculpt.  I like the metallic accents, but I wish there was a little more color other than primary blue.  I would also have liked the Jem of Talmadge to be clear plastic like in the prototype.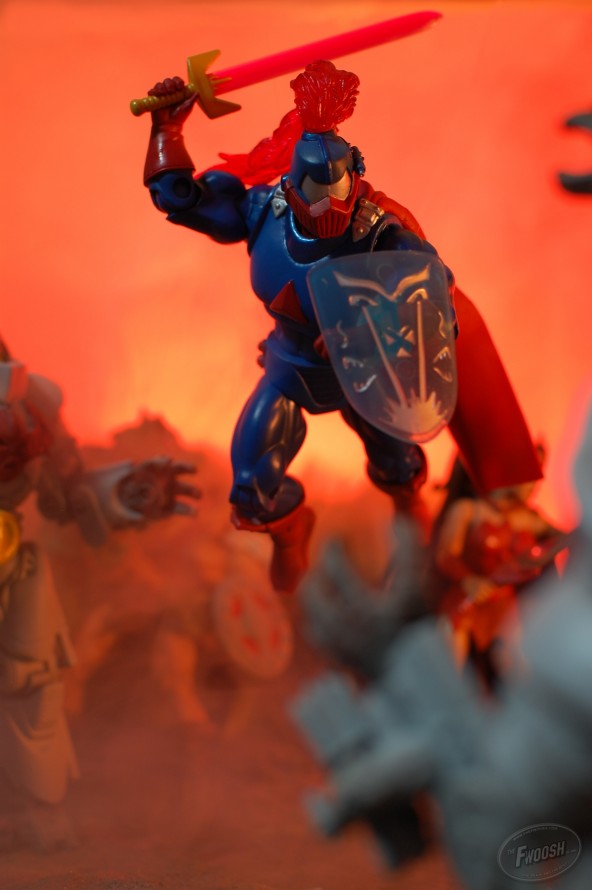 Sir Laser-Lot was not a character I immediately fell in love with, like I did with Draego-Man, but he has grown on me over time.  I do feel like he fits in MOTU, in my mind his design feels very much like something from Filmation.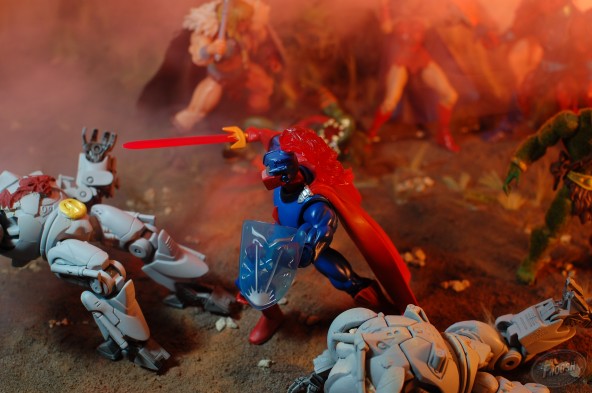 I also enjoyed Sir Laser-Lot's appearance in the online-only MOTU mini-comic issue #1.  It was a brief little bit of a tease of a story, but it piqued my interest in the character.  Most importantly, for my dollar, he's a great deal of fun to play with.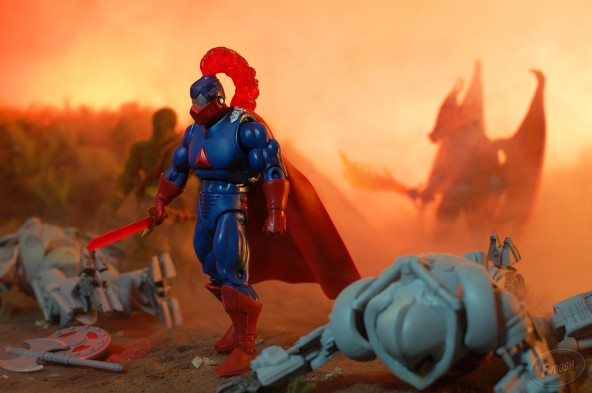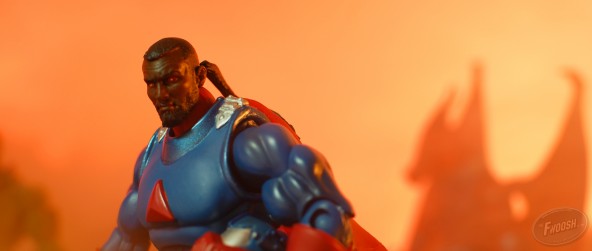 Previous Features: