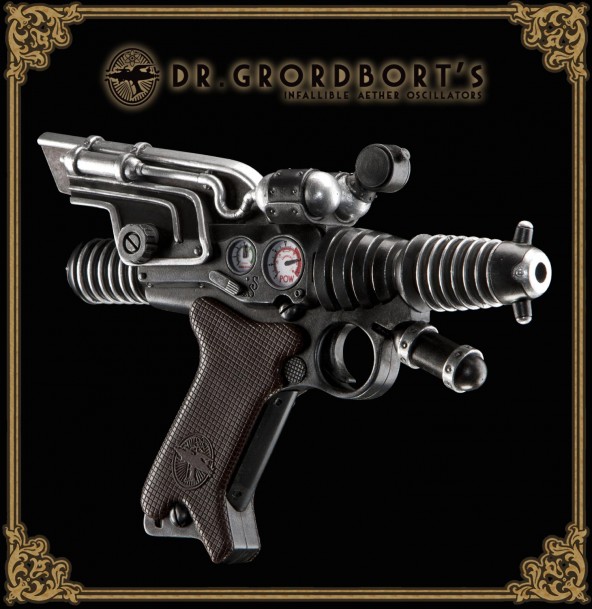 And now for something completely different.
I've been following WETA's rayguns for a while and I've been wanting to post about them and Dr. Grordbort for some time now, but I haven't been able to figure out where and how to start the subject. As I was looking through my emails today, I came across WETA's newsletter and then saw this baddie posted on FaceBook, and I thought it was time to share the awesomeness of Dr. Grorgbort with the Fwoosh.
I wrote a couple of articles about what influenced me, and, eventually, the development of the Fwoosh. Fantasy art and classic science fiction movies are definitely part of that development. Anyone from that generation grew up on Saturday Matinee Movies featuring black and white or technical-color science fiction movies.
WETA picked up on this theme and started making rayguns wrapped in a package of Dr. Grordbort's Infallible Aether Oscillators universe. These rayguns are full size 1:1 replicas. I've yet to buy any, but at some point I will be picking up one of these magical rayguns.
WETA didn't stop at rayguns–there are books and other products to choose from. Read here:
http://www.wetanz.com/rayguns/
You can pick up the Saboteur 66 today at WETA's online shop:
http://www.wetanz.com/saboteur66/
And you too can enter the world of Dr. Grordbort by reading on:
http://www.drgrordborts.com/dr-grordbort-s-infallible-aether-oscillators-where-science-meets-violence/
And as always you can discuss it at the forums here on the fwoosh: