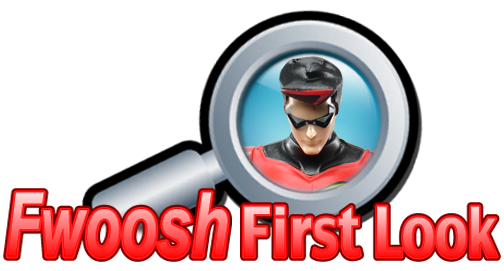 Unless you have been living under a rock on Thanagar (Thanagar does still exist in the new DC, right?), you know that Mattel has been restructuring most of, if not all, their DC product offerings for this year and beyond. We have been providing in-depth coverage of the collector-focused Club Infinite Earths (Jay Garrick sold out fast, yay!), and we have a good idea what to expect from that for the next several months. The details about what will be offered at retail have been a little more elusive, though, and while we have been told that there will be retail lines that will help us carry on our DCUC tradition, it looks like we will have to wait until SDCC to find out the details for that. So what do we have right now? Well, there is a certain Dark Knight Rises flick that is being released in July, so we know that there is a Movie Masters line (with 100% more Alfred!) as well as a more kid-oriented product offerings to support that. However, Mattel is also making the move to offer an all-new "evergreen" Batman line called Power Attack Batman that will be focused on getting the younger Batfans out there with the heroes and villains they love with the playability to keep them interested. We have been granted a sneak peek at some of these items, so there is more after the jump. Don't worry, I see some this stuff appealing to the older crowd as well, so you might just be surprised.

Looking at the structure now, it seems obvious that the Bat should have a constant presence on retail shelves. Sure, it is easy to burn out collectors with constant Bat iterations, but the kids (and DisT and Prod) want lots and lots of him. So as you can imagine, both the basic and deluxe offerings from this line will be very Bat-heavy (how many hyphenated "Bat" words can I use in one First Look?). But don't worry, I think the best figure that is featured herein is actually Killer Croc, so I do see some more discriminating fans scooping him up; plus you also get a pretty groovy Batmobile (that will fit your six-inch figures) too. Go ahead, you can dance a quick Batusie.
Basic Assortment
The line looks to be composed of two types of figures, basic and deluxe. The basic figures are your more standard fare with more character variety, but no action features. Each figure featured here has one weapon and some of them can be used in conjunction with the Batmobile. Some of the figure feature soft goods for things like capes, and Batman has been repainted to fit into certain scenarios requiring special suits of special colors.
Battle Gauntlet Batman
This is what I would call the "basic" or "default" Batman. While he does feature the new Batman symbol (that I believe is unique to this line, but correct me if I am wrong), his costume colors are the closest to the classic Batman look. He comes with a giant Batarang-shaped weapon and he looks great behind the wheel, but more on that in a moment.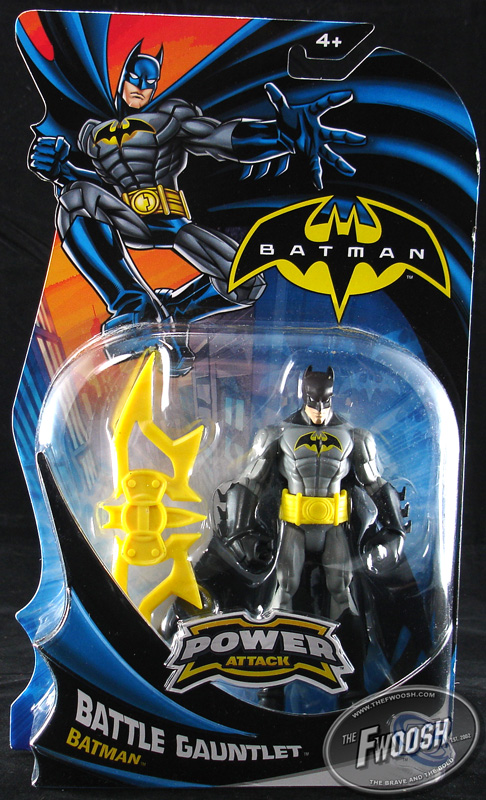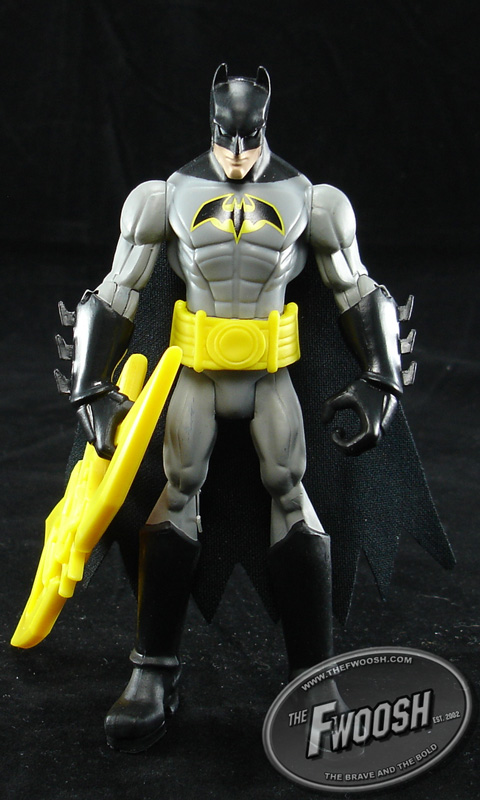 Blaze Buster Batman
Blaze Buster is brightly clothed and it looks like he is ready to take on evil under even the most firey conditions. He features a weapon that can be loaded into the Batmobile cannon, and it looks like he is just waiting to battle Firefly–maybe he will be featured in an up-coming assortment. His axe accessory and boot deco are reminiscent to a fire fighter's getup.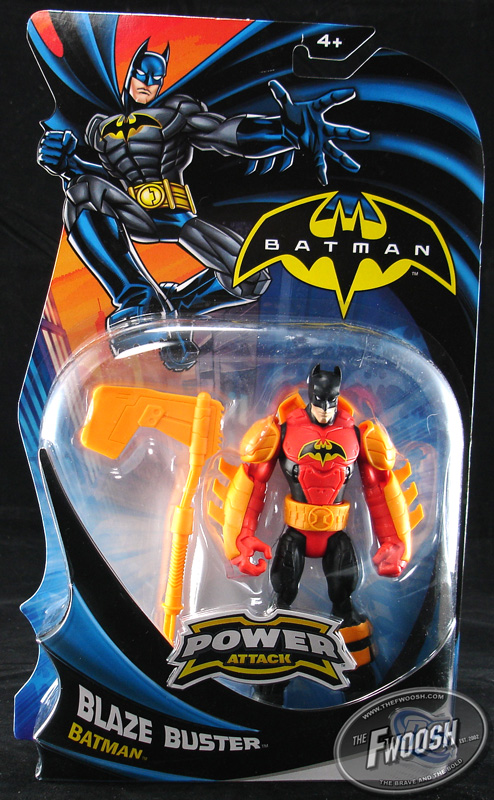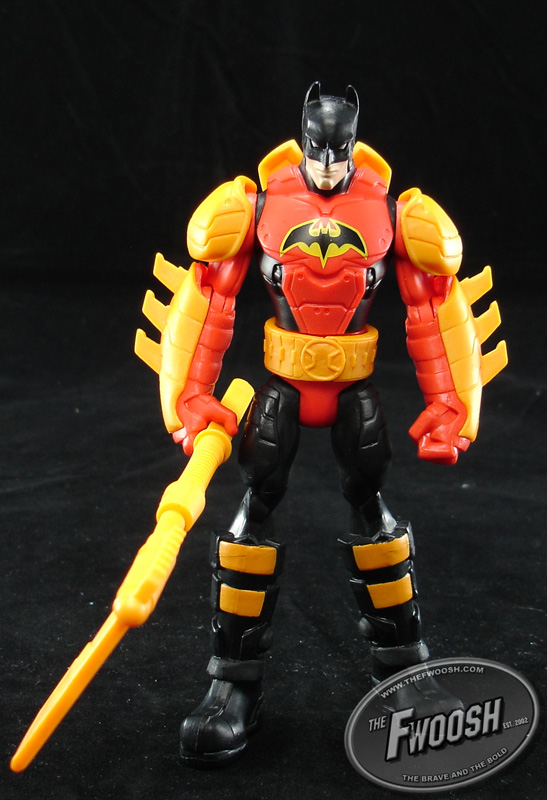 Toxic Takedown Batman
Hey, when you are constantly fighting the Joker, you know that toxic sludge is going to come into play at some point. I would be remiss as an "adult collector" if I did not say that I am not one for tons of bright deco changes, but since this line is for the little people, I think the clear helmet is a nice touch. Don't want to muck up that handsome mug of Bruce just because you have to foil another crazy scheme.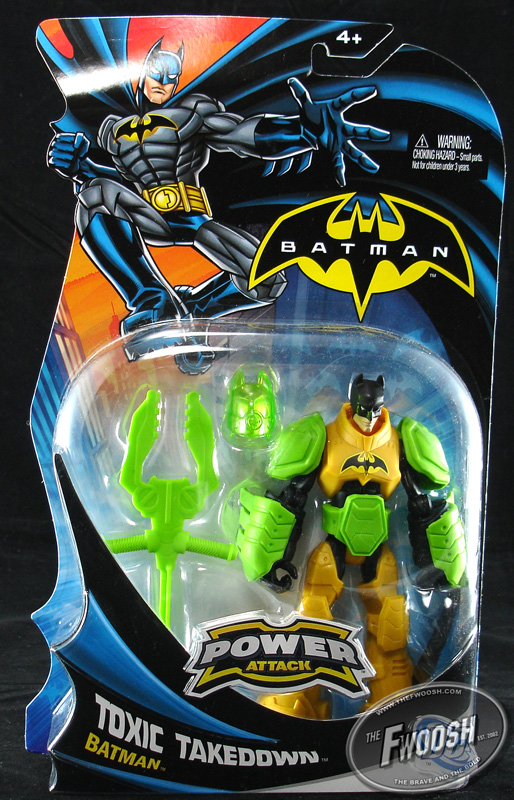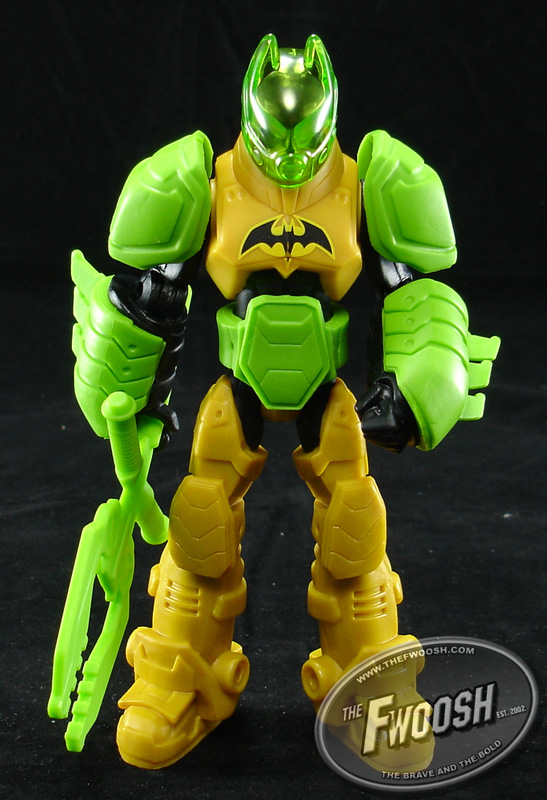 Strike Shield Robin
Hey! Sidekicks and villains! One of the my biggest gripes with kids' lines is that usually they do not feature other characters. Well, Batman needs his noble ward and sidekick. While the basic of look of Batman has not been altered a ton in this line (outside of the color schemes), Robin does have a more punched-up look to fit with the times.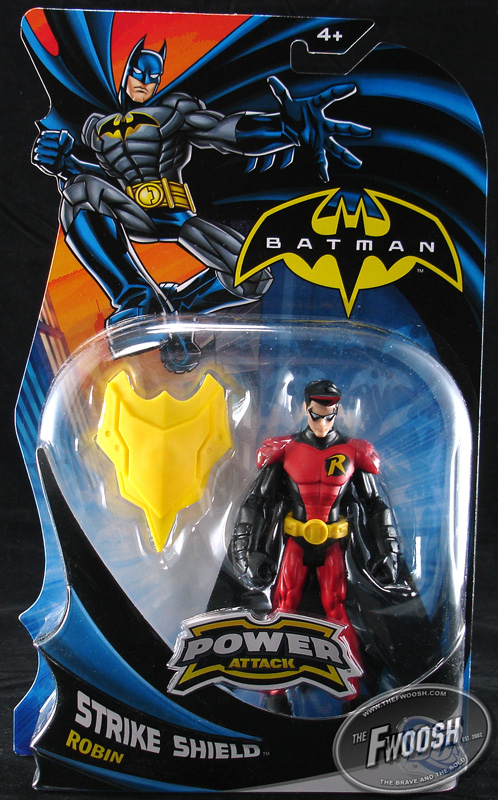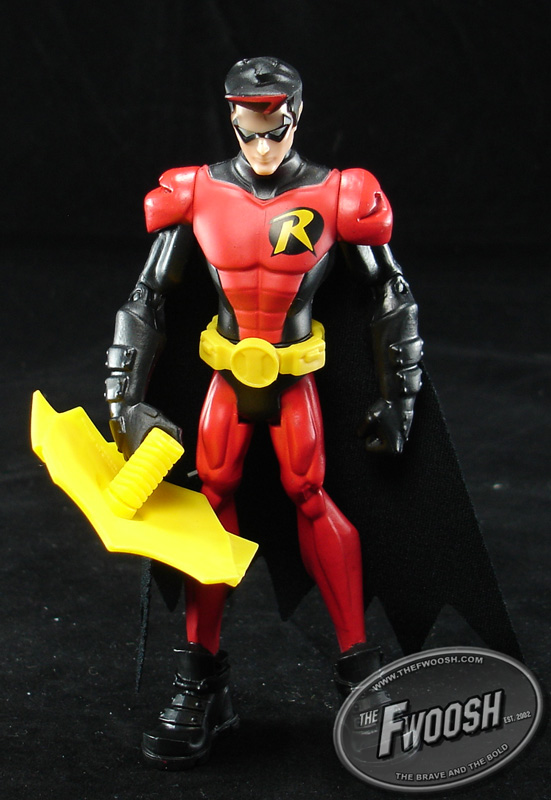 Swamp Raider Killer Croc
Collector line or not, I know when I a see a good toy, and this Croc is a good toy. I actually really, really like the design for the character here, and I am not even one of those guys that prefers the tail. The metal mandible is a great choice, and I like that he has the size to take on the Capaded Crusader and the Boy Wonder. If any figure in this line gets swiped by the big kids, it will be Croc.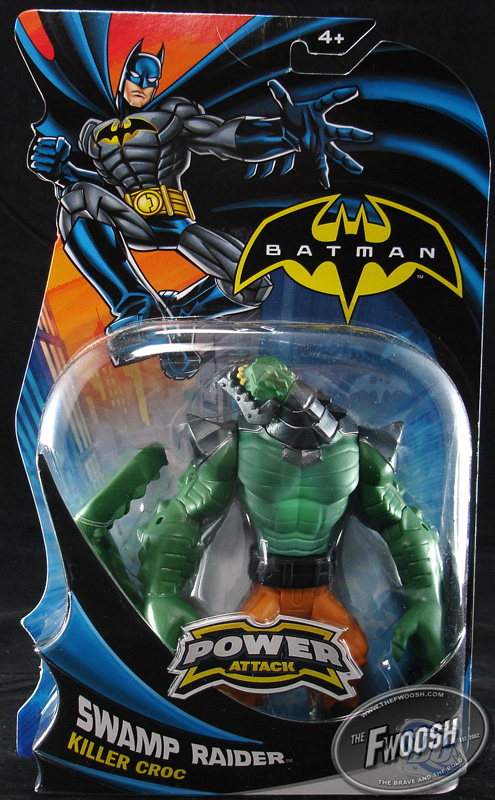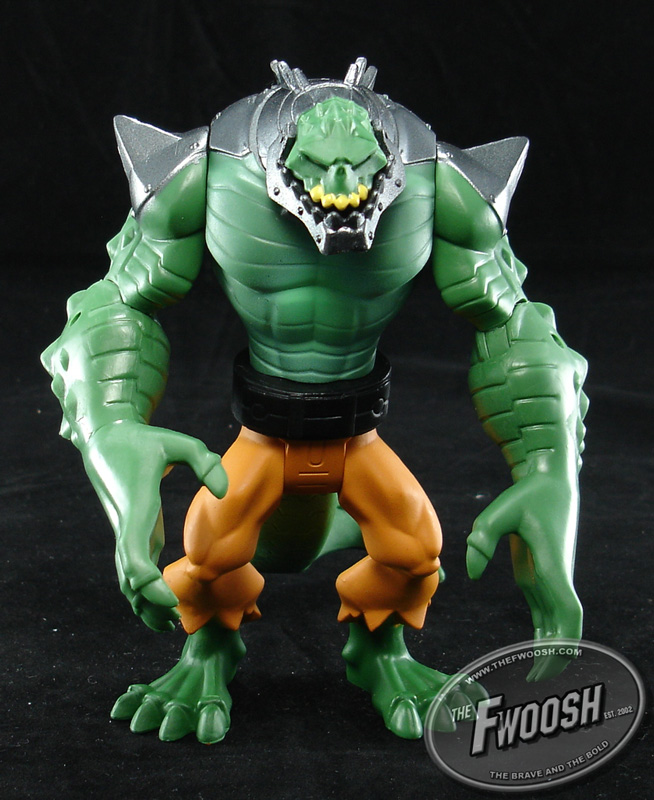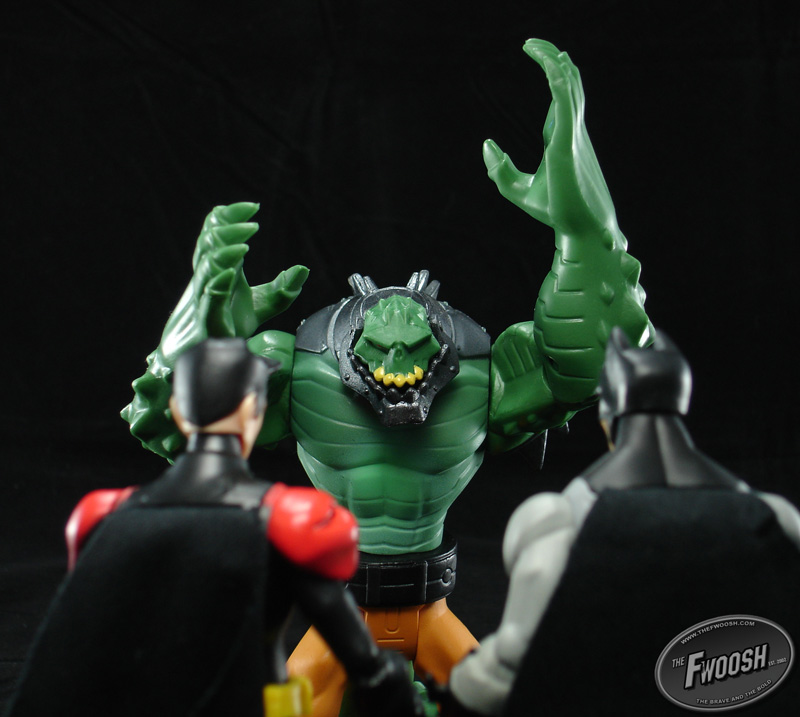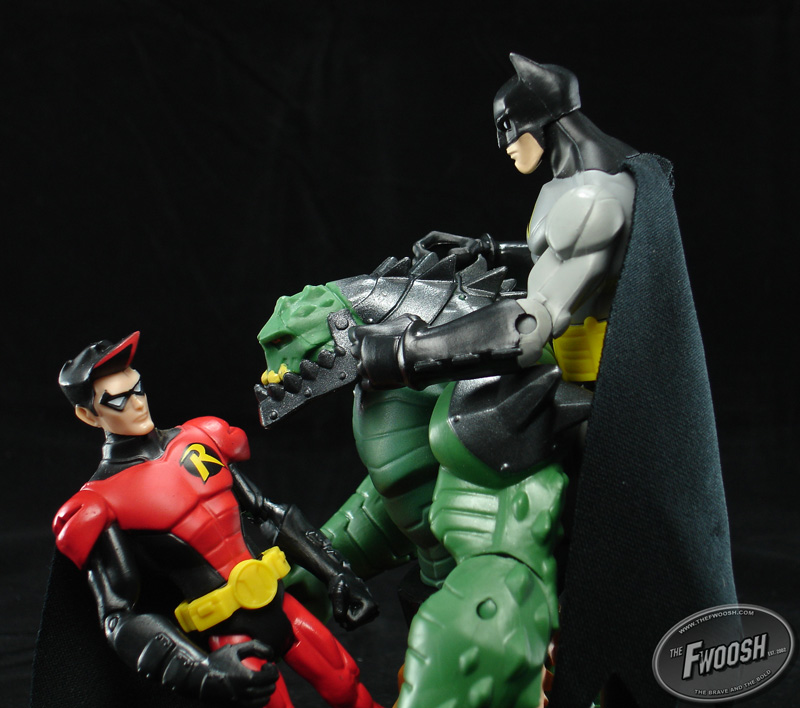 Deluxe Assortment
In addition to the basic figures, there is also a deluxe assortment of figures being released. These feature more elaborate colorways, action features, articulated weaponry, and "cutouts" of some choice Rogues. The accessories actually interact with the action features so you have make for some super-charged pummeling. I have a feeling that, of all of the figures, these will appeal to the collector sect the least, but the features will keep the kiddos entertained. I am not sure if the deluxe figure will feature any characters outside of Batman, but he appears to be it for the first assortment.
Cyclone Kick Batman
Cyclone Kick Batman comes all decked-out in light blue for an arctic battle against the cold-hearted Mr. Freeze. He has a dual buzz saw backpack and a cyclone kick that activates when you squeeze the pack. The back of the basic figure packs boast that a Mr. Freeze figure is on the way, so Batman won't have to just practice against the Croc cutout for long.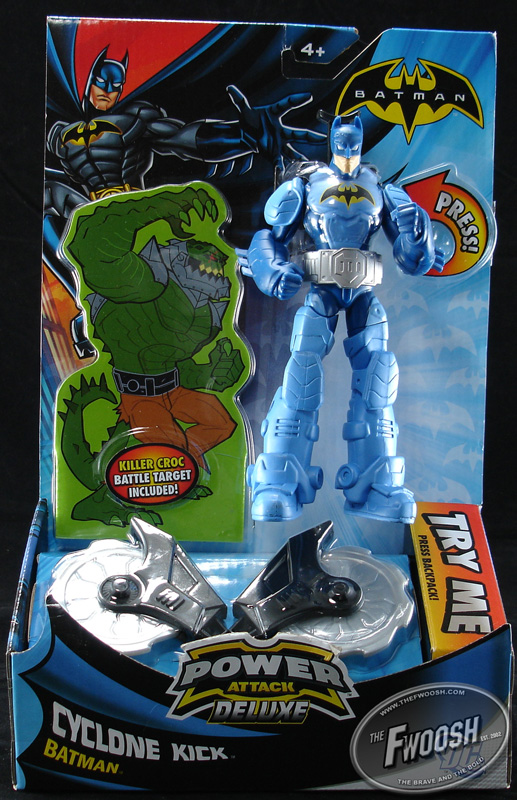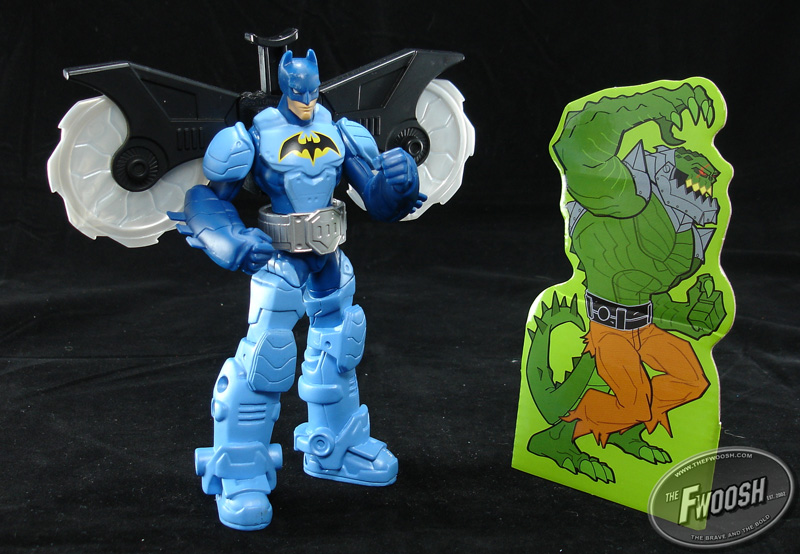 Saw Slash Batman
Hey, kids! How do you make a karate chop even cooler? Add a chainsaw to it, of course! That's right, upon squeezing the legs of this figure, Batman will execute a karate chop. However, add his flip-out saw weapon and he will execute action insanity.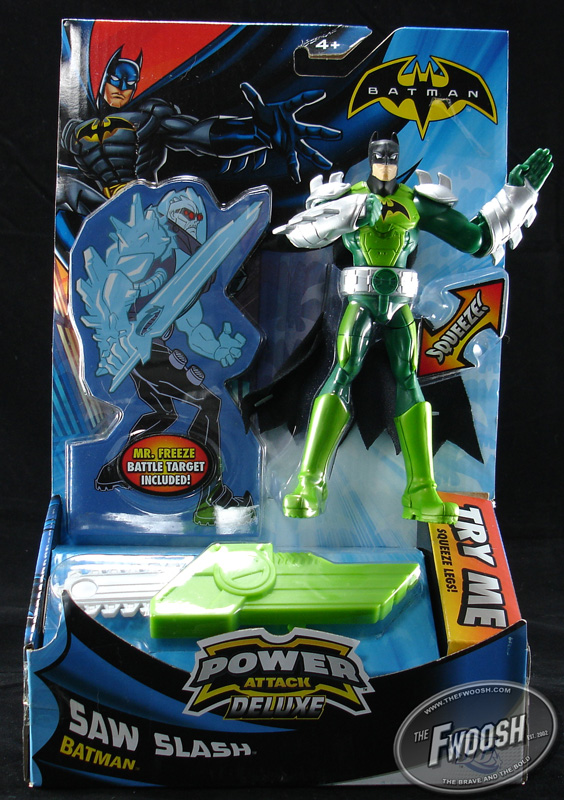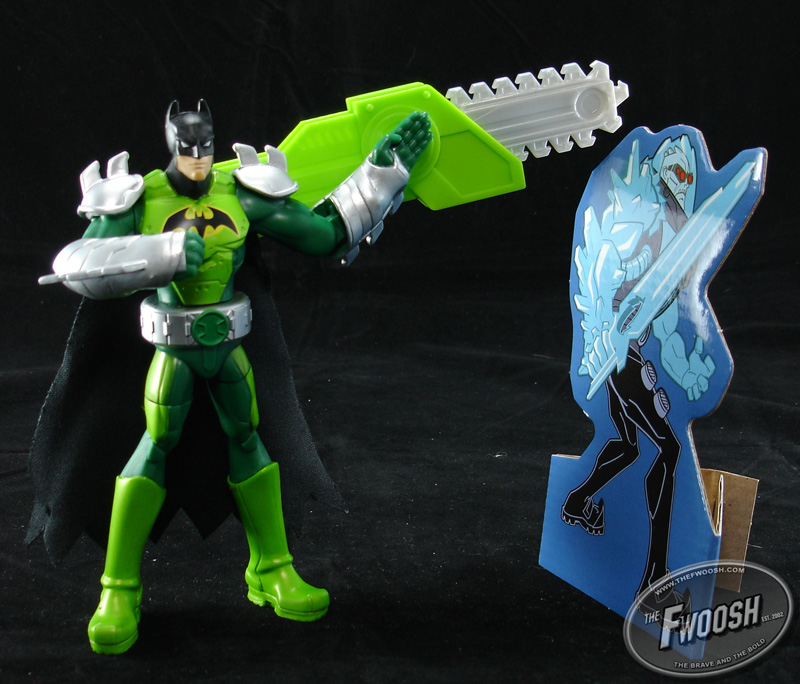 Turbo Punch Batman
Bruce Wayne is a genius; I think we can all agree on that. So what does a genius do to combat one of his most long-standing foes? Why, he uses his tactics against him, that's what! Taking a page from the Joker's boxing glove playbook, this Batman features a full-fisted gun that will extend with the twist feature. Hey, Batman might be very serious, but he can have a sense of humor too.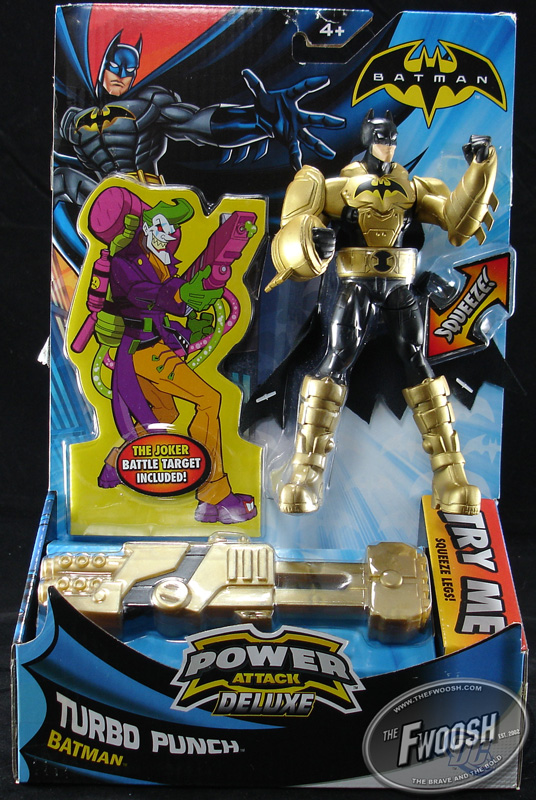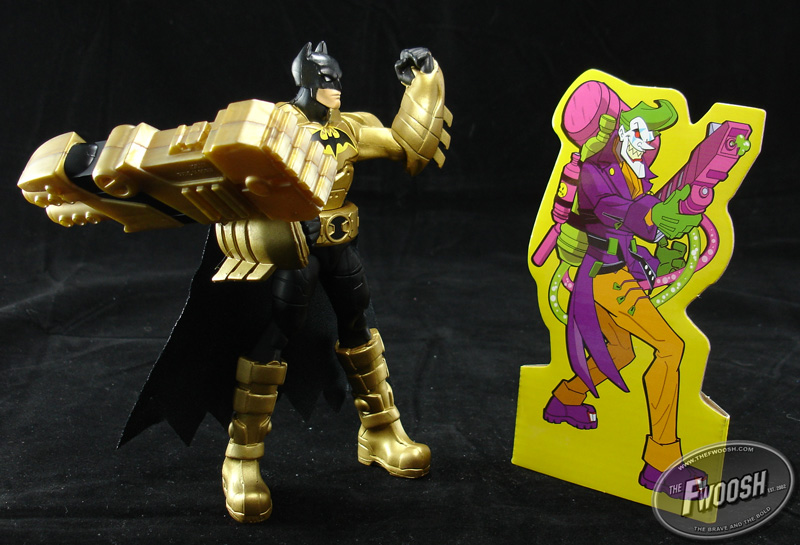 Total Destruction Batmobile
Of all of the new releases featured in this First Look, I think this Batmobile will have the most collector appeal. When most everything in this line has taken a modern influence, the Batmobile feels pleasantly retro. I am sure we have Brave and the Bold to thank in part for that. I think I actually really love the design here and the basic figures interact with it just great. If I had a six-inch Batman with a softer cape, I would show you that those will fit inside just fine too. So, I think this might provide a bit of a stay for those not overly picky about it going perfectly with DCUC. I do think that some enterprising customizers will be able to make this car look really slick for DCUC. In fact, I might try that myself.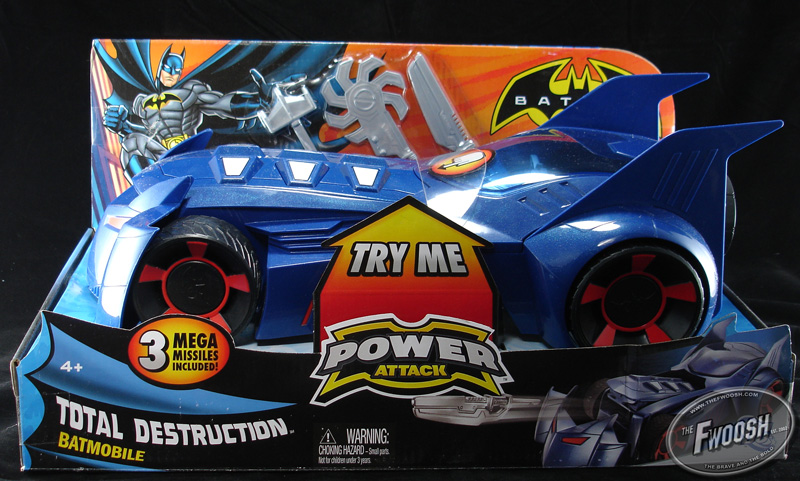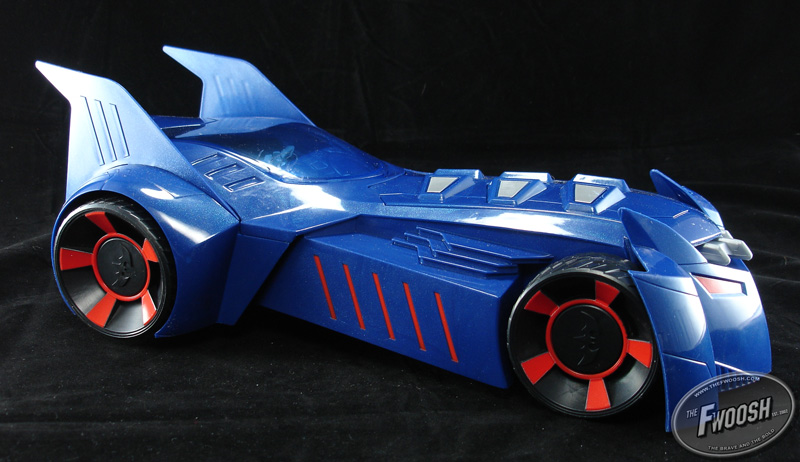 The windshield lifts up for easy access and there is a button on the hood that launches the included projectiles. Some of the weapons that are included with some of the basic figures also work for this as well. The car articulates in the middle and the battering ram will take out any oncoming foes lickety-split. If you pass up everything else in this line, be sure to check out the Batmobile. I think the kiddies will love it and it shows quite a bit of upgrade potential.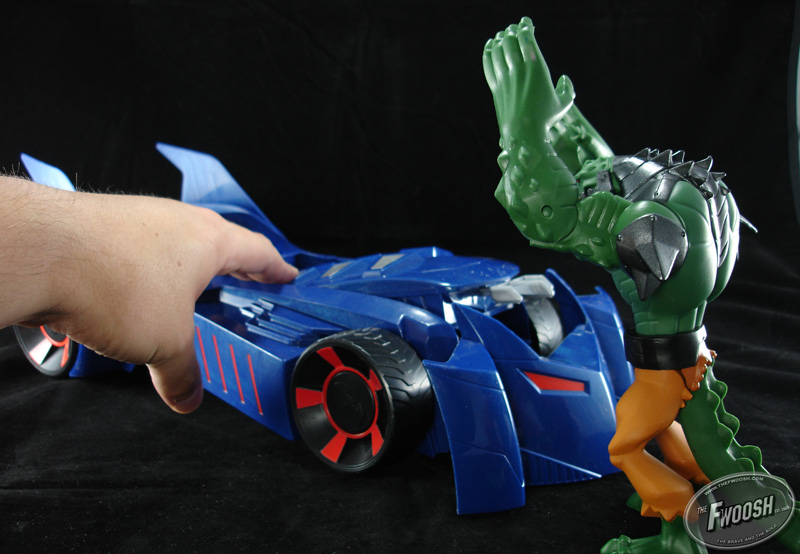 *Thanks to Len and the Batman team for sending these along for our First Look. These guys should be hitting the retail shelves right away!
Additional Links