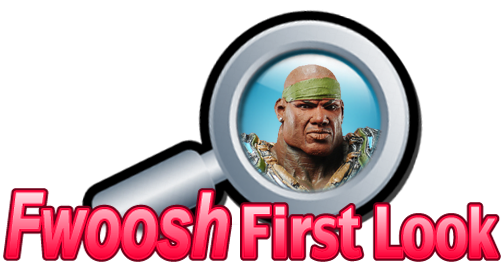 Comics, movies and video games have all had exciting relationships with action figures over the years. Comic toys have been evergreen for about as long as I can remember (in one form or another) and the big toy companies are always chomping at the bit to pick up the license for the next gigantic cinematic property (will anything ever come close to Star Wars?). But if you have been paying attention to the video game arm of action figures over the past several years, you know that NECA has been leading the charge in the realm of all things pixilated. Furthermore, if you have been collecting even a fraction of their vast array of video game properties, you know that they have hit a real stride and they are doing some amazing work. I have to be honest and say that, until recently I have been on the outside circle of all things "nextgen" when it comes to gaming systems, but now that I have jointed the PS3 brethren, my eyes are being opened to all kinds of amazing games. Case in point is Gears of War 3; I have barely gotten into the game but the graphics and game play are really impressive to me. So too is a figure from NECA's GW3 line – Augustus Cole. Read on to get the words and pictures of an almost-scary representation of a pixilated man in plastic.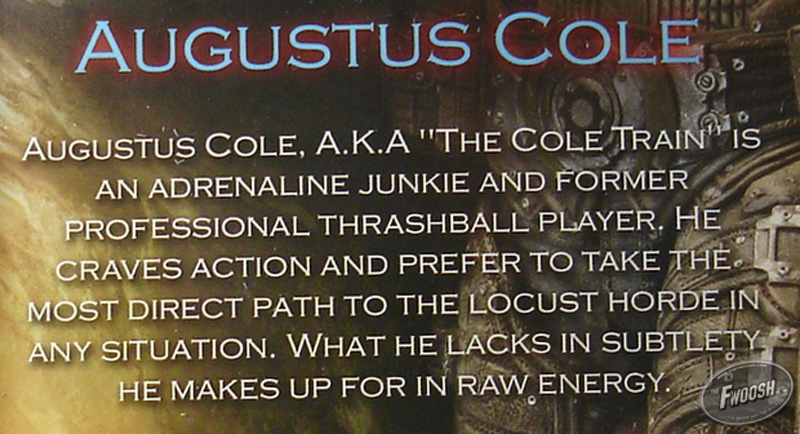 When it comes to lines that I have a great fondness of from NECA, the current Gremlins figures and the comic TMNT figures are absolute favorites of mine, from any line or any company. So, I have always known what NECA is capable of in terms of product. You don't have delve deeply to see that the standard of sculpting that they offer across all of their product lines is impressive, but I always thought that the Turtles and Gremlins were alone at the pinnacle of their articulation game. Man, to even suggest that is embarrassingly unfounded because the Gears of War 3 figures have got it going on, as it were.
I will, of course, touch on the aesthetics of this figure in moment, but in a good lead-in to that, once I freed this massive dude from the plastic, I kept finding points of articulation that I had no idea were even there. In fact, the exception of missing biceps swivels (gah! So close!) I cannot even thing of any other articulation that this guy needs and, since Cole is such a big dude (and a big figure) he makes really great use of what is there. Plus, due to all of his armor and sculpting details, most of his joints are well hidden and that always gets you bonus points in my book.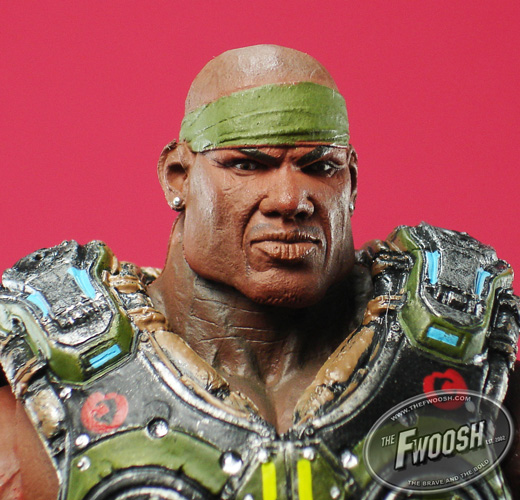 The "Coletrain" as he is called has all of the basic articulation points that most figures of this size and style hold, but there are also a lot of more "advanced" POAs that make him a fun figure to pose. I have always been a fan of the hip hinge he employs (think DCUC) since it gives nice range but keeps a lot of the aesthetic qualities intact. His knees and elbows have the regular cuts, but also swivel so they can move side to side as well as front to back. Since he has thick armor plates on his legs, this makes the movement and cuts pretty seamless and virtually invisible. Also, since he is wearing type of flak jacket, his additional pectoral hinges are hidden from view. It is great that they are there though because their presence makes up for some of the range lost to lack of biceps swivels, but also aids him in naturally carrying his gratuitous "One-Shot" gun weapon thingee.
So, in a lesson of "pay attention to what we are doing here, dumdum", NECA has taken me to school to learn that they are actually competing with a lot of the super-articulated lines out there right now. But I am not just a sucker for articulation for the sake of it being there (posable fingers get my wrath in most instances). I am always welcoming of things like double elbow though and to this figure's credit, it almost looks like he doesn't have them. It is how well articulation works to further the playability and overall coolness of a figure that wins me over and especially considering what a massive chunk of plastic this guy is, he moves very, very well while still looking good. Speaking of which…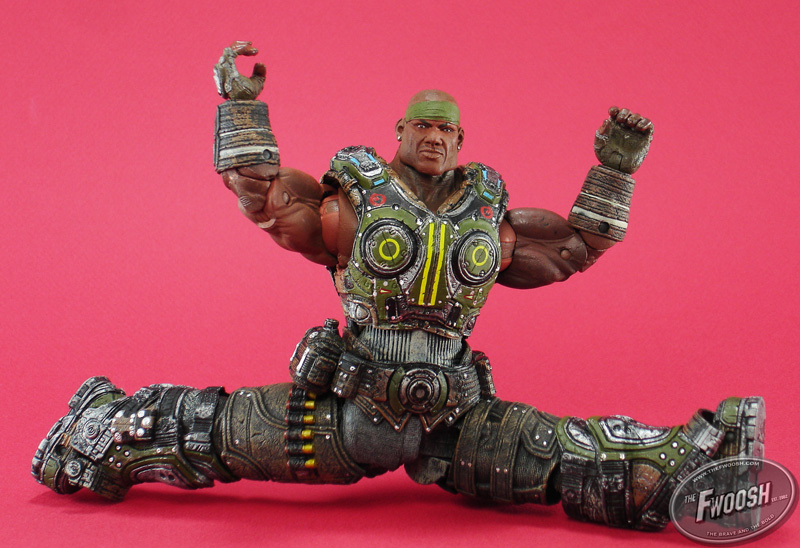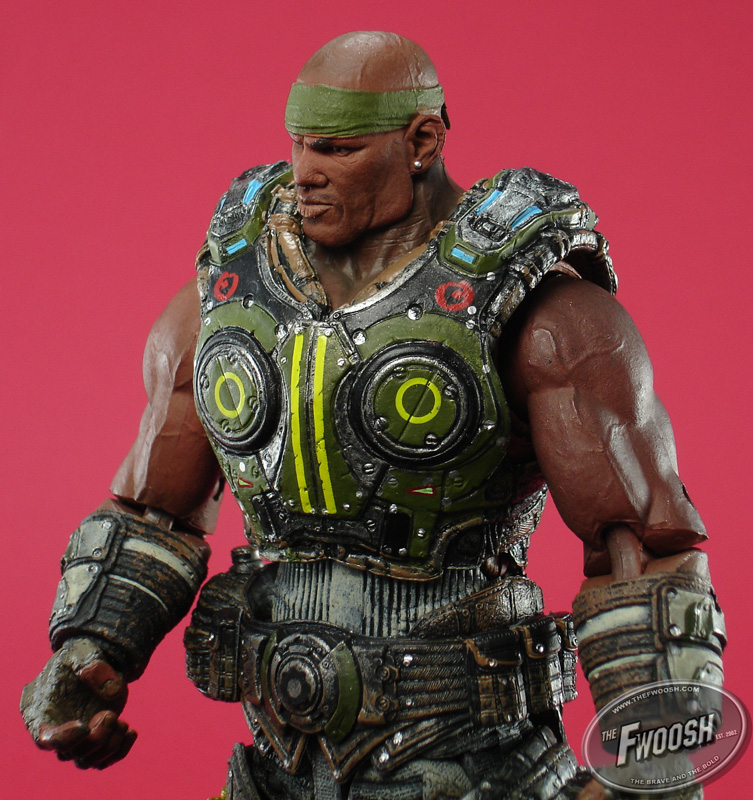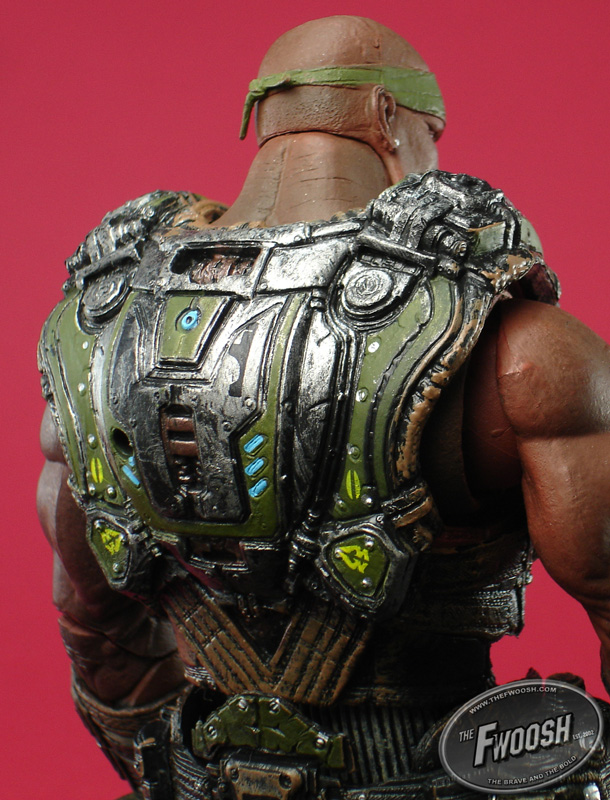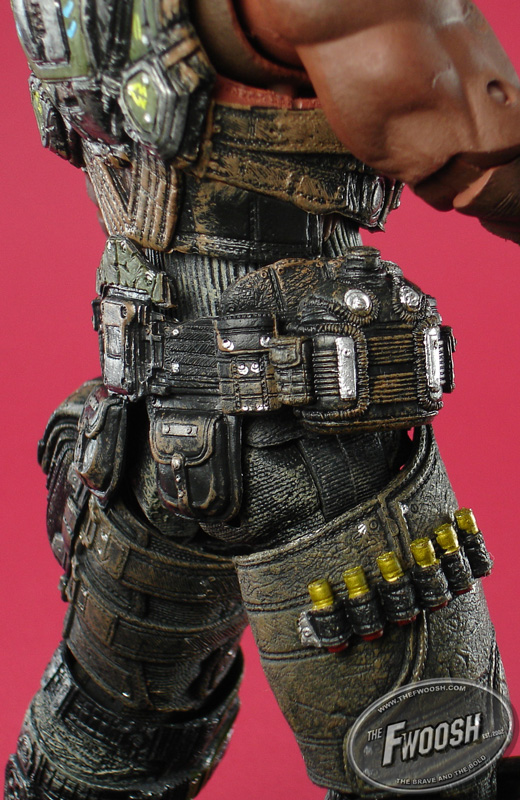 Doesn't he kind of look like a real guy in those close-up pictures? I don't know if it is a strong testament to the sculpting, the digital rendering of the source material or both (likely both), but if I did not know this figure was based off of a video game character, I would swear they nailed some real dude's likeness down cold. Or down Cole… see what I did there? I could go on and on about the level of detail that NECA exudes in their figures from Gremlins to Rocky to Predator to GW3, but that praise has been sung for a long time and if the pictures don't show it, I am not sure how I can further that along because I have no better compliment to give out past "this looks like the exact likeness of a real guy".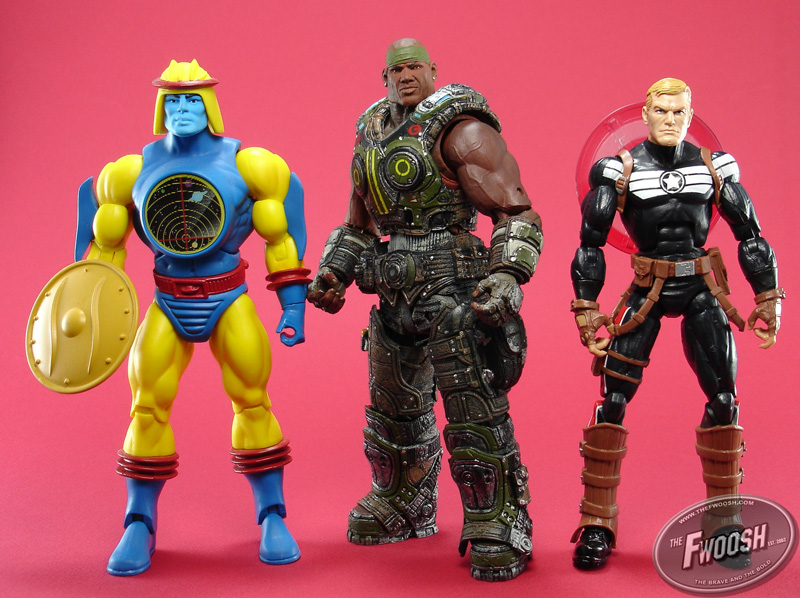 The facial likeness to the source is really uncanny and while video games have come a long way to show off details in 3D, there are a lot of added subtleties that the figure employs. Sure, he has his tough as nails expression, but he also has battle lines and scars here and there that bring a lot of character to his face. I have always said that messing up a head sculpt can kill an otherwise fine figure, but when a head sculpt is spot-on, it can go a long way to further the rest of the look. The good news is that the detail of sculpt on the body is just as good, if not better, than the head. Cole's outfit and armor has tons and tons of textures and nooks and crannies and every single one of them is accounted for in slavish detail.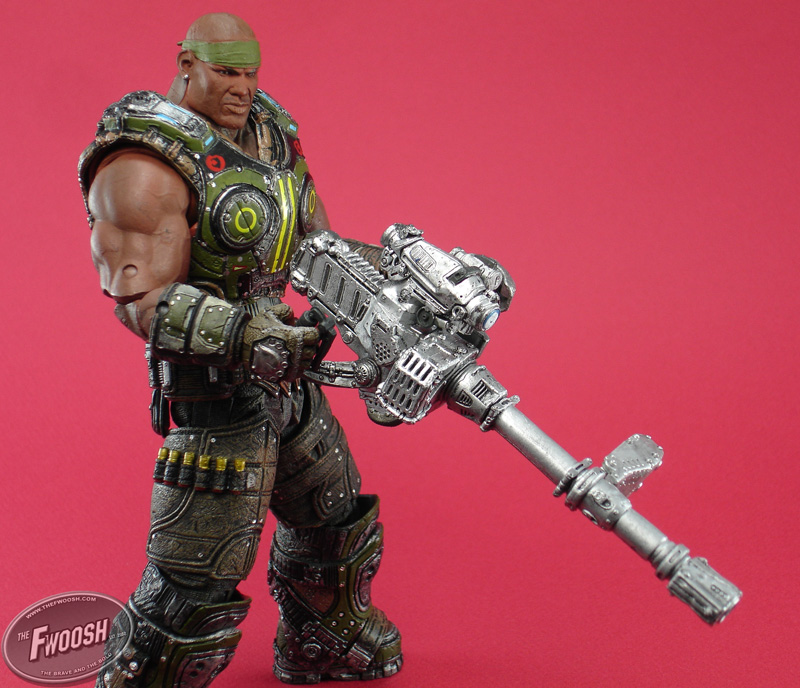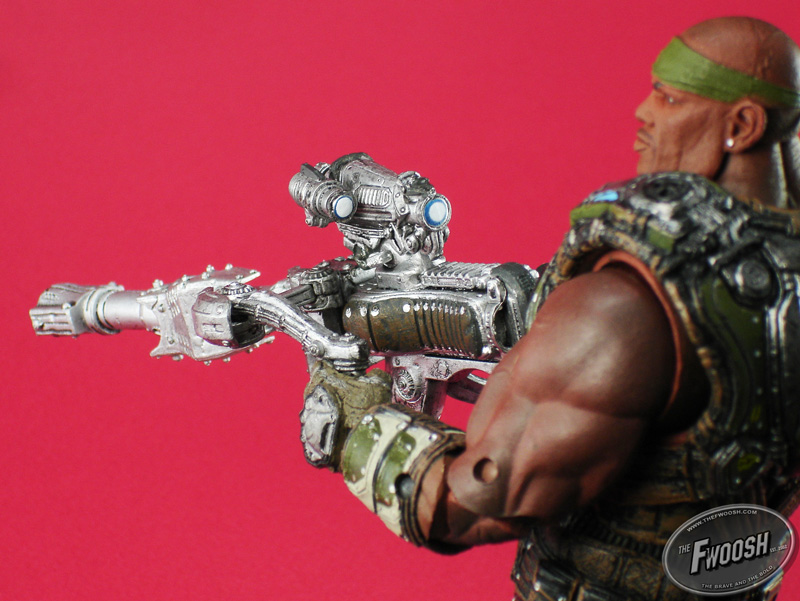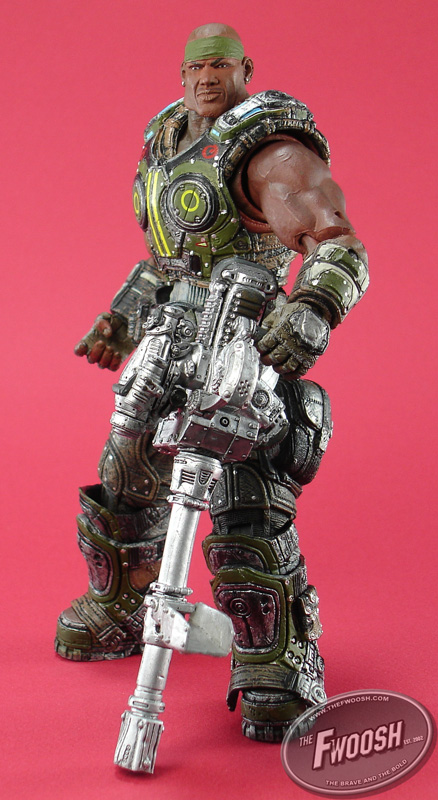 Due to the very detailed nature of the sculpt, the paint has to match in terms of delivery and I did not even attempt to count the amount of applications this figure has. In fact, I did not even bother to count how many different colors of paint the figure has because that alone is a TON. He has a lot of grimy metals, military greens, but there is also bright reds and yellows of the insignias, represented perfectly from the game. I am not sure what color the actual plastic is on the figure, but the skin tone is most certainly painted and has a lot of subtle variance in the muscles and facial lines. Just using casted plastic to represent a flesh tone with no shading often times sells a figure very short so I am happy to report that Cole was given the care and applications he needed to have that realistic effect.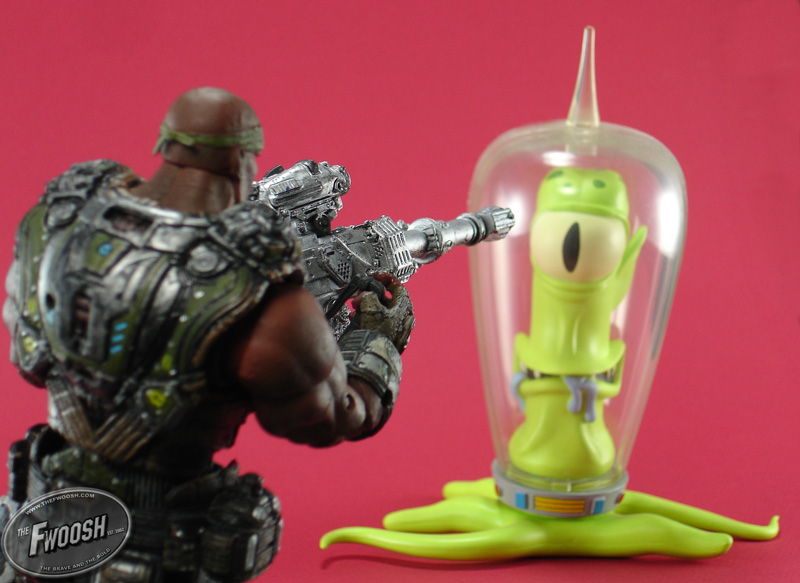 Finally, Cole comes with his patented "One-Shot" gigantic gun. I am not sure I know what to make of this thing as it looks like a cannon with a go kart motor attached to with some sweet BMX parts added with a scope, but it is every bit as detailed the figure itself. There are actually several moving parts on here including the grip handles, scope and guard plate thing so you can really pose Cole in a lot of different ways and make his grip on his gat convincing. The gun is obviously really big and the weight of the thing would be far too much for most figures, but since Cole is behemoth himself, he can stand in a variety of ways and still support the One-Shot. That is probably the most on the nose name for a weapon I have heard in a long time.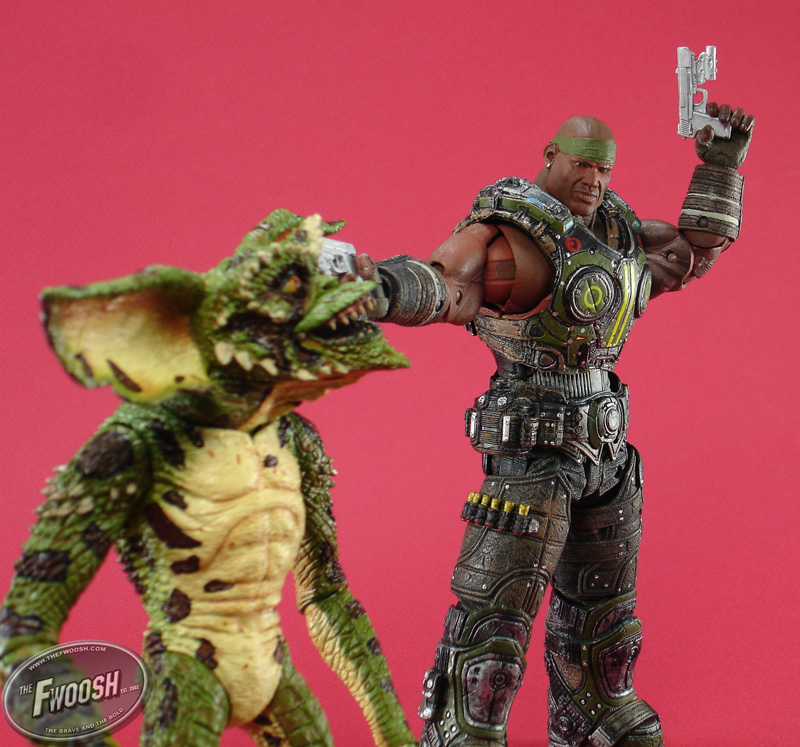 I have already gone to a few etailers to pick a few more of these figures because I am very impressed with Cole. I know that the video game properties have become one of NECA's bread and butter product streams, and it really shows. I know people get really excited when Mattel adds double knees to figures, or Hasbro dumps 45 degree hips, but NECA is quietly running to the top of the mountain to hang with the articulation kings. The great part is that they are not at all making sacrifices to the aesthetic and Augustus Cole is a burly beauty.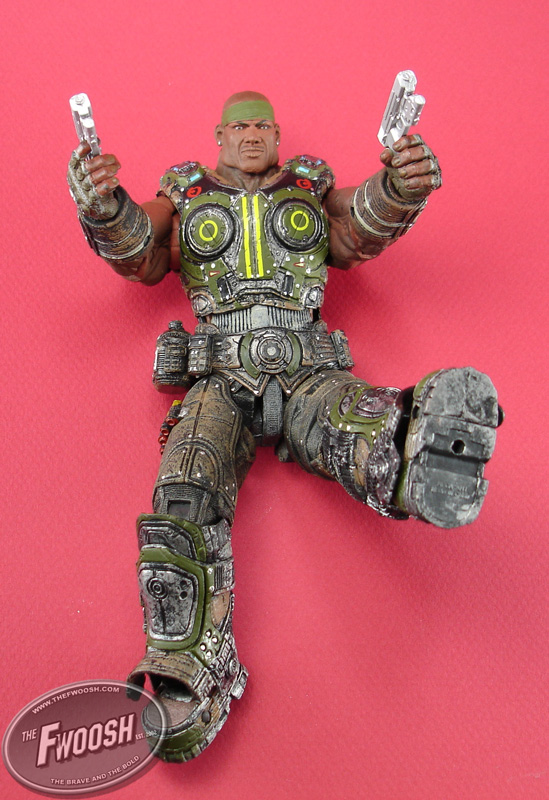 *Thanks for reading and thanks to the gang at NECA for sending along Cole for a First Look, we really appreciate it!
Additional Links