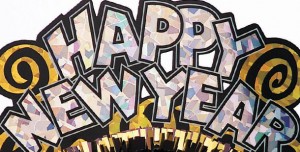 If you have been around The Fwoosh for awhile, you know that we always like to ring in each and every new year with a fond farewell to the one that has passed. We have a variety of features that we will be brining you over the next several days (some a bit later than expected due to Demo-Man's tardiness), but we always like to kick things off with our Best of the Year article. Most of the Fwoosh Staff has contributed their thoughts on what they consider to be the standout toys of 2011. Now, this is always a difficult endeavor for us as there are ALWAYS great toys that get left off the list, but thems the breaks, it's not like this something official or anything. So, if you dare, come take a look at some of the things we loved this past year, and be sure to leave a comment if you agree with any of these, or if you think the list a complete claptrap. Happy New Year, enjoy and we will have a lot more to bring you in the next several days!
tommyboy1972 starts things off with his tribute to the god-like return of Marvel Legends! That's right, the grandpa of superposable superhero action figures makes it return in new fashion in 2012, but Thor himself started the charge at SDCC 2011!
With the exception of the quick Blip last November when the "Best Of" Marvel Legends 2 packs came out at Toys R Us, Marvel Legends has been nearly non-existent for pretty much the last 2 years. In fact, with a week or so left before SDCC 2011, rumors were that the Marvel Legends exclusive scheduled to be available was thought to be cancelled by many.
Then about a week before SDCC 2011, news came that the Marvel Legends exclusive was to be available… and boy did they hit a HOME RUN!! Let's not even talk about the figure yet. The packaging on this figure was shear genius. Modern Thor in a package that looks like his hammer Mjolnir. I realize for mainstream retail this can't be the norm but for a comic con exclusive, it was one of the best packages I've ever seen. Additionally having the Mjolnir catchphrase on the back of the hammer package was a great touch. Almost kills you to have to take the figure out of a package that looks so sweet.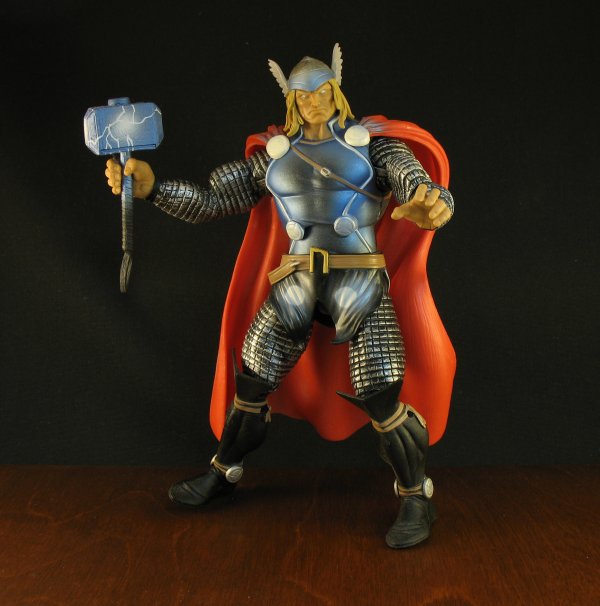 Now onto the figure… With the imminent return of Marvel Legends, Hasbro really put their tooling skills to the test with this premiere of the the revamped toy line. Not one piece of Thor is reused from a previous figure. He is an entirely brand new sculpt. The sculpting on this figure is truly magnificent – from his bad attitude face to the realistic hand sculpts and all the way down to his chain mail. The paint job on him pops as well. And he's big… REAL BIG. This is the perfect scale they could have made for the God of Thunder. Now the Hulk finally seems to have some serious competition. The articulation on him is good – not great. He does seem to be restricted in some areas such as head/neck movement however Hasbro overall did as good of a job as I think they could with the articulation given his sheer mass. They did include double-jointed knees and even less noticeable elbrows.
If the my pick of Best of the Year for 2011 is a preview of what is yet to come from the return of Marvel Legends in 2012, I believe we have a lot to be excited about.
---
Ibentmyman-thing chimes in next with his love of the Legion as he adores on of the boldest action figure releases ever – the Legion of Superheros 12-pack. Yep, the TWELVE pack. Lots of people did not quite believe it when it debuted at SDCC in 2101, but man, was it ever worth the wait!
Sometimes with toy collecting, impatience can be as big a virtue as impatience. Sure, waiting for characters to be agonizingly peppered into a line can be rewarding when they're finally all together, but let's all face it…the waiting sucks and sucks hard, like a vacuum salesman's convention.
So when impatience is rewarded by getting a gihumongonormous whack of a team at once, the ensuing toygasmic experience is almost biblical in scope. And that, friends and neighbors, is what the Legion set was this year.
Let's put aside nit-picking, quality control bitching and any other complaints, and think about it for a second: a toy company put out 12 figures from a single group all at once. No waiting for wave umpty-five. No slow burn. 12 figures, all at once. It's a rare thing in this hobby to have such a vast character roster filled out so quickly. And how many of us have resisted zipping around with our genuine Legion Flight ring? I've beaten rush-hour traffic every day with that thing on my finger.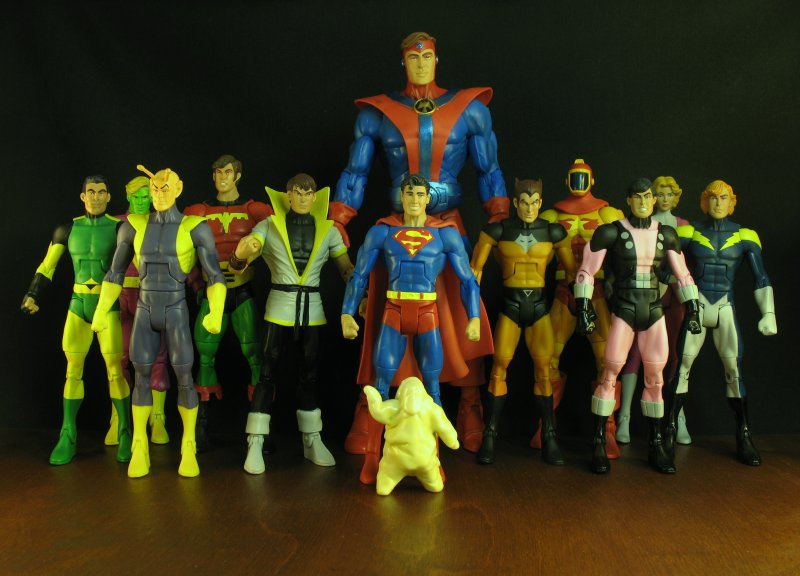 As we all know, Proty was the real standout of the pack, but let's put aside his awesomeness (and self-sacrificial, unless you're thinking this is Proty Two: electric Blobaloo) to look at a few of the others. Superboy was a personal want for a long time, and finally having the boy to stand side by side with the man (and re-enact that time-travelling story where Boy and Man had a colossal fight) is just perfect.
But there are plenty of other characters to be pleased with, none of which were as much a welcome inclusion as Matter Eater Lad. Yeah, I have a Matter Eater Lad figure. That underlines the word "frickin' nifty" in the dictionary, if that was one word. I mean, sure, he's no Arm Fall Off Boy, but matter Eater Lad could eat the Arm that fell off…boy. If that's not a completely necessary power then I just don't know.
There's plenty more members to get to (Mon-El and Sun Boy being the two most glaring omissions from my point of view) but to have this many members of the Legion of Super-heroes in one chunk makes this my pick for the Best of the Year.
---
Next up, canonball shows that he has finally become a victim of insane plastic and has succumbed to the siren song that is ThreeA Toys. The Yellow Hornets 4-pack is four times the awesome power of track-suited, art ninjas!
In 2011 I finally gave in to the allure of Ashley Wood's ThreeA Toys and dove in with both feet. Among all the new robots and assorted killing machines now populating our toy shelves, The Yellow Hornets 4-pack is one that continually draws my eye and holds the greatest play value for me because, well, they're just so darn cool.
The set is a sort of alternate, more accessible, version of ThreeA's TK Unleashed SDCC exclusive, which was a similar, but very limited, set of figures in red tracksuits rather than yellow. Both sets are made up of the same four nameless characters who, from my understanding, are a boy band who are also ninjas, with the red set as the "main" group while the yellow suits are them disguised as their own opening band. Sure, why not? Factor in that the yellow suits are a clear homage to Bruce Lee's "Game of Death" suit, and even the most asinine back story becomes instantly cool and fun. They also remind me of TMNT in that they are four near-identical figures only distinguishable by a small, simple design element. In this case, their hair.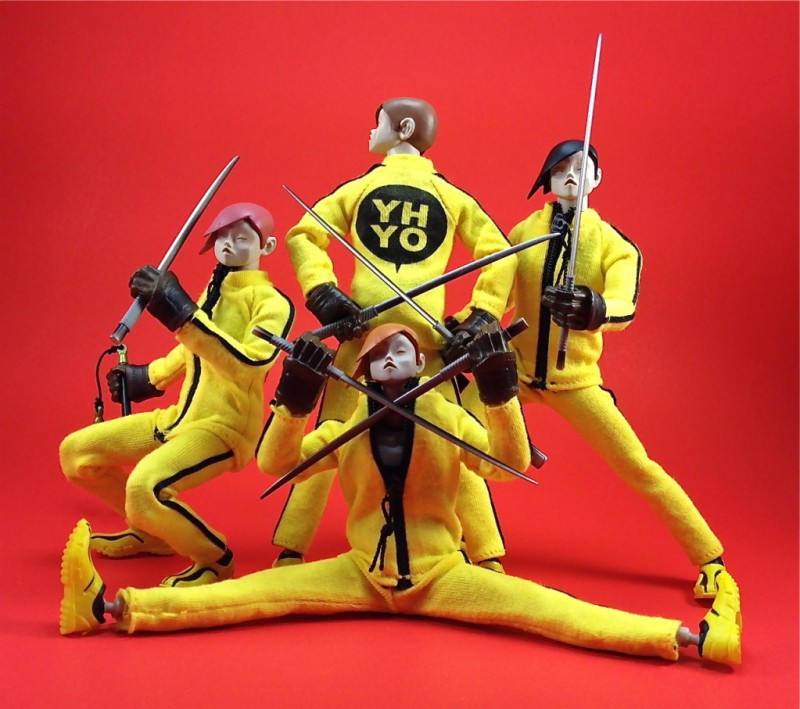 I was worried the soft goods tracksuits would limit the fabled articulation of the average ThreeA action figure, but that fear was assuaged within minutes of opening the box. These guys can achieve, and hold, poses I've never been able to get from any other action figure line and the suits don't hinder anything. It's been so long since I just sat posing action figures just for fun and this set definitely re-ignited a waning enthusiasm to that end. I now want every line I've ever collected to be given the Wood/ThreeA treatment to at least some extent because I am now a believer when soft goods are concerned.
This set is my pick for 2011 simple because I've been having more fun with it than most other figures I picked up in 2011, regardless of line. I now wish I hadn't avoided ThreeA for so long and can't wait to see what Ashley Wood and co. have in store for 2012.
---
VeeBee can easily admit that he is a bit of a schizophrenic collector and that a "Best of" figure can change everyday. Well, in appropriate fashion, Eternia's favorite resident split personality Man-E-Faces tops his list for 2011.
This was actually a really tough choice for me this year. Even though I was thinking that 2011 wasn't a real standout in terms of figure releases this year, when I looked back over all of the stuff I got, there are a ton of really cool figures. I was originally going to go with Scarabus, but thankfully Matt K took care of that one. Then I started thinking about releases like Catman, the LoSH set, the WWE Legend Bam Bam Bigelow, Mr. Stay Puft,  the Wind Raider and the GL movie Parallax. Wow, that is a  lot of cool figures! Then I culled the list down to three: MOTUC Catra and Man-E-Faces and the NECA George Gremlin. I had a write up for George all ready to go, then just the other day I glanced at Man-E standing on my shelf and I just had to go with him.
As a kid, with the exception of Fisto and Moss Man, I was always a bad guy fan of Eternia. So, it takes a lot to bring me to the good side with these figures, and I am really struck the Perkaedo here. The Four Horsemen nailed the look of the figure in great fashion in a mash-up of the card back and vintage figure. The sculpt is just right and I love the shape of the helmet. The action feature works great, and he now has SIX faces he can display instead the old three. Also, I for one am very glad for the skin tone too, he works much better with the rest of the Masters now instead of being caught in an orange suit.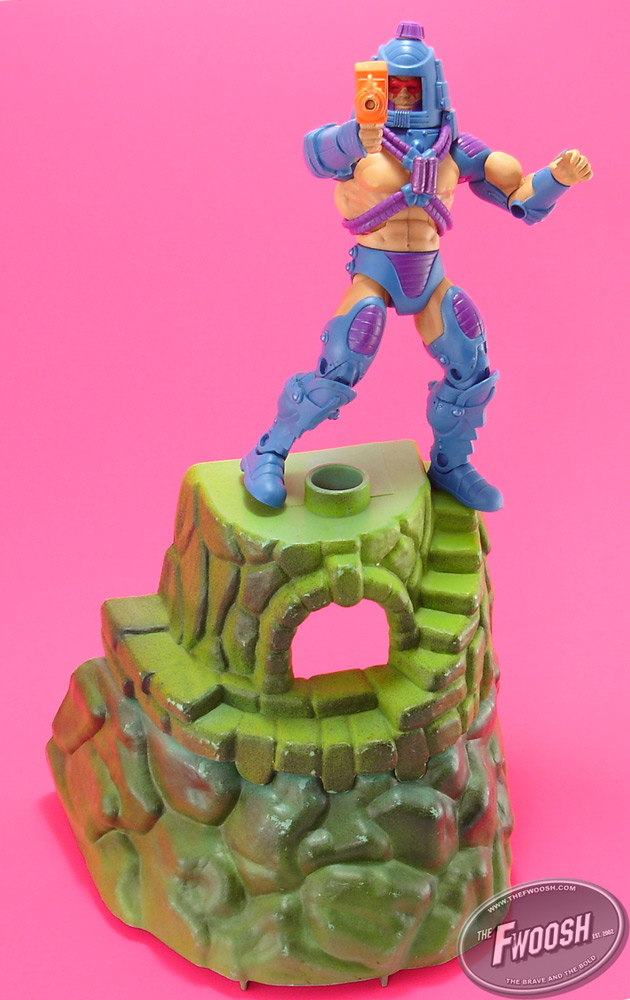 I can easily and readily admit MOTUC is my favorite line going right now, so it is only appropriate that I choose a figure from that line. Sure, I can see how others would disagree with me for the best figure, even within the MOTUC line, but Man-E has stuck with me for sure and sometimes it take more that just being an amazing figure to be the best.
---
craarl just could not handle the awesome power of the NECA City Hunter Predator on his own, so he had to bring in some experience in these matters. Experience in form Mr. Danny Glover. Yup. Watch out!
Hi, this is Danny Glover, you may know me from such films as The Color Purple and the Lethal Weapon movies.
Fwoosh moderator craarl didn't have any real stand out Toy of the Year choices so he asked me, Danny Glover, to give him a hand, and I have to tell you, the choice was as easy as catching a cab in Manhattan, which is to say, pretty damn easy cuz I'm Danny effin' Glover and cab drivers get in fights to take me where I want to go.
My choice for the Fwoosh staff Toy of 2011 is NECA's City Hunter Predator action figure, my co-star in 1990's Predator sequel.
The sculpting is top notch, the new lower body articulation is great and works perfectly. I'd love for them to revisit the torso and arms to up the pose-ability even more, perhaps next year.
You may be expecting me to make comparisons between this figure and some of my favorite comfort foods, but I won't, because that's effin' racist you damn fools. Speaking of which, who took this crap picture? Did some white boy think it would be funny to put a watermelon in the Predators' hand because this review was being written by an african american actor, producer, humanitarian and all around ass kicker? I damn sure hope he did cuz he's going to find my boot up his ass and that right there is some comedy gold.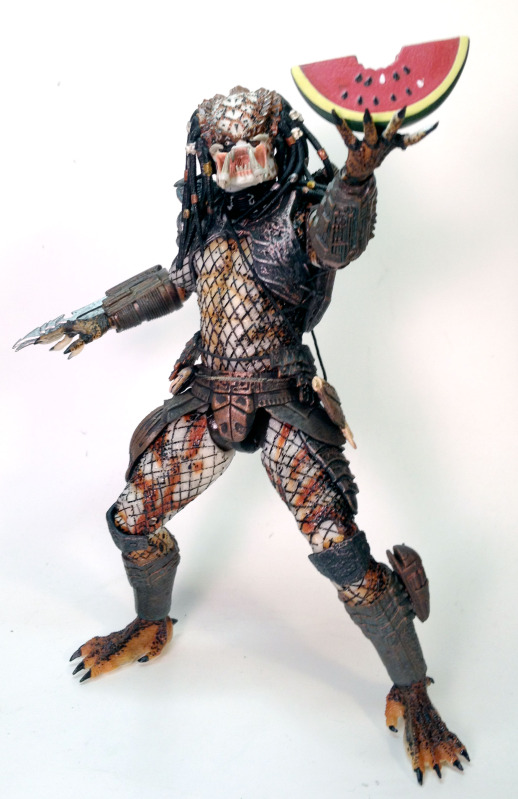 So there you have it, a damn fine Predator action figure, maybe next year they'll make a Lieutenant Mike Harrigan that kids can pretend to kick his ass with, this is Danny Glover signing off, Happy New Year Fwooshers!
---
Samuron shows that he continues to demand that Hasbro "Makes Mine Marvel" and he is demanding it in gigantic style. Yep, the Marvel Universe Masterworks Sentinel is huge, talking and can easily hunt that mutant scum in the 1:18 or 1:12 scale!
I worried last year that I'd be typecast as the Marvel guy, and I'm playing to role again with my pick of the Marvel Universe Sentinel. I never thought anything would ever rival my love of the Sentinel that Toy Biz released as a Build-A-Figure way back in Marvel Legends Series 10, but Hasbro's version of the mutant killing robot stacks up pretty well.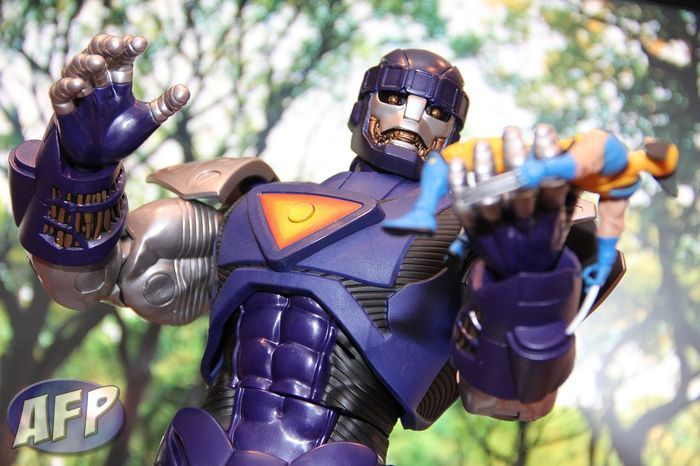 The two are right about the same height, but the newer model is bulked up some, giving it more satisfying proportions. It's also got a more classic look, while the BAF is styled specifically after the futuristic Sentinels in Grant Morrison's final arc in New X-Men, Here Comes Tomorrow. And on top of that, Hasbro's version has the light up eyes and chest, and the voice chip that sounds just like you'd expect a Sentinel to sound.
This would have dominated completely if it had the superior torso and hand / finger articulation that Toy Biz managed to cram into the BAF. And I'm still not sure where the purple and silver color scheme comes from (my best guess is from when the Avengers fought Sentinels in Avengers 104, way back in 1972.) Hasbro wanted a variant to distinguish its exclusive for San Diego Comic-Con, but I would have liked to see the classic purple and blue more widely available.
A lot of folks believe that Toy Biz's Marvel Legends really hit its stride with the Sentinel series. I'm hoping that Hasbro's Sentinel is the lead-in to a strong relaunch for Marvel Legends this year.
(And to prove I'm not just all about Marvel, check out my other picks for Best of 2011 on ActionFigurePics.com!)
---
Prodigy wants to show that ninjas aren't just for pricey toy/art figure pieces and he is going old school with his pick. Yep, the original ninja blanco Storm Shadow is back in impressive fashion in the Pursuit of Cobra line!
Right around this same time last year my favorite figure of the year was going to be Hasbro's Pursuit of Cobra Snake Eyes. But that bastard Industrial snagged it from me and he used him for his figure of the year. This year I was pretty certain who was going to be my favorite figure of the year so I called him early on. After seeing the prototype at SDCC I knew this guy was gonna be amazing.
And boy was I right. Like most of the Pursuit of Cobra/30th Anniversary line Storm Shadow is an updated take on a familiar character. While this figure is not his completely classic look like the 25th anniversary figure was, this is a really well done update.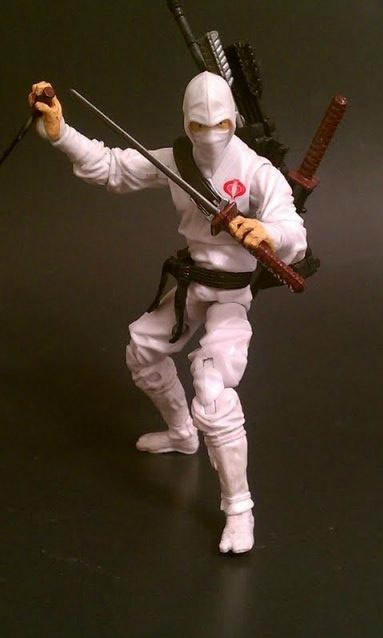 It's a great sculpt with all the little cloth folds perfectly done, and tons of little details sculpted in. All the great articulation is there we've come to expect from the new Joe line and he comes with two heads(one for the renegade cartoon) two sashes for different looks and and all the freaking Ninja weapons he could possibly carry. Katanas, knives, knuckle spikes, bow, arrows, nunchucks, and two shuriken that he can actually hold perfectly because of his hands sculpted in the claw position.
Alot of thought and alot of love went into crafting this beauty and I can't thank the Hasbro Joe team enough for finally giving me the Storm Shadow I've always wanted.
---
Now, it's a good thing Matthew K has selected the Four Horsemen's Gothitropolis Scarabus figure. If he did not do it, I would have and his pictures are a lot better than mine. Scarabus in all of his forms is an absolute beast and really did run away with it this year.
I think it's fair to say that I'm an obsessive fanatic of the action figures created by the Four Horsemen. I collect DCUC and MOTUC as a completist (almost), but my favorite project of theirs and really the gateway drug to 4H addiction for me was the Fantastic Exclusive. I love that project and the unprecedented amount of fan participation it allows. This year they did something new and had a daily feature with Scarabus news, slowly revealing new variants and test shots and behind the scenes materials. I love that stuff! The more behind the scenes stuff you show me, the better.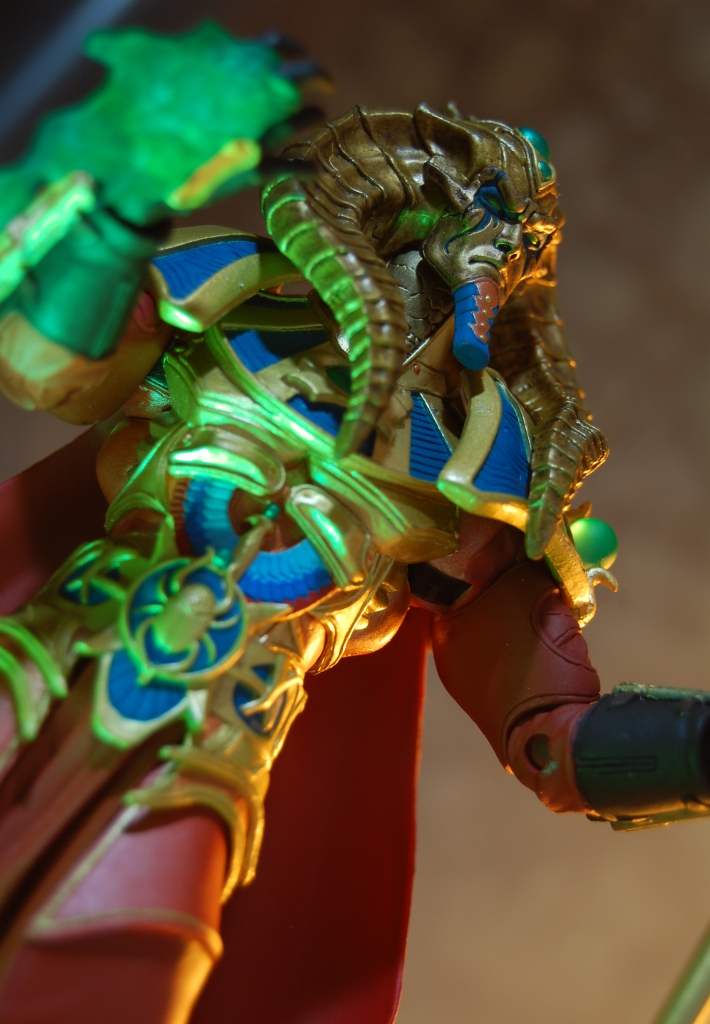 I have all the previous Fantastic Exclusive releases, but I I can say without hesitation that Scarabus trumps them all. First of all, he features a level of customization that you rarely see in American toys with three different hand sets, removeable armor and scarab limbs, flame attachments, an alternate weapon, and three interchangeable face plates. On top of that they actually have created added value to a toy I had already bought by including armor and a new weapon for the Timekeeper figures. The sculpt is beautiful and intricate and the paint jobs precise and flawless. He's actually missing an ab crunch but the other articulation is nice and tight and not hindered by the impressive skirt armor this guy sports. Plus, if you don't like the color scheme or head sculpt on the main guy, there are many more to choose from. He's still available along with most of his variants at Storehorsemen.com. Go now!
---
Robokillah has always walked the line 'round these parts. But this time he is walking that thin line between hero and vigilante, and it is a good thing because I think we were all waiting with baited breath to see if Mattel would give us a Jonah Hex figure. I reckon for them, it is a good thing they did.
I've been agonizing over what my Best of 2011 pick was going to be. I'm an easy guy to please. If I spent money on it, I usually like it. Add that to a bad memory and you have a conundrum. I like everything and I can't remember what I got this year. So after wandering around the toy room and then double checking to see if the figure in question even came out this year, I'm going with DCUC Jonah Hex…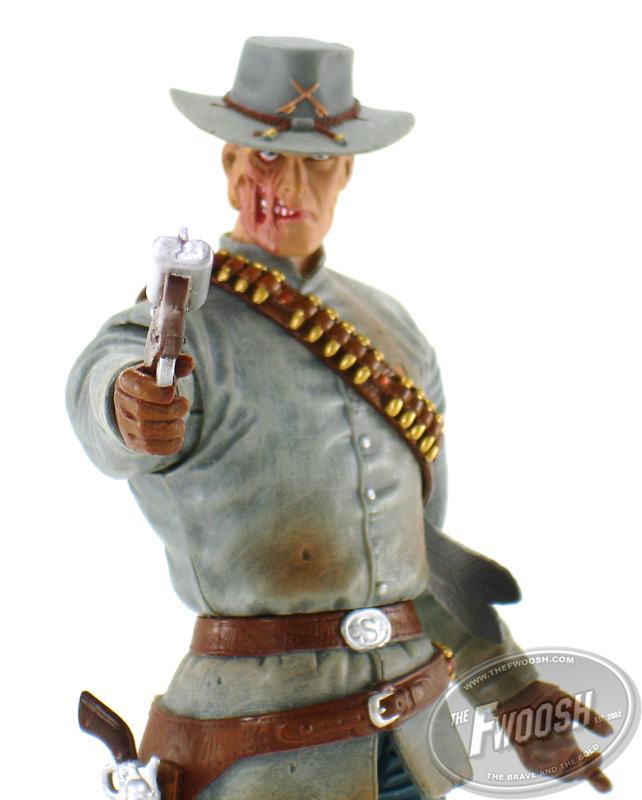 That's right, Sexy Hexy. This figures hits on most of the things that strike my fancy. He's 6 inch. He's articulated. He's a cowboy. He's got a kick ass sculpt. He has quite a bit of paint work compared to most DCUCs. Facial deformity. Guns. Sideburns. Spurs. Working holsters. Just a mean sumbitch all around. All big pluses in my book.
Plus, who woulda thought we'd even get a Hex in the DCUC line? Big surprise. He was one of those "Well, if they make him, there shouldn't be anyone they won't make!" figures. Didn't quite pan out the rest of the year, but I'm an optimist. To a fault. Jonah is the figure that shows just what Mattel can do, now go out there and do it Mattel!
Now I need a Lone Ranger. And Tonto.
---
Domo arigatoo, Mr. Industrial! Indy throws us a bit of a curve ball as he selects the return of another fan-demanded 1980s property – Voltron! The SDCC Voltron figure really pulled out all of the stops and is really fun and really posable.
Choosing my favorite toy of 2011 was really tough, my original pick was going to be Hot Toys Christopher Reeves Superman, which I thought I had dropped enough hints for and would receive as a Christmas gift. Turns out I'm not quite as spoiled as I thought and no one was willing to drop $200 on an action figure for me…
Now don't get me wrong, I got a ton of really great toys this year but some of my favorites were toys from years past that I had finally tracked down and when I looked back on just the stuff that came out this year I always had some silly little reason on why that choice shouldn't be my pick.
If my task was just slightly different and I had to pick my favorite toy company of the year my choice would have been easy. Hands down 3A Toys owns me. I am a proud member of 3AA and I actually look forward to the craziness of the drops on bambaland, constantly refreshing the page at 9am HK time trying to get the opportunity to buy some awesome new offering. So why didn't I just narrow it down and pick my favorite toy from 3A? Well I primarily collect their 1/12 scale "portable" line, and for the most part they are just half-sized versions of toys they have released previously. Now there are certainly exceptions, as any other 3A fan would be sure to point out, but I knew that 3A was going to be well represented on this list from some of the other guys…
So I went ahead and cheated.
I picked 5 toys that were released in 2011 that I really liked, stood them on my coffee table, and then I asked my wife to choose for me.
Now I did go into some detail with her about what I liked and disliked about each one, what made them special to me and encouraged her not to be hasty and instead to pick them up, mess around with them and to just let me know when she had made a decision.
She made her decision based on a few different factors, how it looks, my back story on when and where I got the toy, why it was special to me, and most importantly, how much fun it was for her to play with.
Now I'm sure this will surprise quite a few of you who probably passed on this guy either due to his price-tag or his 'toon inspired paint job, but Mattel's 2011 SDCC exclusive Voltron won her over fairly easily due to the simple fact that it's really just a damn fun toy.

I'm 33 years young, so I'm right at that perfect age range for the cartoon/toy/comic book renaissance that was the 80's-90's. While Voltron wasn't necessarily my favorite cartoon it was certainly in the rotation and I had the old Matchbox Voltron toys (including the smaller diecast non-transforming one that this guy reminds me of). So when I heard about Mattel's super-poseable 7″ non-transforming, cartoon inspired deco, San Diego Comic Con exclusive Voltron figure it wasn't even a question as to whether or not I was going to add this bad boy to my collection.
I know some of you guys may have been turned off by the $30 price-tag and/or the traditionally silver, metallic portions being white but neither of those were deal breakers for me. I've spent way more than $30 on other toys (probably much to my wife's dismay) that weren't nearly as much fun as this guy, and if you watch an episode of the old cartoon you'd clearly see Mattel's inspiration for the deco.
If you ever enjoyed the old Voltron cartoon or if you're just a fan of well articulated action figures that are fun to mess around with and pose, do yourself a favor and track this guy down. I'm not sure if Mattel ever plans on a mass market release for this but if they did I would certainly pick up another one with some metallic paint. This toy is total hand candy and Mattel deserves a shout out for doing such a good job on it!
---
Finally, Mr. Fwoosh himself, pablolobo decides he is going to resurrect a review he provided from earlier this year. Well, in appropriate fashion his resurrection comes in classic back from the dead form – ThreeA Toys' Fighting JC!
I'd love to write a big long exposition for you fwooshers about my toy of the year but I can't say more than I've said already this year. Earlier this year I did a review of ThreeA Toys Fighting JC. This 12 inch action figure depicting Ashley Wood's take of Jesus Christ returned to Earth to help fight in the Zombie Apocalypse is simply fantastic. While this is not everyone's cup of tea and is a controversial pick, I feel this toy is the perfect example of what collectors should be demanding. Perfect articulation, perfect sculpting, amazing stitching and an amazing design tethering between the insanely realistic and yet captures the designer/vinyl toy style to a perfect "T".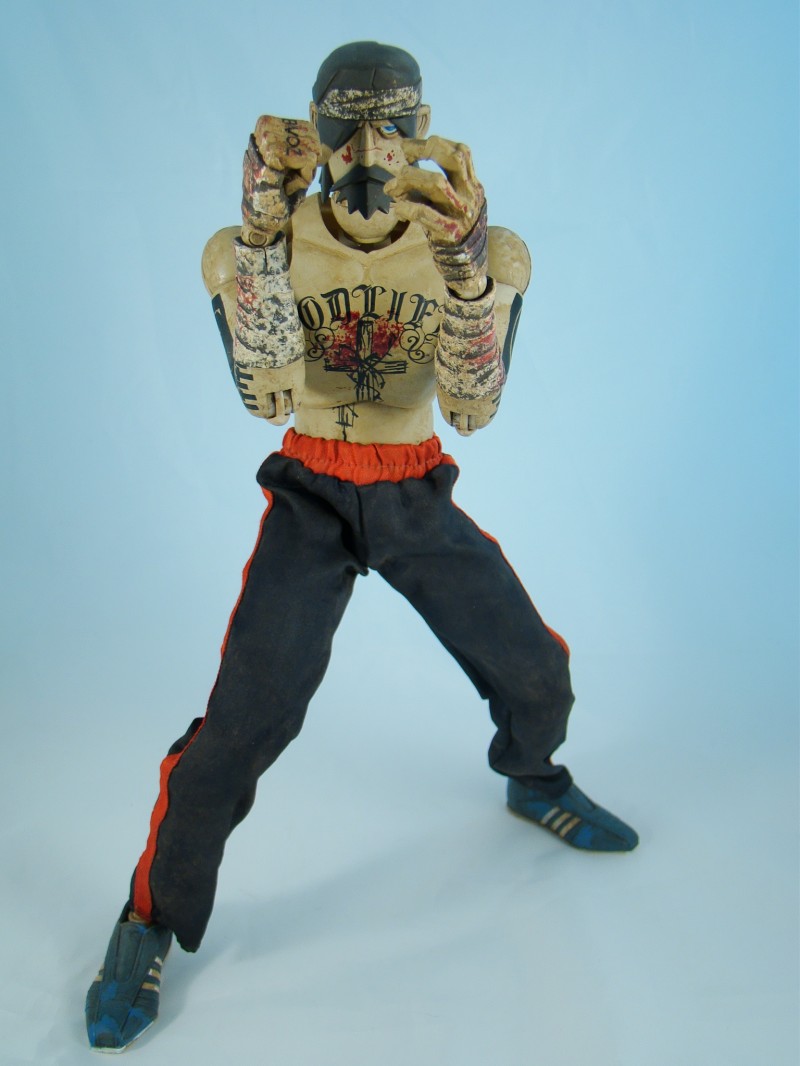 Based on this year's pre-orders I can already tell you ThreeA will have more locks for me in 2012 for toy of the year. Bring on the Zombkin and the Action Portable Zomb Hordes.
---
Well, that wraps it up. I know there are some standouts missing from the list, but a lot of them are mentioned and there is only so many of us. Thanks for reading and stay tuned – we have a lot more New Years celebrating to do!
About Post Author