Okay first off I'm going to be honest. This isn't going to be your average objective middle of the road review. I just can't help it. This is going to be a love letter. This figure is just that great.
There have been over 50 different versions of Snake Eyes figures released by Hasbro over the last twenty five years of it's G.I. Joe line, but I truly believe this is the one. The one that can't be topped, can't be better made. The Snake Eyes figure that can make me finally say: "I don't ever need another Snake Eyes." That's pretty heady stuff considering I own or have owned almost every possible version of Snake Eyes that has been released.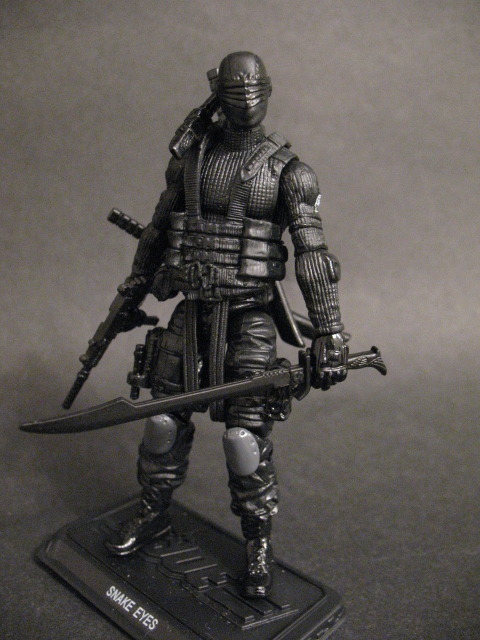 The sculpt in itself is amazing. He definitely has a Bradstreet/Sideshow look to him. I think that's prefect for the new Pursuit of Cobra line because it has modern military traits yet still retains all the nuances that make him instantly recognizable as Snake Eyes.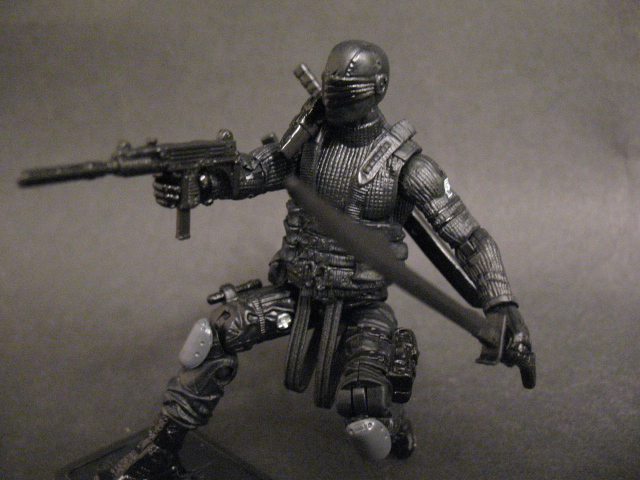 The figure itself comes from series 2 of the Pursuit of Cobra line. The line is angled towards a more modern, more realistic true military field. It seems to be moving past the classic 25th anniversary looks and is making new updated version of all the characters we as Joe fans love. Snake Eyes comes packed with a great array of weapons to make sure he has enough firepower to tackle any mission.
But the really great kicker with this figure is the debate over whether Ninja Snake Eyes or Commando Snake Eyes is better. Because he comes WITH BOTH HEADS!
Commando for the classic feel:
and Ninja head for the real dirty, black ops stuff:
Then we get into the weapons. Oh the weapons. An Uzi, two pistols, two knives, and three swords including his famous personalized Ninja sword. Each weapon fits in his hands just fine and there aren't any issues that some figures have with weapons not fitting in his hands or the hands not be able to grip enough.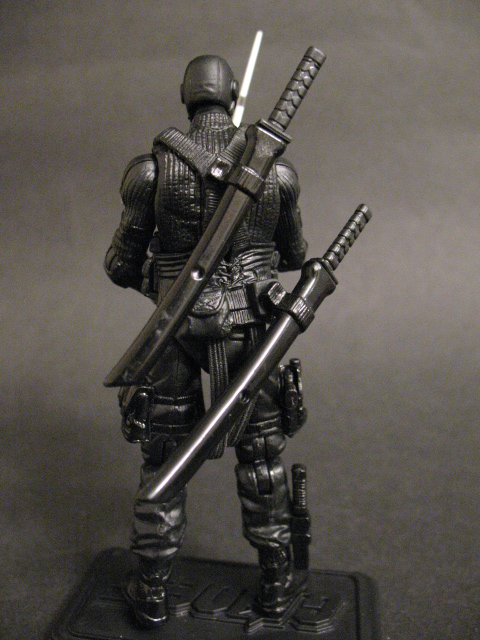 Another really cool thing is that he also comes with two silencers that can fit on one of his pistols and his uzi for really stealthy missions.
Pistol: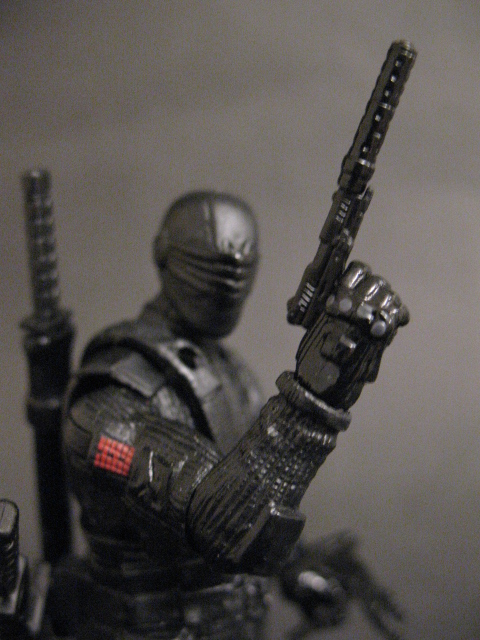 Uzi: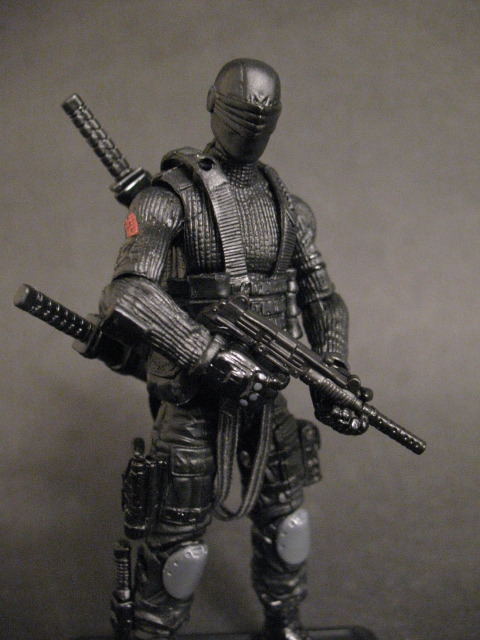 And when not in use the pistol and silencer separate so the pistol fits into his holster and the silencer tucks neatly into the front.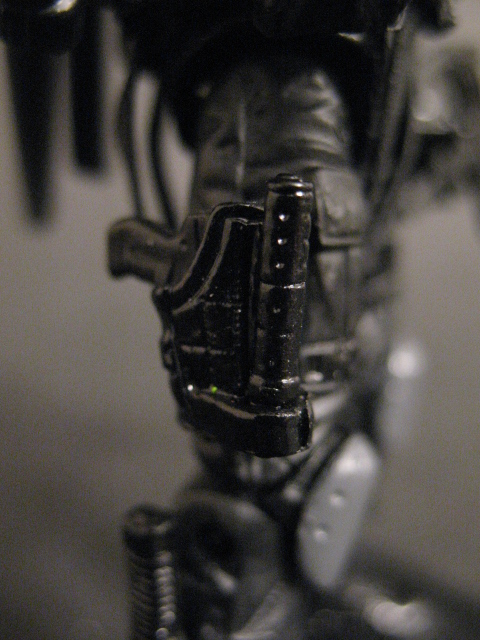 And to top it all off the great folks who run the Joe line even went through alot of trouble to find an original satchel pack from the very first Snake Eyes figure so it could be recreated and added in as a nice tribute.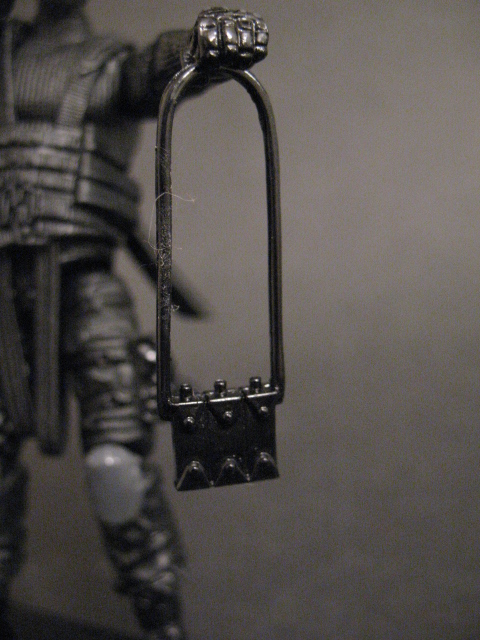 As far as his articulation, it's pretty standard of what we've come to expect with the new Joe figures from Hasbro. Double jointed knees, swivel elbows and ankles, hip hinges, etc. But add in another factor that makes this Snake Eyes the best ever is that there is an extra articulation point in his wrists that allows him to not only twist his hands but rotate them upwards or downwards.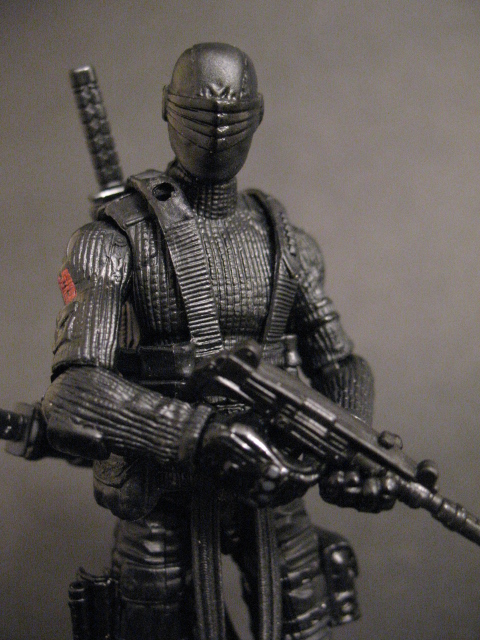 I really don't think there can a better Snake Eyes figure. The sculpt, articulation, weapons, and little details just make him not only my favorite Snake Eyes or G.I. Joe figure ever, but one of my favorite figures in any scale, ever. If you're a G.I. Joe fan, a fan of military figures, a fan of 3/4 scale figures, or even a fan of toys, I can't tell you enough that you will kick yourself for not hunting down this guy down for your collection.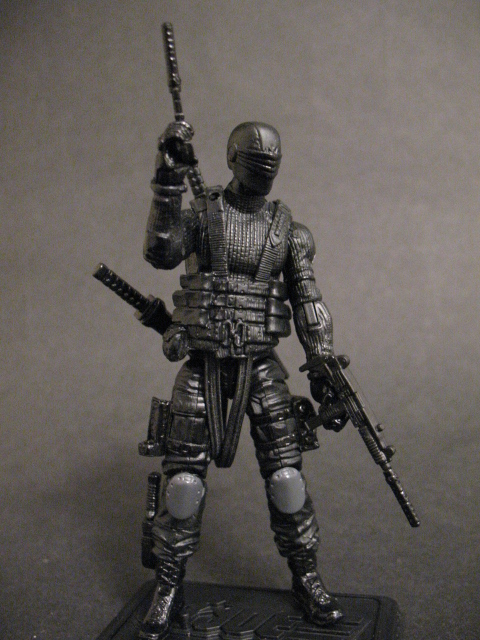 Additional Links
About Post Author