Back for more, eh? Well, we're glad to have ya and you will be glad you came by to check this latest First Look out. There is something really cool happening here. No, I don't mean the fact that you are reading this at this very second (thought that is cool) I mean we are now in the middle of making something really cool – the Metal Men. Yes, I have my favorite characters that I want to see made. Heck, I have several teams that I want to be more fleshed out right away. However, now that Gold has joined with his metallic team member Iron, I am positive that I want the Metal Men to be completed more than any other team out there at the moment. Seriously, what we now have and what can be made in the future is just so damned cool.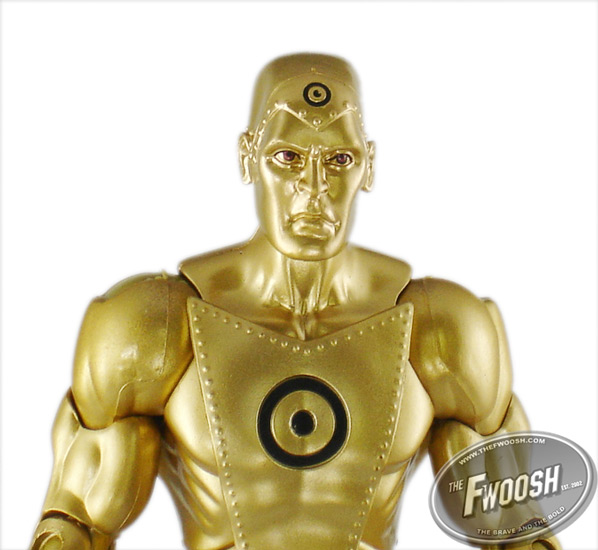 So, I got really excited with the release of Iron back in series 12. I mean, he was the first Metal Men action figure EVER. E-VER. Yeah, we got some PVC statue/unposable figures from DC Direct awhile back, but not once has one of the most visually and conceptually striking teams in the history of comic books ever found their way to toy shelves. So, I love Iron, for his design, coloring, little pits and [working] arm attachments – all of that was a great kick off. But now we have Gold too. The field leader the classic, intelligent hero persona made into the metal that mankind has coveted since before recorded history. See, we are now building the Metal Men and we can't get to the finish line soon enough.
For the actual figure, Gold kicks tons of butt. I know Gold would be right up there, if not my favorite single figure from series 14. I have very strong character attachments to Kamandi and Hourman but from a figure perspective, Gold just looks so good; and he really did turn out great in execution. The first thing that you will probably notice is that he is very, well GOLD. The paint that they used for the figure is very bright and very striking, I mean no matter where you put him, he is going to stand out on your shelf. Thankfully, it is not that nasty vac-metal that is prone to chipping either, it is just a nice, even gold color that is very eye-catching.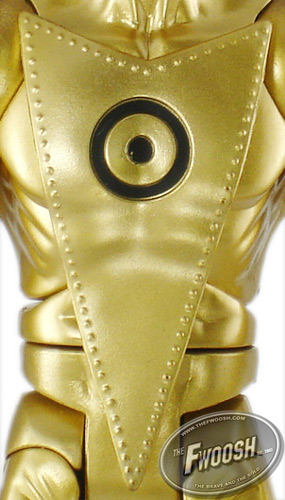 Unlike Iron, Gold does not have the overlay top in his design, he simply has a triangular cover over his chest. This helps him retain all of the original articulation of the base body and the ab crunch is not even hampered by this. Also in contrast to Iron, Gold is very sleek and very smooth. Gold is very soft metal so it stands to reason that the character Gold could reform his prototype-perfect body even after incurring battle damage; this is unlike Iron who retains all of his nicks and pits in his facade. His facial expression is stately and thoughtful as well, which is appropriate to his character. I know that some have remarked that he should be more classically "handsome" but the look is certainly less rugged that that of Iron. Oh, and like his fellow series fourteeners, Gold's head is much more proportionate to his body that figures of series past.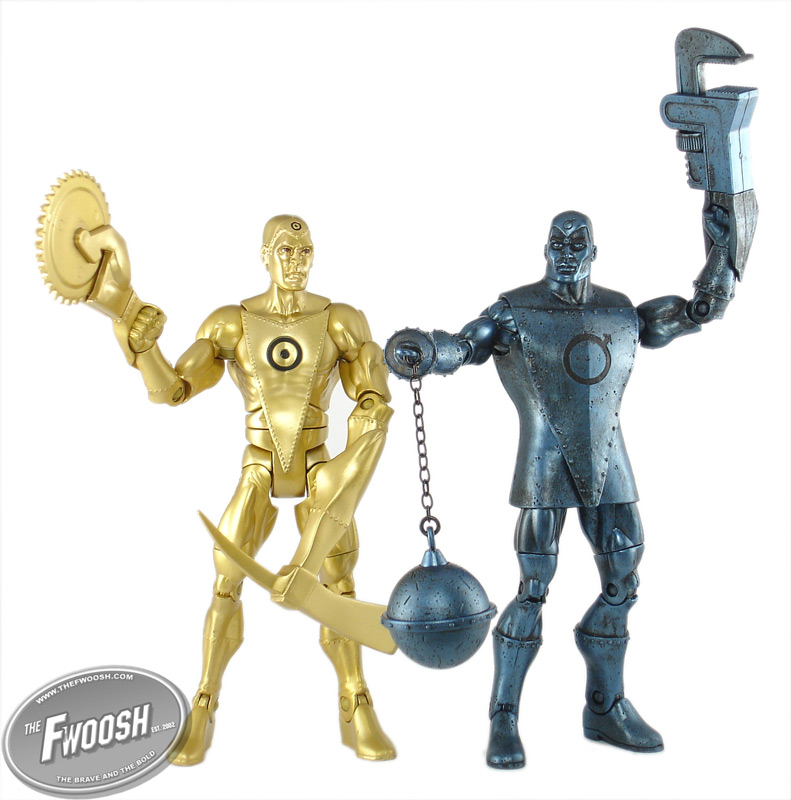 Finally, again, like Iron, Gold comes with real metal fists and two formations that can fit over his hands, this time in the shape of a real spinning buzz saw and a pick axe. I was going to mention that gold is a very soft metal so sharp objects might not be the best choice for that metal. Then I realized that makes me sound like a jerk and the attachments we are getting look really neat. A neat little detail in there is that, on the saw attachment, you can see his partially morphed hand "holding" the spinning blade – check it out in the pictures. I LOVE that! I also like the theme that these attachments are setting too, Gold and Iron each have a "tool" as well as a more destructive side, I hope this continues with future Metal Men.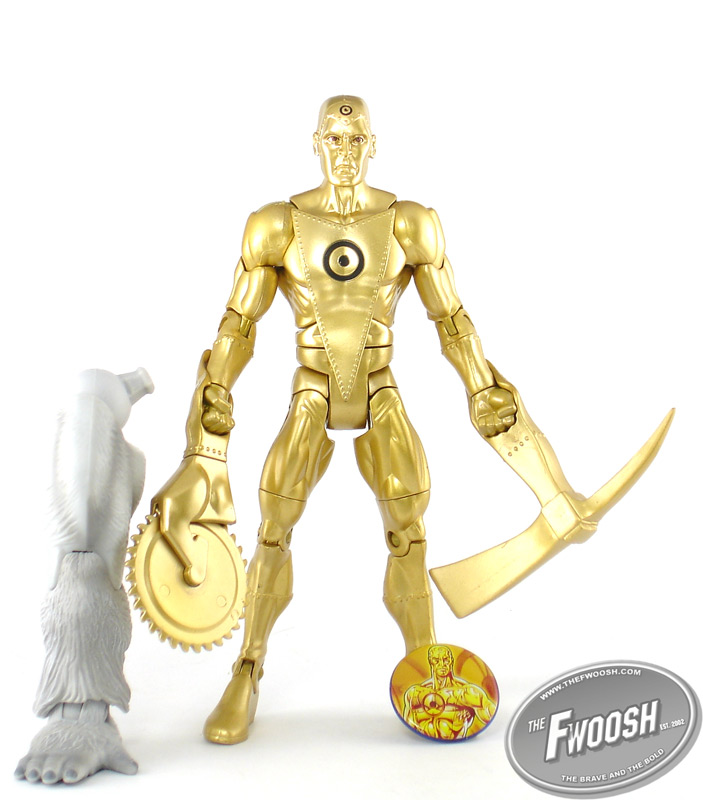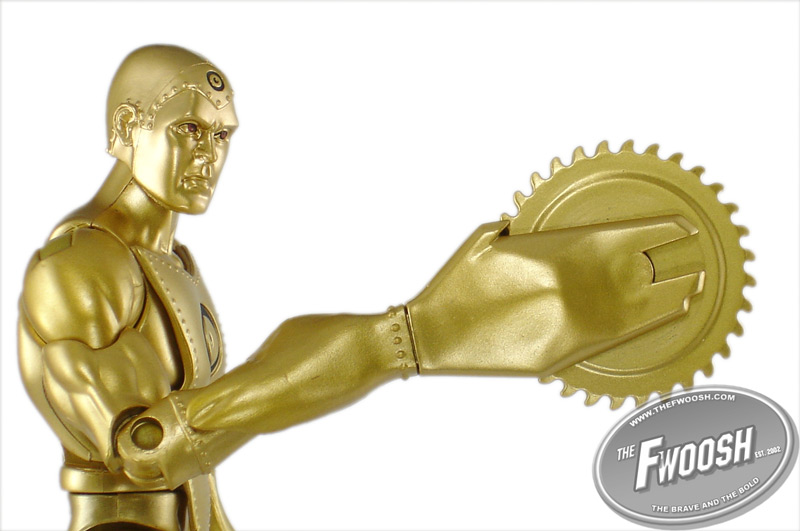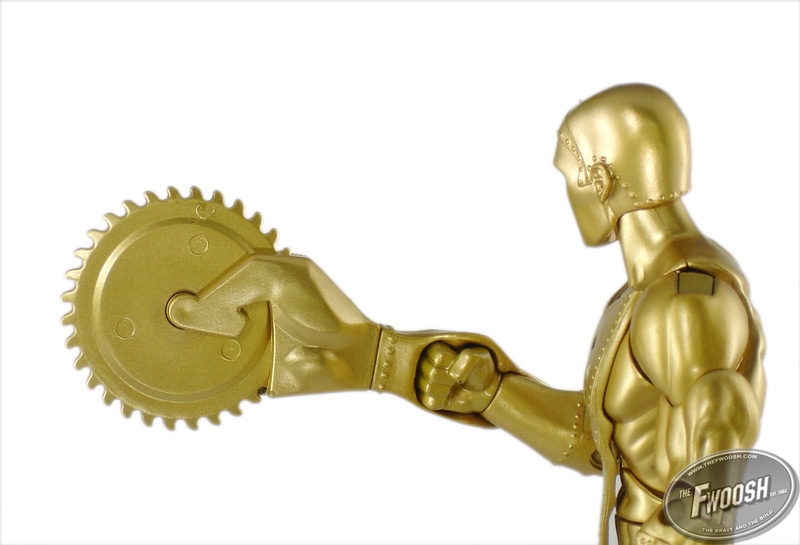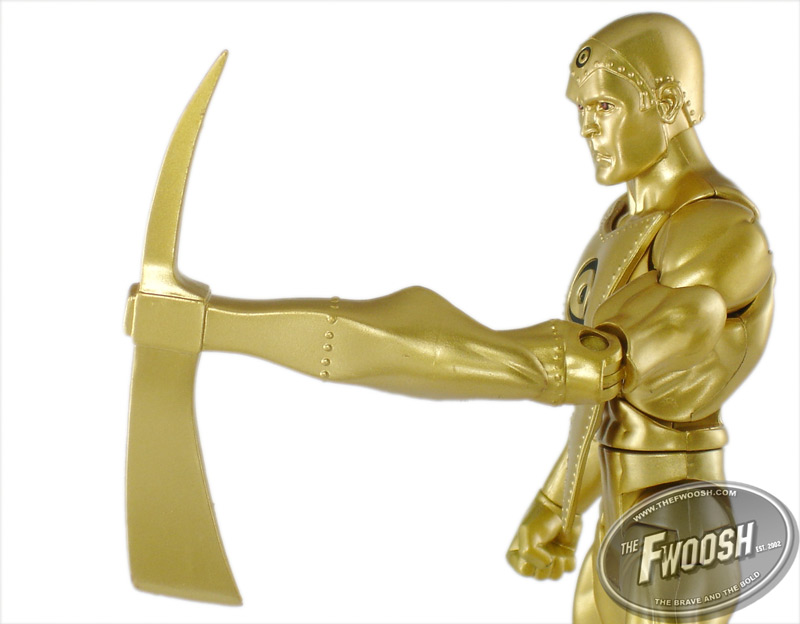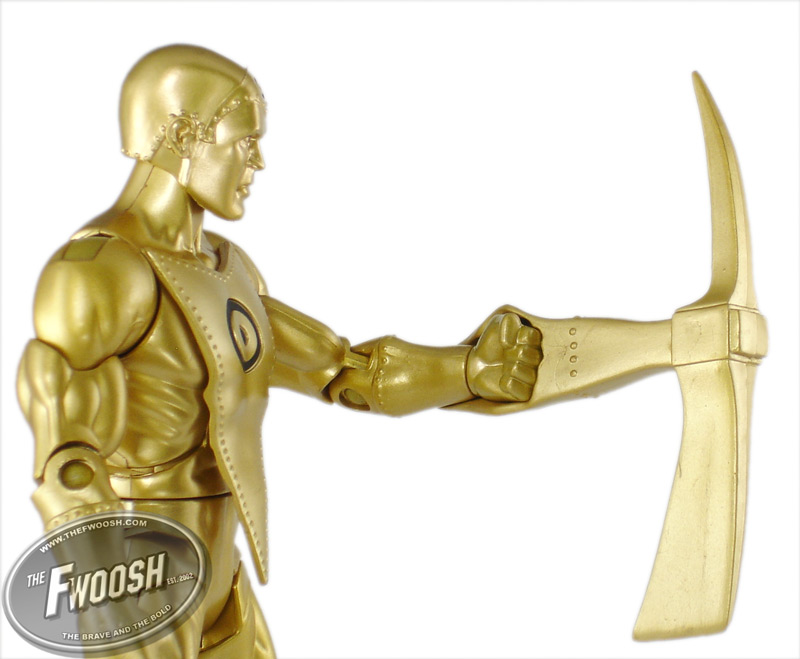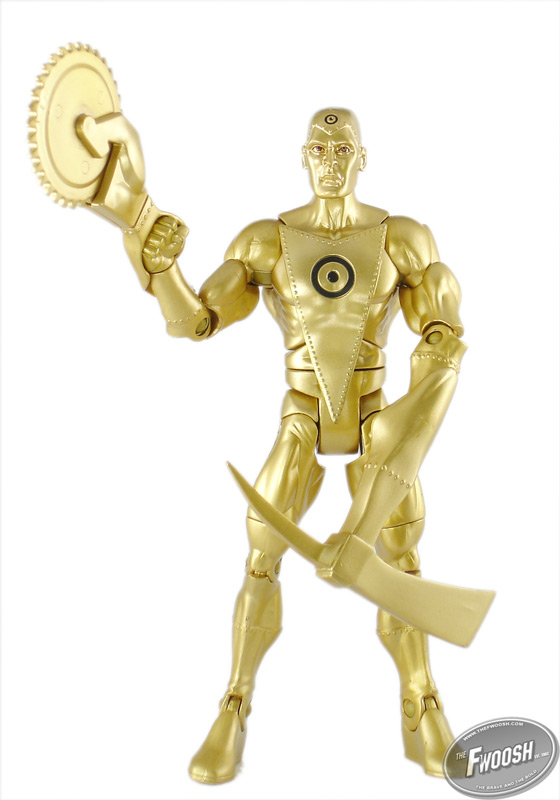 Which brings me to my final point: Mattel, do NOT drag your feet with finishing off the Metal Men team. I know Mercury is coming in series 16 and just happens to look even BETTER (wow!) than the two that we now have, but you can bet I will be expecting Platinum (with Tin pack-in, perhaps?) no later than series 18 and I will be sorely disappointed if that does not happen. That would leave Lead and I know he might be a little more tricky with his body type, but if I have to wait until say, maybe series 21's C&C I can. I still want him sooner though. Oh, and yeah, Dr. Magnus is essential as well so figure out how to get him out there. Heck, these figures are so fun, I want the new addition to the team – Copper as well. She could be just as cool. Seriously guys, don't let me down – the Metal Men have the potential to be the coolest little corner of our DC shelves and I can't wait to test that theory.
*Okay Matty and Toy Guru, thanks so much for sending along Gold, now please to be making the rest!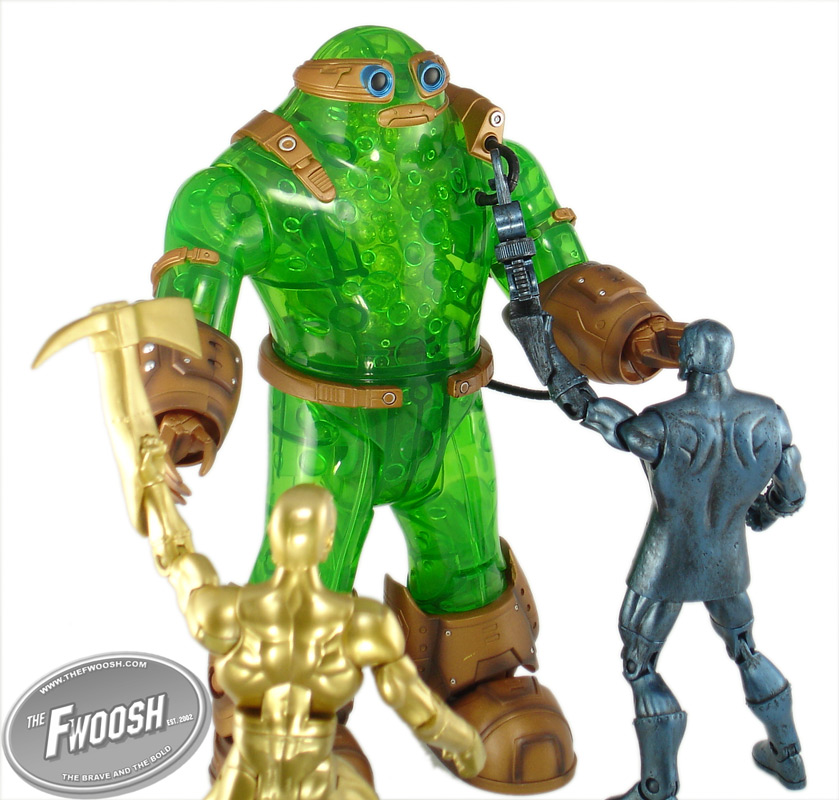 Additional Links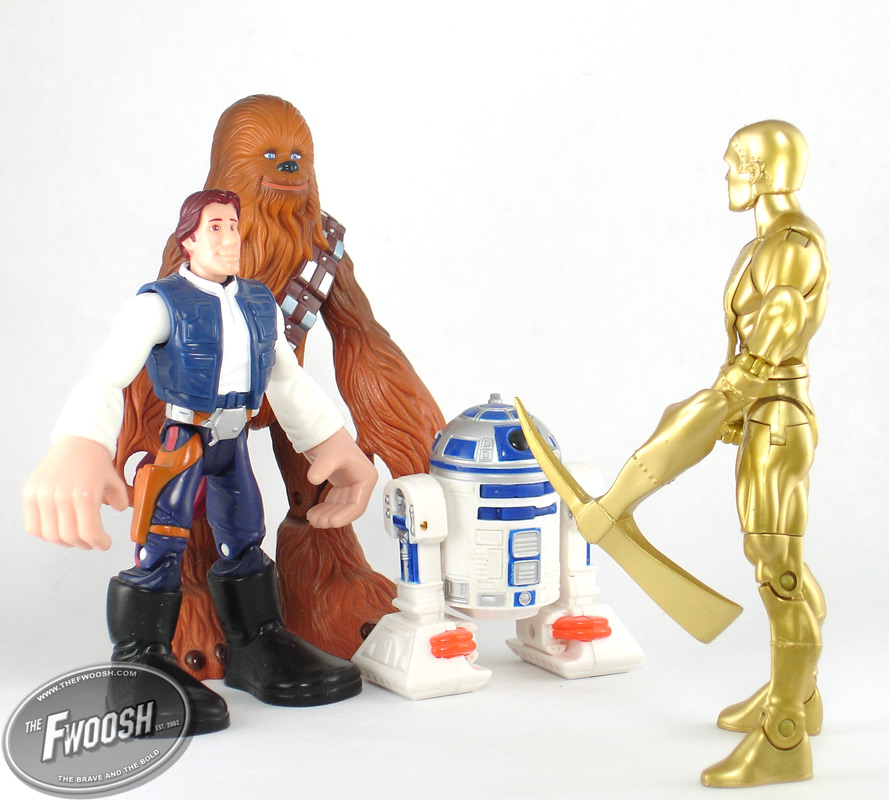 About Post Author